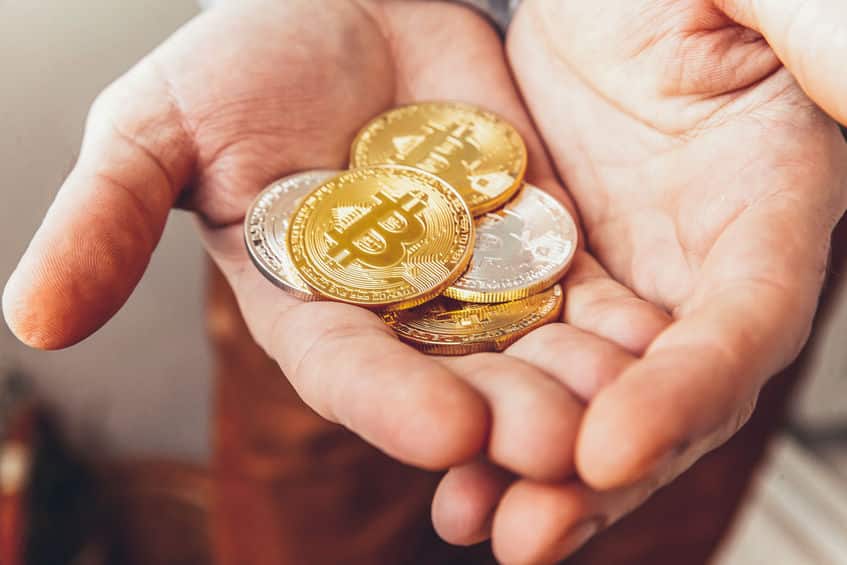 The Wild West feel to the crypto markets continues to show no sign of letting up. Young guns and inexperienced traders have been dumping their crypto for several weeks but who did they sell to? Well, it appears it could be experienced gun-slingers who have seen such events before and are experienced at fighting the counter-intuitive urge to sell.
Price action across the crypto markets was positive overnight Monday and descending wedge patterns, such as the one seen in Dogecoin, are showing signs of a break-out to the upside. If the flood of sellers dries up and big money sees this as a buying opportunity, then the crypto roller-coaster could be about to start going around again.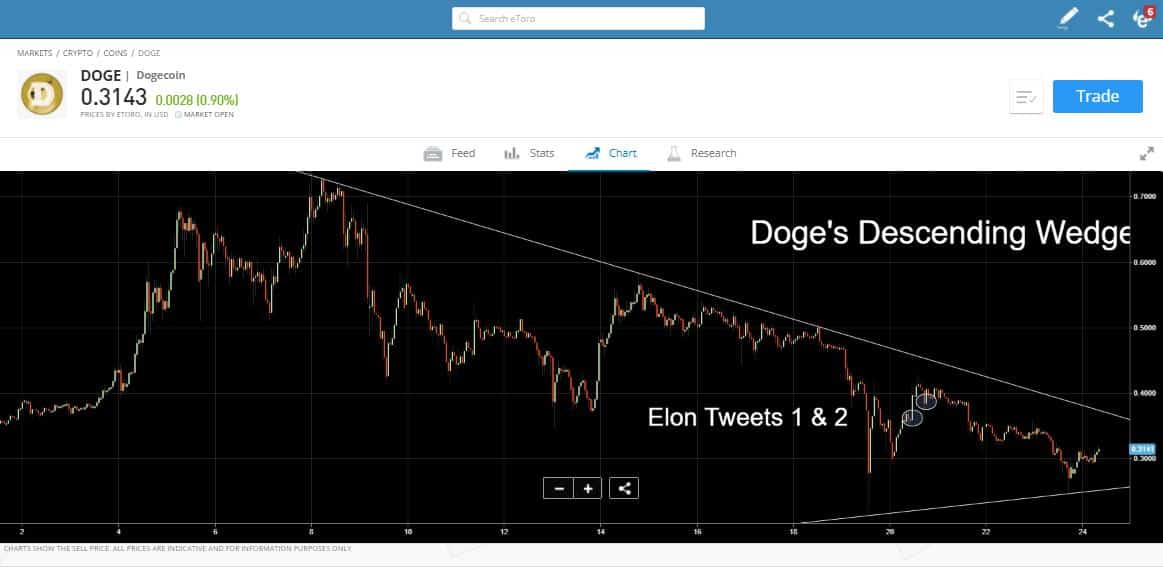 Source: eToro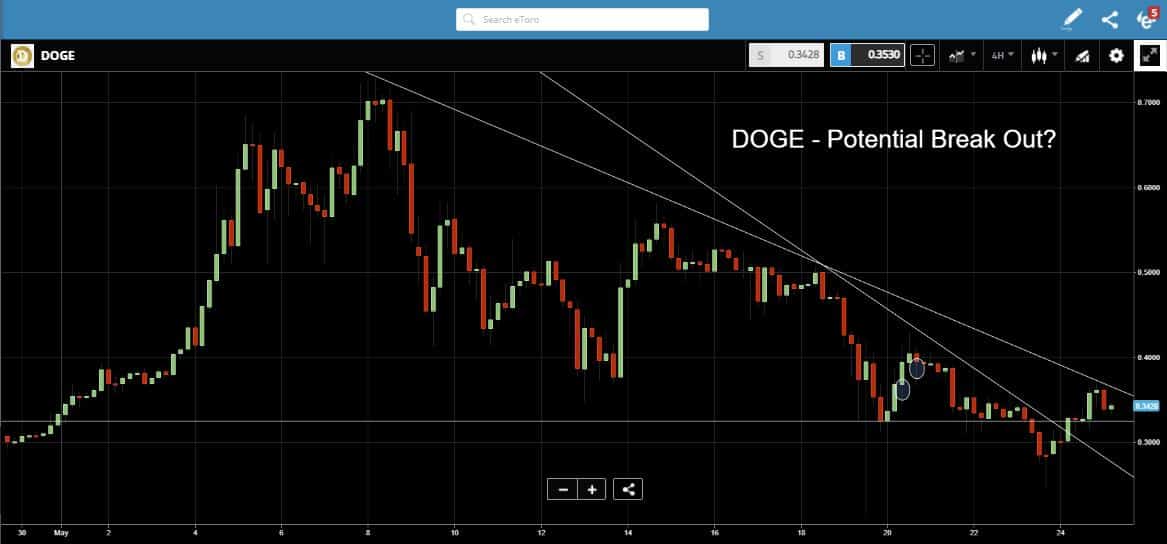 Source: eToro
Ray Dalio Confirms He Holds Bitcoin
Billionaire hedge-fund manager Ray Dalio, whose fund has assets under management exceeding $100bn, announced on Monday that he was holding Bitcoin. Speculation about the timing of the purchase is rife, as is the extent to which his fund might also have taken a position. Before November 2020, Dalio was dismissive of cryptos but his conversion now appears to be complete.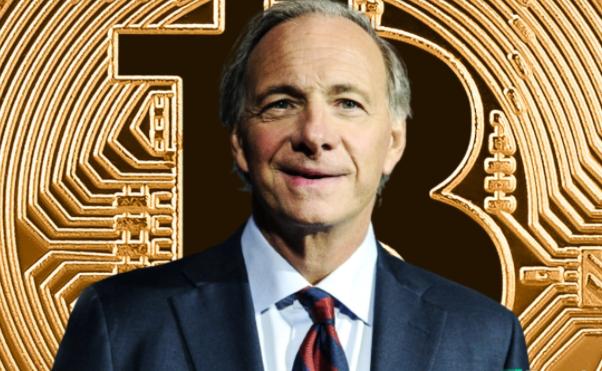 Source: Bitcoin.com
Speaking with CoinDesk's Michael Casey, in an interview aired on Monday, Dalio said "Personally I'd rather have Bitcoin than bonds."
Dalio is the latest establishment figure to come out on the side of crypto but perennial flag-bearer Elon Musk has also helped stem the recent price crash. His Monday evening tweets included reference to a weekend summit with Bitcoin miners and the prospect of coordinated action to reduce the carbon footprint associated with mining the coins.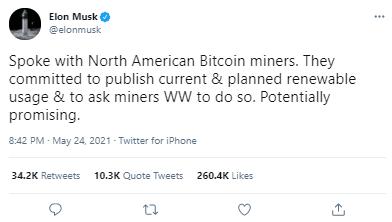 Source: Twitter
In the 24 hours between 5 pm on Sunday and 5 pm on Monday Bitcoin increased in value by 21.87%. Overnight trading has seen the market stabilise at the $38k level but with sentiment notably shifting there are many pointing to the path of least resistance being upwards.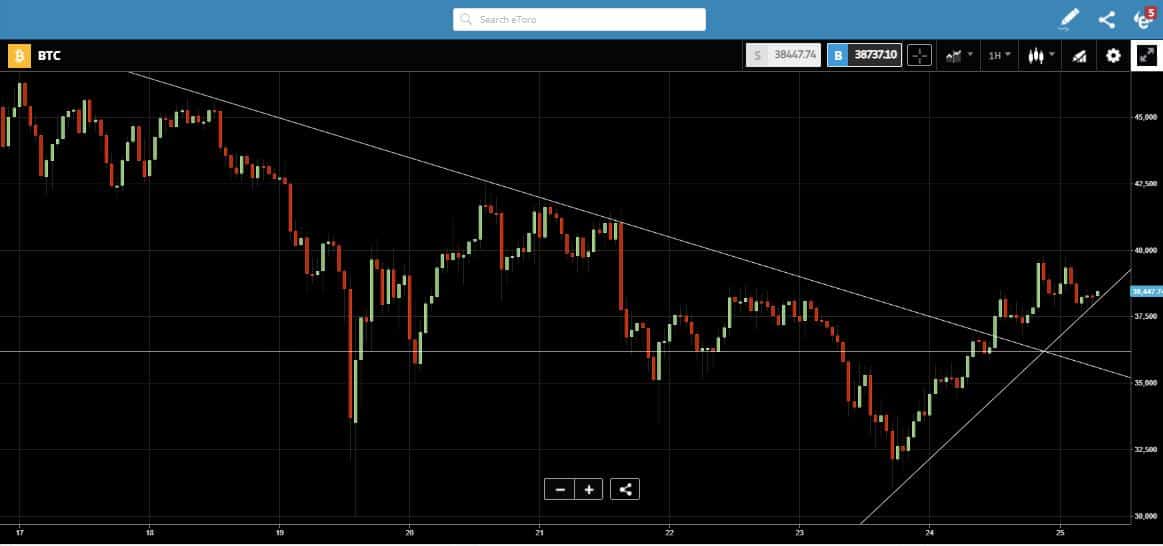 Source: eToro
Current Factors in Play for Crypto
Comments made by Elon Musk about the unsustainable carbon footprint associated with mining coins were the catalyst for the price crash. The double-whammy came when the administration in China announced a clampdown on crypto-trading. Since then, there has been time for fans of the sector to share their counterarguments.
The long-awaited Ethereum 2.0 upgrade, for example, will bring down energy use by 99%. Fees that currently go to miners will instead go to those 'proof of staking' their coins into the Ethereum network.
Regulatory sabre-rattling is a by-product of the success of Bitcoin. The technology is proving durable and valuable and the US and China authorities want a part of that.
At the same conference Dalio explained:
"Bitcoin's greatest risk is its success. As it becomes a bigger deal and more of a threat people want to sell their bonds and they want to buy Bitcoin and they want to do that in a bigger way."
The old hands buying in at current levels can point to recent price moves being normal for Bitcoin. A draw-down of 50% or more has happened six times before. This seventh crash is incredibly painful for those who got in at higher price levels and is more widely publicised thanks to crypto's move into the mainstream, but it's in line with what to expect of the market.
If you want to know more about this topic, please contact us at [email protected]
Are you ready to trade?
Sign up with

77% of CFD traders lose