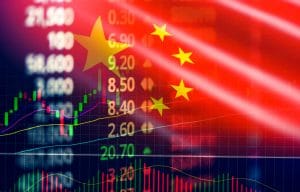 Unexpectedly high economic performance figures out of China caused a boost for a number of currencies as trading got underway on Monday.
According to a data release, factory activity in the major Asian economy went up in March – for the first time in more than three months.
Overall, the country's Purchasing Managers' Index (PMI) went up to 50.5, which was higher than the predictions made by economists of 49.5.
The Chinese offshore yuan itself did well due to the developments and rose by 0.2% in the CNY/USD pair to $0.7107.
The US dollar managed to undermine the so-called safe haven Japanese yen as a result of increased investor confidence. It went up by 0.15% in the USD/JPY pair.
The Australian dollar, which generally performs well when the Chinese economy does due to the complex trading relationship between the two, rose by 0.15% in the AUD/USD pair to $0.7107.
As a new forex trading week begins, it's time to look at the economic calendar to see what's in store for traders this week.
Today (Monday) there will be a range of data releases, including a preliminary European consumer price index covering the month of March, which is due out at 9am GMT. This is expected to show a year on year change from 1% to 0.9%.
Later in the day, there will be a retail sales data release for the month of February from the US. This is anticipated to show a month on month change from 0.2% to 0.3%.
At 1pm GMT, there will be a speech from a European central banker. Luis De Guindos, who is the Vice President of the European Central Bank, is due to speak at 1pm GMT.
The Institute for Supply Management (ISM) will release its manufacturing PMI index for March at 2pm GMT. This is expected to show a change from 54.2 to 54.5.
Looking ahead to Tuesday, the Reserve Bank of Australia is set to release its interest rate decision at 3.30am GMT. It is widely forecast that this will be held steady at 1.5%.
The overall European unemployment rate for the month of February is due out at 9am GMT. It is believed that this will also show no change from its previous position of 7.8%.
US durable goods orders for the month of February will be announced at 12.30pm GMT. It is believed that this data release will show a change from +0.3% to -1.2%.
On Wednesday, Australian import and export data for February is due out. Export data was last recorded at 5%, while imports data was last recorded at 3%.
European Markit services PMI data covering March is expected at 8am GMT. This was last recorded at 51.3.
On Thursday, the main event will be the usual round of weekly unemployment figures out of the US, which will come at 12.30pm GMT. Initial jobless claims for the days around March 29th were last recorded at 211,000. While continuing jobless claims for the previous week were recorded at 1,756,000.