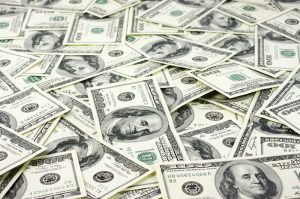 The US dollar dropped nearly half a percentage point as trading began on Monday following problems with jobs data.
Non-farm payrolls data showed that there was an increase in job uptake, but that the level in question had only risen by 155,000. Analysts calculating median forecasts had expected a rise of 200,000.
The main thrust of the worries for traders is that the data will discourage the US Federal Reserve from issuing what is believed to be a planned interest rate increase next week.
Against the Japanese yen, the US dollar was down 0.26% reaching the 112.43 mark as trading got underway on Monday.
In a sign outlining the extent of the dollar's problems, the euro managed to rise 0.43% against the dollar to the $1.1425 level – despite the ongoing political instability in Europe.
The President of France, Emmanuel Macron, is currently dealing with the "yellow vest" protestors. While British Prime Minister Theresa May's plan to get her agreed Brexit deal through Parliament is showing no signs of making progress.
There's a lot for foreign exchange market watchers to keep their eyes on as the new trading week begins.
Today (Monday) sees a number of key European releases. German export data was due at 7am GMT, while a range of British releases on everything from industrial production to October's gross domestic product levels are expected over the course of the morning. These gross domestic product figures, which are due at 9.30am GMT, are expected to show a moderate month on month rise from 0.0% to 0.1%.
Tuesday sees the British House of Commons vote on Prime Minister Theresa May's Brexit deal. It is widely expected that May will lose the vote, and the potential impact of this is not yet known. This sort of political instability, however, could well affect the performance of the pound.
Also on Tuesday, data on British average earnings for the month of October will be announced and are due out at 9.30am GMT. When bonuses are excluded from the calculation, it is expected that these will remain the same at 3.2%.
On Wednesday, attention will shift to the US dollar. A significant American data release covering the consumer price index for November is due out at 1.30pm GMT. Year on year, this figure is expected to inch upwards slightly from 2.1% to 2.2%.
Also due in the US on Wednesday afternoon (GMT) will be a speech from the Federal Reserve's Chair, Jerome Powell. He is due to speak at 3pm GMT.
On Thursday, the Swiss National Bank is due to announce its interest rate decision at 7.30am GMT. At 12.45pm GMT, the European Central Bank will make its overall interest rate decision as well as its deposit rate decision.
Friday, retail sales data from the US covering November will be announced at 1.30pm GMT. Month on month, this is expected to decline from 0.8% to 0.2% – a development which, if it transpires, could be interpreted as a sign of decline in the US economy.