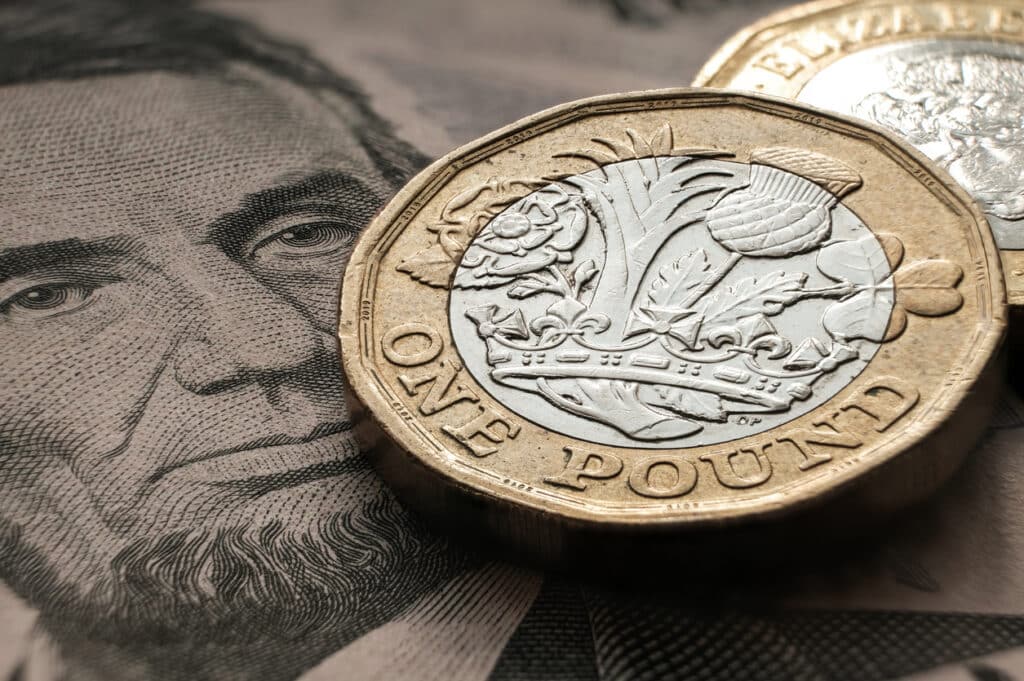 UK inflation fell in March, but not as much as expected.
The Bank of England is set to continue with its policy of interest rate hikes.
Questions are raised about the accuracy of recent inflation predictions.
UK inflation numbers released on Wednesday show year-on-year inflation remains in double figures. The March reading of 10.1% was lower than the 10.4% seen in February, but a 0.3 percentage point reduction has done little to convince analysts that the year-end target of inflation being halved might be attainable. Attention has turned to the Bank of England, which next meets on 11th May and looks set to continue increasing interest rates; by how much will likely be the main price driver of GBPUSD rates for the foreseeable future.
UK Inflation Higher than Expected.
A Reuters poll conducted before the ONS released Wednesday's inflation report had predicted UK inflation would have dropped to 9.8% in March. The actual figure of 10.1% is a 'beat' that the Bank of England would not like to be dealing with.
Jeremy Hunt, UK Chancellor, has until now projected that UK inflation would be as low as 2.9% by the end of 2023. That claim now looks very ambitious. More significant for market prices is that huge institutional investors have also bought into the "inflation more than halving" story. Investment bank Citi said in February that the CPI was likely to fall to 2.3% by November, and fund manager Investec said it could be as low as 1.6% by December. Wednesday's data suggests some analysts could be about to pivot on their predictions.
The rise in GBPUSD on the back of the inflation news saw cable bounce off a key support level -1.23734. That price level marks the closing price on Tuesday 18th April, and now forms the bottom of a sideways trading channel which dates back to 4th April.
The bounce in GBPUSD took it to the mid-range of the channel, where it has continued to trade in the region of 1.24398. That's not quite the breakout some might have expected, and the top of the trading channel, marked by the year-to-date closing high of 1.25222, is yet to be tested.
Inflation data has driven global asset prices for more than 12 months, and in the case of GBPUSD, Wednesday's surprise from UK statisticians makes the path of least resistance appear upward. Even without a breakout, a long position entered into now could take the view that 1.25222 will at least be tested and post a 0.65% gain.
GBPUSD –Daily Price 2021-2023 – Price Consolidation Patterns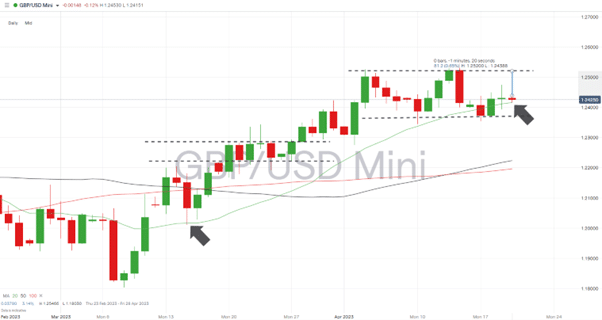 Source: IG
People also Read:
If you have been the victim of a scam, suspect fraudulent behaviour, or want to know more about this topic, please contact us at [email protected]