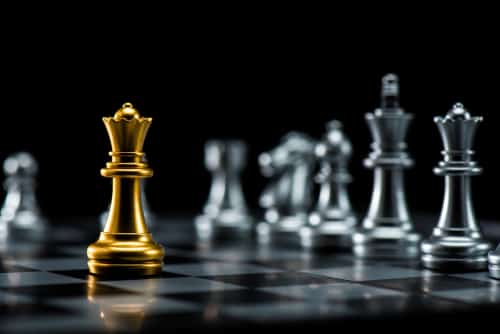 An uncertain week in the markets has seen asset prices taking hits across the board. The question is whether this is a dip to buy and "just" part of the September Effect highlighted by the Forex Traders analyst team on the 2nd of September or the start of something more serious. The market note 'What to expect from the markets in September' raised the risk of a sell-off, but the details of how it came about need to be unravelled by those looking for clues as to whether the worst is over.
Source: ForexTraders
Released on the 3rd of September, the US Non-farm payroll numbers were followed by a market holiday on the sixth of the month in the US. That extra day to digest the jobs data and the state of the markets has had some effect, with the following four trading days all being negative for the major US stock indices. A similar move in forex saw the US dollar gain ground against EUR and GBP, with stock and forex moves appearing to be mainly down to the market pricing in US interest rate rises sooner rather than later. The greenback is sometimes sought out as a safe haven; however, that doesn't appear to have been what drove dollar strength. Gold and bitcoin, which are also seen as positions of last resort, were both also down on the week, 2.03% and 13.9%, respectively.
Covid Fears Haunting the Market
Covid has also played a part in dampening the mood. The return to more normal activity following the summer break appears to have raised fears about the autumn-winter flu season. The extension of the lockdown in Auckland provided clear evidence that even remote, developed economies with stringent controls can't avoid the economic impact of the virus if the calendar is pointing towards the winter months. During the last six months, the successive lockdowns of southern hemisphere nations are a depressing yardstick for the northern hemisphere countries.
The marker trade of long Nasdaq, considered last week as part of the tracking of tech stocks, has certainly done its job. The entry point was 15592, and by Monday morning, the index was trading at 15495. The loss on that virtual position being a reminder that it could still be too early to jump in to take advantage of Nasdaq's recent price slide.

Source: IG
The four negative days have taken price down to the Daily 20 SMA but has held at that critical support. A break of that and the next support is the 50 SMA at the big number 15200 price level.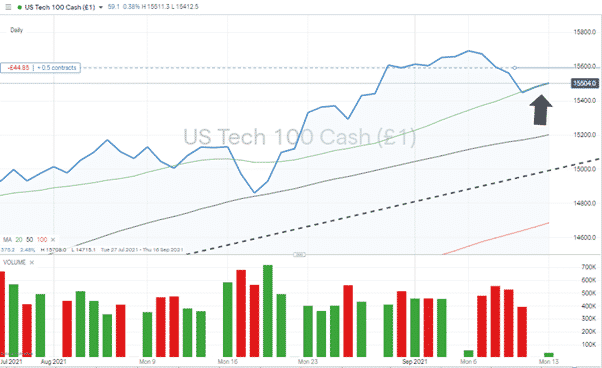 Source: IG
If you want to know more about this topic, please contact us at [email protected]