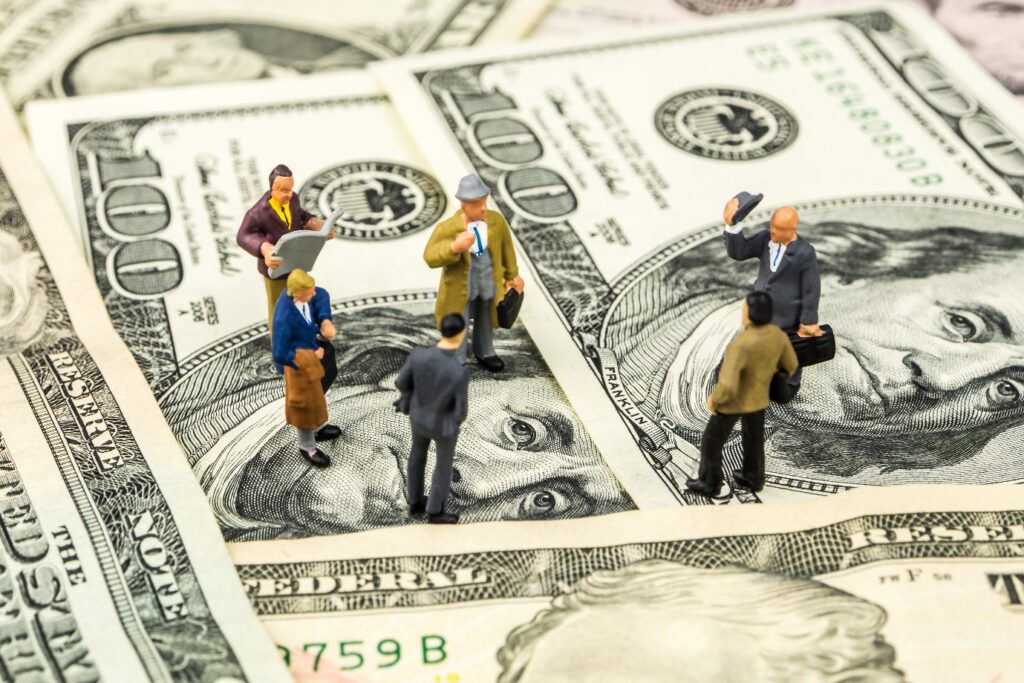 Red hot inflation data keeps pouring into the global markets, but it's Jerome Powell and the US Fed that appear most willing to take the threat head-on. Speaking on Wednesday, he confirmed that when faced with the joint risk of a recession and inflation, the priority for the Fed will be containing rising prices.
Jerome Powell Refuses to Dismiss the 'Nuclear' Option
While updating the US Senate Banking Committee, Powell remarked a recession is "certainly a possibility" but quickly followed up that "It is essential that we bring inflation down if we are to have a sustained period of strong labour market conditions that benefit all". Confirming a move towards a more hawkish policy, he refused to rule out the possibility of July's interest rate hike being an eye-watering 100 basis points.
The hard-line approach of the Fed means the short GBPUSD strategy picked out in Monday's Trading Ideas report will now have more backers.
GBPUSD Under Pressure
UK inflation figures released prior to Powell's testimony included a 9.1% CPI reading, which resulted in an intraday price spike, based on the assumption that UK interest rates would rise in response. The subsequent price move from 1.23148 down to 1.21749 on Thursday morning reflected how the UK central bank's approach of consistent 0.25% rises in interest rates appears tame compared to the Fed's aggressive rate hikes. It's not often central bankers are thought of as swashbuckling, but a 1% rate increase would cement Powell's place in the record books and, more immediately, points to further short-term weakness in sterling.
GBPUSD – Daily Price Chart – 2021 – 2022 – US Rates Up 1%?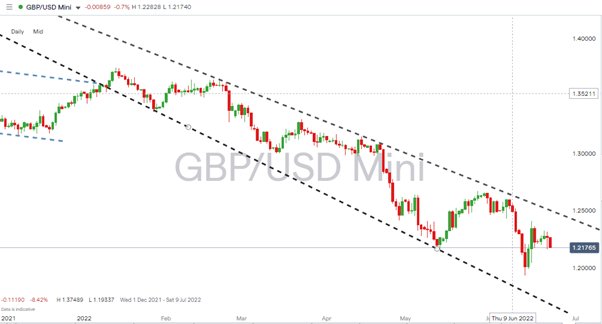 Source: IG
GBPUSD – Hourly Price Chart – 23rd June 2022 – UK Inflation Followed By Powell Comments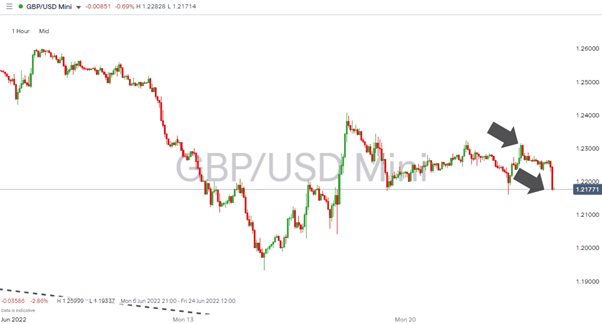 Source: IG
A move through the week-to-date low of 1.21611 printed on Wednesday morning would open up the potential for a breakout strategy and point to the path of least resistance being downwards.
GBPUSD – Hourly Price Chart – 23rd June 2022 – Breakout Strategy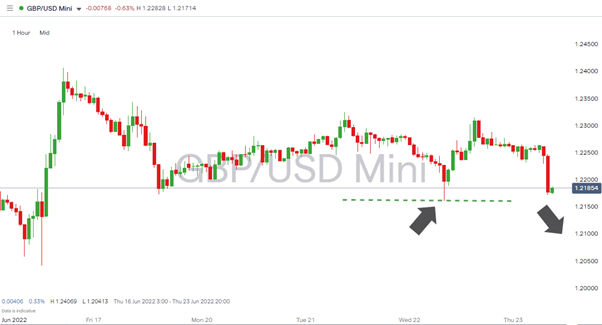 Source: IG
The psychologically-important number of 1.20 appears to be the obvious first price target. In extension, the year-to-date low of 1.19337 comes into play.
GBPUSD – Hourly Price Chart – 23rd June 2022 – Price Target 1 &2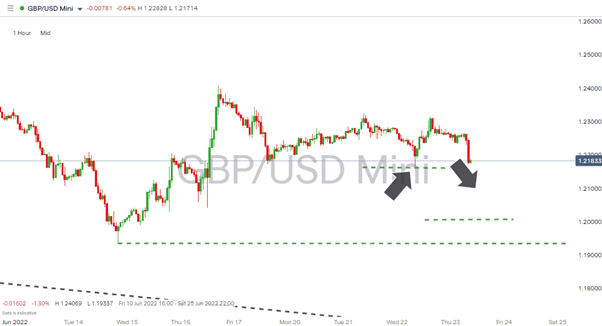 Source: IG
Analysis has, to date, left the door open to GBPUSD taking a deep dive down to 1.1409, which was the price low of March 2020. The gap between the 2022 low of 1.19337 and that sub 1.15 price target has, so far, appeared large enough to make it unlikely. But market opinion is particularly fluid right now, and Powell's refusal to dismiss a 1.0% interest rate rise in July could well be the catalyst to lead to a major surge in the US dollar.
If you have been the victim of a scam, suspect fraudulent behaviour, or want to know more about this topic, please contact us at [email protected].