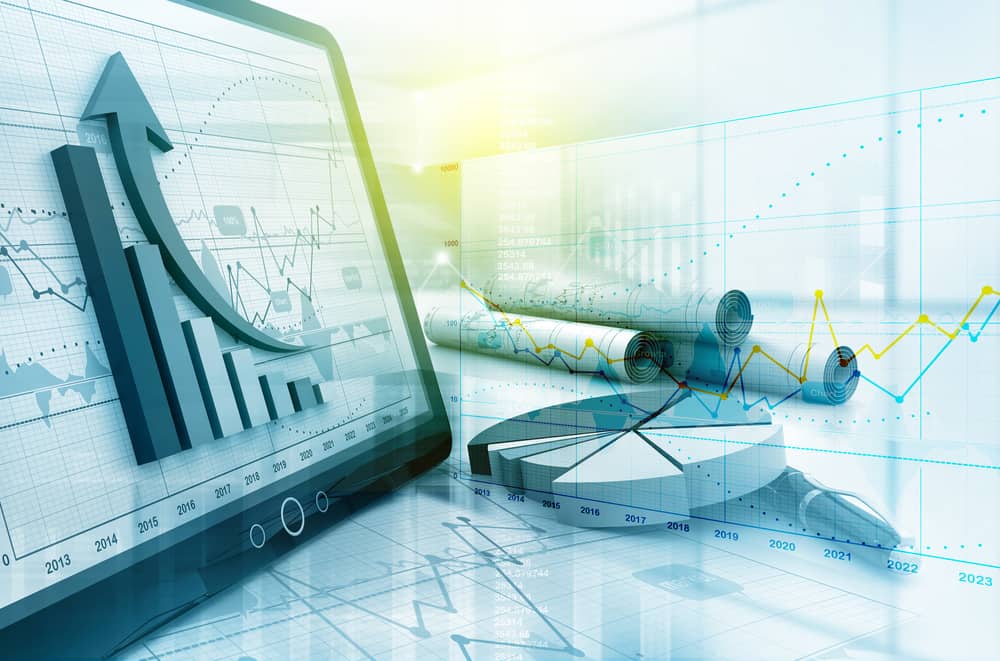 FOCUS ON: Huge News Week Approaches with Jobs Numbers, Interest Rates, and Earnings All Coming Through the Pipeline
Huge week for the markets in terms of economic data releases
US Jobs numbers probably carry most weight but are due at the end of the week
Prior to that central banks and US corporate giants provide an insight into the health of the economy
The markets are braced for a huge week in terms of economic data releases. The US Non-Farm Payroll unemployment numbers possibly top the bill in terms of significance, but those numbers due on Friday 3rd February are preceded by a raft of other big news events.
Central banks in the US, Eurozone, and UK will update on interest rates throughout the week and a range of other data points could also trigger price moves.
Forex
GBPUSD
The big news event for traders of GBPUSD is the interest rate update from the Bank of England on Thursday. The potential for GBP strength was identified in this report, which points to the underlying health of the UK economy surprising analysts.
Currency markets, and sterling, could also be influenced by the earnings releases and trading updates provided by UK corporations.  Ryanair and Smith & Nephew update investors on Monday 30th January. AG Barr releases a trading update on 31st January and Vodafone follows suit on 1st February. Thursday 2nd February sees BT and Shell both release half-yearly/quarterly earnings.
Daily Price Chart – GBPUSD Chart – Daily Price Chart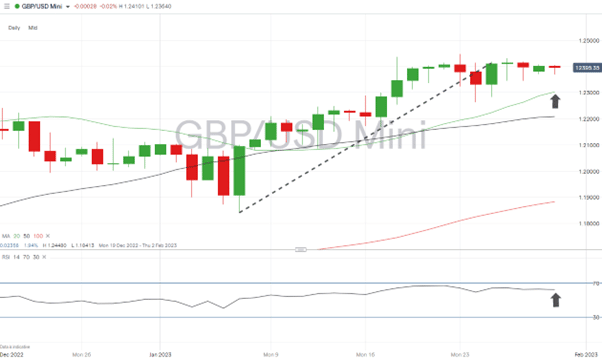 Source: IG
EURUSD
It's going to be a busy week for traders of euro currency pairs. CPI and Jobs numbers for the Eurozone are released on Wednesday 1st February. Then on Thursday 2nd February, at 1.15pm (GMT), the ECB will update markets on its interest rate policy.
EURUSD Chart – Daily Price Chart – Sideways Trading Pattern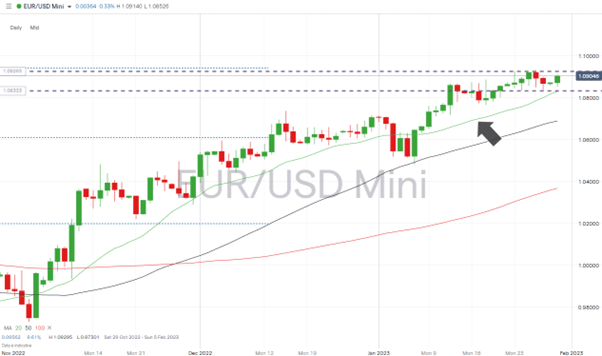 Source: IG
Indices
S&P 500
Earnings season has so far produced a mixed bag of results, but investor sentiment has still turned bullish. More big names are due to update investors this week and will offer further clues as to whether the downward trend of 2022 really is about to turn.
Friday 3rd is a huge day for FAANG stock investors with Amazon, Alphabet, and Apple, all releasing their numbers to the markets.
S&P 500 Chart – Daily Price Chart – Break of Long-Term Trendline.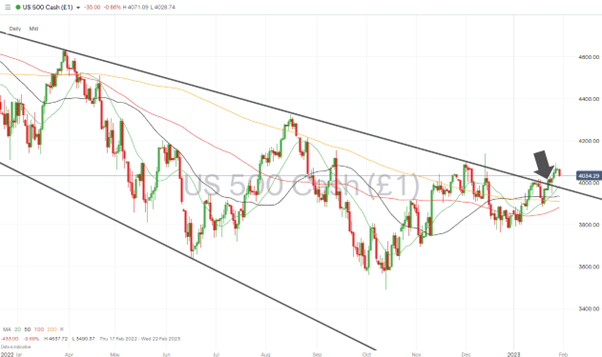 Source: IG
Corporate earnings releases due the week beginning Monday 30th January include:
Monday 30th: SThree
Tuesday 31st: Spotify, Pfizer, AMD, McDonald's Exxon, General Motors, Caterpillar
Wednesday 1st: GSK, Meta, Novartis
Thursday 2nd: Visa, Dow, Intel, and American Airlines.
Friday 3rd: Amazon, Ford, Merck, Starbucks, Apple, Alphabet.
People Also Read
Risk Statement: Trading financial products carries a high risk to your capital, especially trading leverage products such as CFDs. They may not be suitable for everyone. Please make sure that you fully understand the risks. You should consider whether you can afford to take the risk of losing your money.