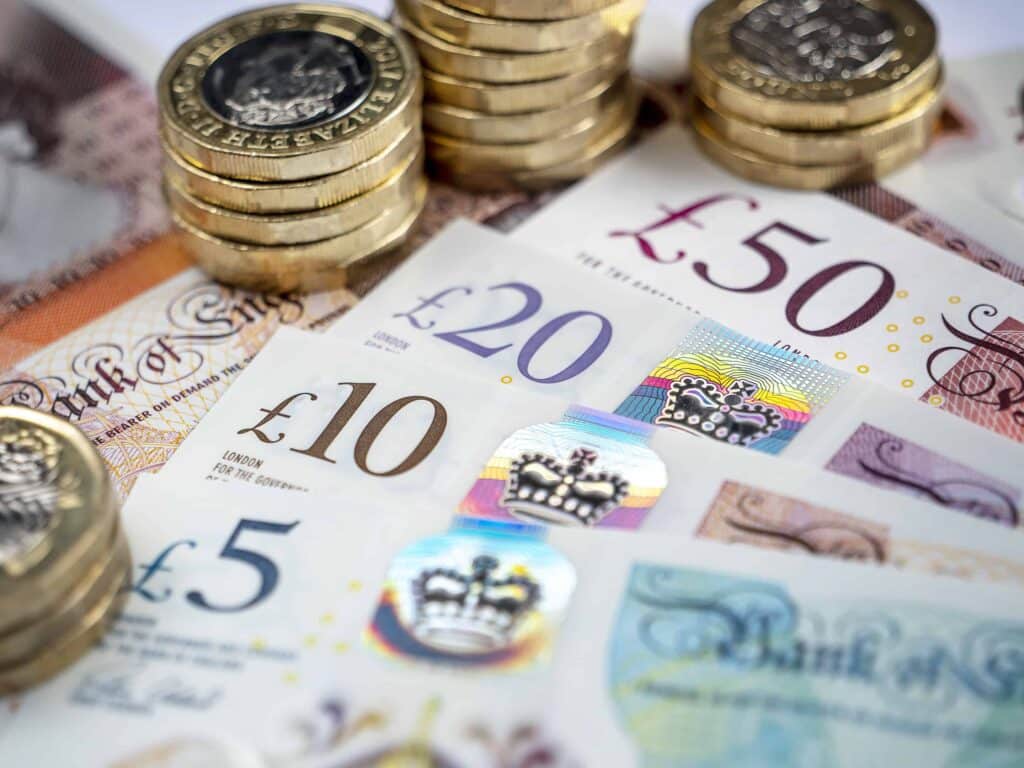 Sterling traders prepare for Bank of England interest rate announcement on 2nd February
Technical and fundamental price drivers point towards a rally of sterling
Central bank guidance shifting to support sterling outperformance
Relative underperformance by the British pound could be about to change. Like many other risk-on currencies, sterling has strengthened against the dollar in recent months, but compared to the euro, the pound's rally has been half-hearted. With the Bank of England meeting on 2nd February to determine interest rate policy, there are good reasons to think its approach might be about to turn more hawkish.
GBPUSD – Daily Price Chart 2022 – 2023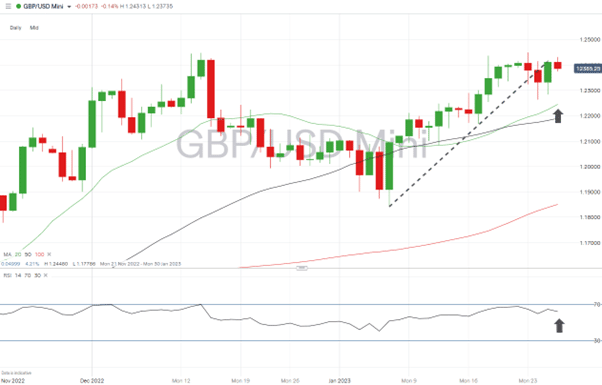 Source: IG
EURUSD – Euro Outperformance
The price chart of the EURUSD currency pair shows how a more overtly aggressive tone from the ECB over recent months has resulted in euro strength. Concerns about the Ukraine conflict's proximity to the Eurozone's powerhouse economy, Germany, and the threat of an energy shortage have been countered by the actions of the European Central Bank.
ECB President Christine Lagarde has, until recently, repeatedly used the phrase "staying the course" when commenting on ECB interest rate policy. That has resulted in EURGBP rising from 0.85472 on 1st December 2022 to 0.88148.
EURGBP – Daily Price Chart 2022 – 2023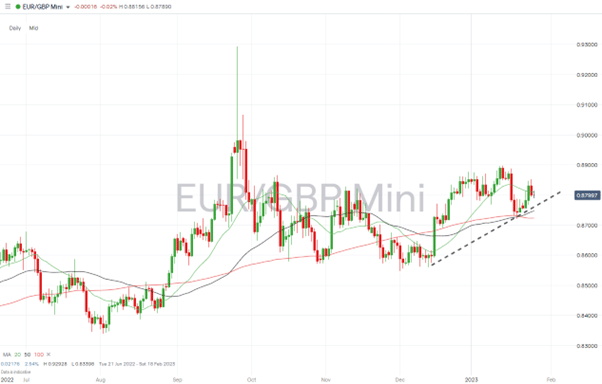 Source: IG
The run into the BoE's next meeting is marked by a change in guidance by both the ECB and BoE. Fabio Panetta,  Executive Board Member of the ECB, has led a regrouping of 'doves' and reportedly stated that the central bank should not commit to any further rate hikes after March.
At the same time, the BoE could be about to turn more hawkish. Through 2022 the BoE demonstrated a reluctance to raise interest rates as hard or as fast as its peer group – most notably the US Fed. The potential for a change of approach isn't driven by Bank Governor Andrew Bailey and his team realising they've been left behind but by the surprising strength of UK fundamentals.
The November UK GDP reading was surprisingly upbeat. That 0.2% gain in the economy caught analysts off-guard, with the consensus of their forecasts having been that the UK economy would have contracted.
Progress is also being made on the Northern Ireland protocol, and the aborted experiment in 'Trussonomics' looks highly unlikely to be repeated while new Prime Minister Rishi Sunak is in charge of the UK government.
GBPUSD – Daily Price Chart 2022 – 2023 – 20 SMA
Source: IG
Last week's period of sideways trading in GBPUSD was identified in this report as a chance for key moving averages to catch up with price. With that now having taken place and the RSI on the Daily Price Chart rolling over from 67.9 to 62.4, there is room for sterling to continue its upward momentum.
People Also Read
If you have been the victim of a scam, suspect fraudulent behaviour, or want to know more about this topic, please contact us at [email protected]