The "Relative Strength Index", or "RSI", indicator is a popular member of the "Oscillator" family of technical indicators. J. Welles Wilder created the RSI in order to measure the relative changes that occur between higher and lower closing prices. Traders use the index to determine overbought and oversold conditions, valuable information when setting entry and exit levels in the forex market.
The RSI is classified as an "oscillator" since the resulting curve fluctuates between values of zero and 100. The indicator typically has lines drawn at both the "30" and "70" values as warning signals. Values exceeding "85" are interpreted as a strong overbought condition, or "selling" signal, and if the curve dips below "15", a strong oversold condition, or "buying" signal, is generated.
RSI Formula
The RSI indicator is common on Metatrader4 trading software, and the calculation formula sequence involves these straightforward steps:
Choose a predetermined period "X" (Standard value is "14", although a value of "8" or "9" tends to be more sensitive;
Calculate "RS" = (Average of "X" periods up closes/Average of "X" periods down closes;
RSI = 100 – [100/(1 + RS)]
Software programs perform the necessary computational work and produce an RSI indicator as displayed in the bottom portion of the following chart: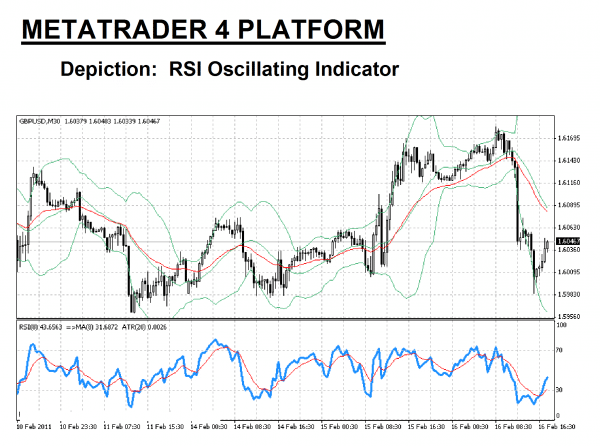 The RSI indicator is composed of a single fluctuating curve. Traders will occasionally add an exponential moving average, as above in red, to enhance the value of the trading signals. In the example above, the "blue" line is the RSI, while the "red" line represents an "EMA" for the same period variable of "8". The RSI is viewed as a "leading" indicator, in that its signals foretell that a change in trend is imminent. The weakness in the indicator is that timing is not necessarily a product of the RSI, the reason for attaching a "lagging" moving average to confirm the RSI signal.
Large surges in price changes can cause the RSI indicator to give false signals. It is prudent to complement the RSI with another indicator. Wilder also believed that the forte of the indicator was revealed when its values diverged from the prevailing prices in the market.
The next article in this series on the RSI indicator will discuss how this oscillator is used in forex trading and how to read the various graphical signals that are generated.
Next Article >> RSI Strategy >>
Basic technical strategies based on crossovers explained.

Forextraders' Broker of the Month
ForexTB is generally considered a reliable and reputable firm. It offers a variety of desirable features and attracts traders from all over Europe. The brokerage is fully regulated and licensed by the Cyprus Securities and Exchange Commission (CySEC) and is fully compliant with the European Securities and Markets Authority (ESMA). Customer reviews are usually positive, and independent industry websites that have reviewed ForexTB have concluded that the broker is safe...