The "Average True Range", or "ATR", indicator was developed by J. Welles Wilder to measure the volatility of price changes, initially for the commodities market where volatility is more prevalent, but it is now widely used by forex traders as well. Traders rarely use the indicator to discern future price movement directions, but use it to gain a perception of what recent historical volatility is in order to prepare an execution plan for trading. Setting stops and entry points at beneficial levels to prevent being stopped out or whipsawed are seen as benefits of this indicator.
The ATR is classified as an "oscillator" since the resulting curve fluctuates between values calculated based on the level of price volatility over a selected period. It is not a leading indicator in that it divulges nothing related to price direction. High values suggest that stops be wider, as well as entry points to prevent having the market move quickly against you. With a percentage of the ATR reading, the trader can effectively act with orders involving proportionate sizing levels customized for the currency at hand.
ATR Formula
The ATR indicator is common on Metatrader4 trading software, and the calculation formula sequence involves these straightforward steps:
For each period chosen, calculate three absolute values: a) the "High" minus the "Low", b) the "High" minus the previous period's "Close", and c) the previous period's "Close" minus the "Low";
The "True Range", or TR, is the greatest of the three previous calculations;
The ATR is the moving average over the chosen period length. Typical length setting is "14".
Software programs perform the necessary computational work and produce an ATR indicator as displayed in the bottom portion of the following chart: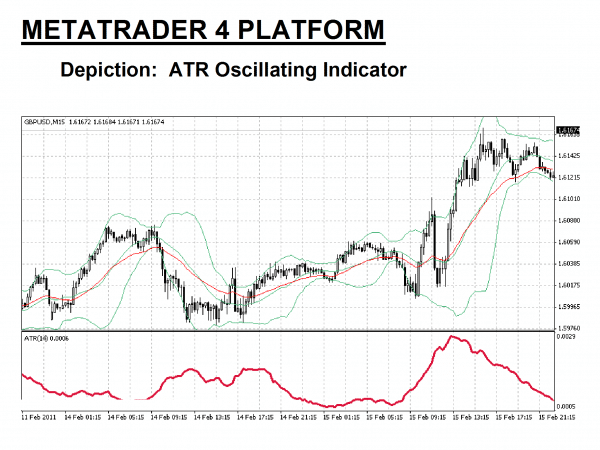 The ATR indicator is composed of a single fluctuating curve. In the above example with the "GBP/USD" currency pair, the ATR indicator range is between 5 and 29 "pips". At the "peaks" in the curve, you can visually see the "candlesticks" expanding in size, evidence of activity strength. If low values persist for a period of time, then the market is consolidating and a breakout may be in order.
The next article in this series on the ATR indicator will discuss how this oscillator is used in forex trading and how to read the various graphical signals that are generated.
Next Article >> An example trading strategy using the ATR Indicator >>

Forextraders' Broker of the Month
ForexTB is generally considered a reliable and reputable firm. It offers a variety of desirable features and attracts traders from all over Europe. The brokerage is fully regulated and licensed by the Cyprus Securities and Exchange Commission (CySEC) and is fully compliant with the European Securities and Markets Authority (ESMA). Customer reviews are usually positive, and independent industry websites that have reviewed ForexTB have concluded that the broker is safe...