The "Exponential Moving Average", or "EMA", indicator was developed to counter the lagging weakness of the SMA indicator by weighting more recent prices more heavily. Its origins are unknown, but its use was designed to smooth out the effects of price volatility and create a clearer picture of changing price trends. Traders use an EMA, sometimes in concert with another EMA for a different period, to signal confirmation of a change in price behavior.
The EMA indicator uses "period" and "price", as does the SMA, but fresher prices are given more weight to make the indicator respond more quickly to market changes. Since it reacts more quickly, it is prone to generate more false signals. The EMA works well in tandem with another EMA in strong trending markets, but the use of an EMA in a sideways market is not recommended. Since the EMA is so popular, it can often form a support or resistance line, depending on the type of trend, that traders respect in their decision-making process.
EMA Formula
The EMA indicator is common on Metatrader4 trading software. The calculation formula is more complex than for a an SMA and follows these steps:
Choose a "price" setting – assume "closing price";
Choose a "period" setting – assume "10" for example;
Calculate the "Smoothing Factor" = "SF" = 2/(1 + "10");
New EMA value = SF X New Price + (1- SF) X Previous EMA value.
Software programs perform the necessary computational work. Two EMA lines are presented below calculated using two different periods ( Red = 28, Blue = 13 ):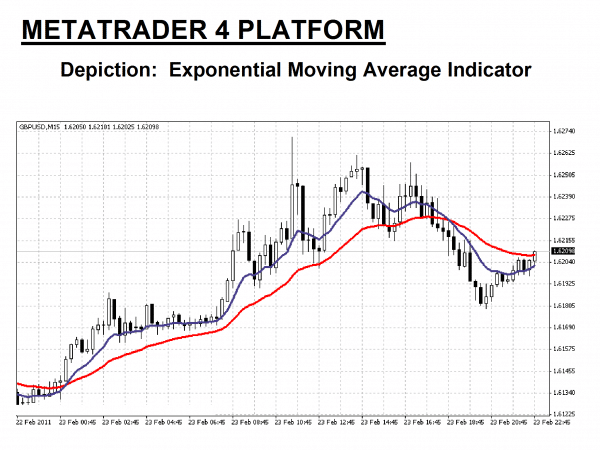 Software platforms generally place the EMA indicators along side the existing candlestick formations as depicted in the diagram. The EMA "Red" line with a longer period setting follows the upward trend, lagging below and forming an angled support line until the trend begins to reverse its direction. The "Blue" EMA line, with period setting 13, reacts more quickly and is embedded inside the candlesticks.
The benefit of the EMA indicator is its visual simplicity. Traders can quickly assess the prevailing trend of price behavior from the direction of the EMA. Care must be taken since the EMA is a lagging indicator and may not adjust rapidly to volatility in the market.
The next article in this series on the EMA indicator will discuss how this indicator is used in forex trading and how to read the various graphical signals that are generated.
More forex indicators explained
Next Article >> Exponential Moving Average Strategy >>
Various technical strategies based on crossovers explained.

Forextraders' Broker of the Month
ForexTB is generally considered a reliable and reputable firm. It offers a variety of desirable features and attracts traders from all over Europe. The brokerage is fully regulated and licensed by the Cyprus Securities and Exchange Commission (CySEC) and is fully compliant with the European Securities and Markets Authority (ESMA). Customer reviews are usually positive, and independent industry websites that have reviewed ForexTB have concluded that the broker is safe...