The "Simple Moving Average", or "SMA", indicator is one of the oldest and most common indicators used across all financial markets, including the forex market. Its origins are unknown, but its use was designed to smooth out the effects of price volatility and create a clearer picture of changing price trends. Traders use an SMA, sometimes in concert with another SMA for a different period, to signal confirmation of a change in price behavior.
The SMA indicator has only two variables involved in its computation – "period" and "price". The period can be chosen, but values over "20" are normally better when dealing with longer trend lines. Price can be set at open, close, high, or low. Since the SMA is so popular, it can often form a support or resistance line, depending on the type of trend, that traders respect in their decision-making process.
SMA Formula
The SMA indicator is common on Metatrader4 trading software, and the calculation formula smoothes pricing information by averaging as follows:
Choose a "period" setting – assume "10" for example;
Choose a "price" setting – assume "closing price";
Add up the sum of the last "10" closing prices and divide by "10"
Repeat the same process when the next closing price is posted.
Software programs perform the necessary computational work, and the SMA formula produces the gradually changing "red" line SMA as displayed below: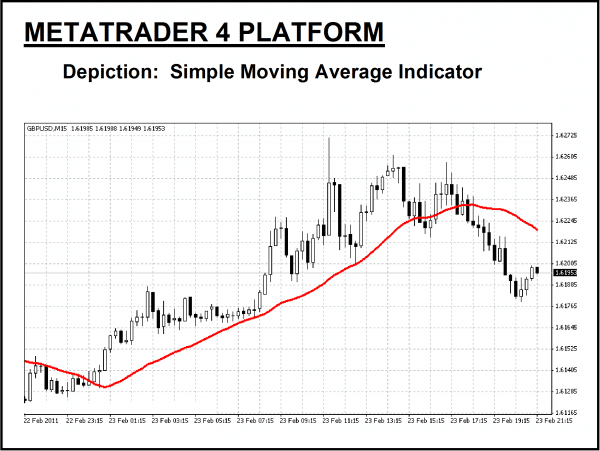 Software platforms generally place the SMA indicator along side the existing candlestick formations, but traders on occasion may add the SMA to another indicator window, the "RSI" for example, to give additional trading signals. In the chart example above, the SMA "red" line follows the upward trend, lagging below and forming an angled support line until the trend begins to reverse its direction.
The benefit of the SMA indicator is its visual simplicity. Traders can quickly assess the prevailing trend of price behavior from the direction of the SMA. Care must be taken since the SMA is a lagging indicator and may not adjust rapidly to volatility in the market. If shorter periods are chosen, then the weakness is that not enough pricing information is included in the indicator's makeup.
The next article in this series on the SMA indicator will discuss how this indicator is used in forex trading and how to read the various graphical signals that are generated.
Next Article >> Simple Moving Average Strategy >>
Learn various technical strategies based on crossovers.

Forextraders' Broker of the Month
ForexTB is generally considered a reliable and reputable firm. It offers a variety of desirable features and attracts traders from all over Europe. The brokerage is fully regulated and licensed by the Cyprus Securities and Exchange Commission (CySEC) and is fully compliant with the European Securities and Markets Authority (ESMA). Customer reviews are usually positive, and independent industry websites that have reviewed ForexTB have concluded that the broker is safe...