This is the third article in our Heiken Ashi series. If you haven't already, we suggest that you check out the first article about the Heiken Ashi Indicator. In the previous two articles, we have covered the background, the calculations involved, and how to use and read the Heiken Ashi indicator. Heiken Ashi is said to remove the "noise" from candlesticks and to behave much like the smoothing properties of a moving average. Traders use Heiken Ashi to determine the relative strength of a trend and to pinpoint key turning points in price behavior.
Traders focus on the key points of reference for the Heiken Ashi, which are when candlestick color changes occur, signifying a shift in momentum between Buyers and Sellers. Trends are easier to follow and stick with, especially when another indicator is used for confirmation. The Heiken Ashi indicator works well when support and resistance levels are evident.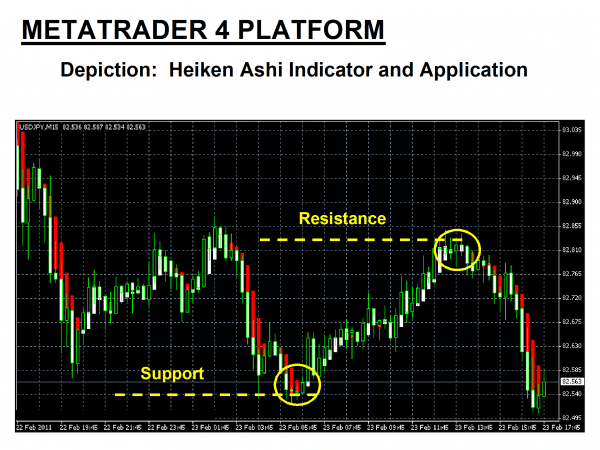 The following trading system is for educational purposes only. Technical analysis takes previous pricing behavior and attempts to forecast future prices, but, as we have all heard before, past results are no guarantee of future performance. With that disclaimer in mind, the "yellow" circles on the above chart illustrate optimal entry and exit points that can be discerned from using Heiken Ashi analysis. Using the Heiken Ashi in combination with another technical indicator is also always recommended.
A simple trading system would then be:
Determine your entry point from a Support level and then confirmation by the Heiken Ashi color shift;
Execute a "Buy" order for no more than 2% to 3% of your account;
Place a stop-loss order at 20 "pips" below your entry point;
Determine your exit point when the Heiken Ashi candles reach resistance levels and signify a color change.
Steps "2" and "3" represent prudent risk and money management principles that should be employed. This simple trading system would have yielded a profitable trade of 30 basis points, but do remember that the past is no guarantee for the future. However, consistency is your objective, and hopefully, over time, Heiken Ashi technical analysis will provide you with an "edge".
That concludes our series on the Heiken Ashi Indicator. For further reading visit our Forex indicators section.
Previous Article << Heiken Ashi Strategy <<
We also recommend you to learn more about Alligator Indicator Strategy.

Forextraders' Broker of the Month
ForexTime (FXTM) is an award-winning platform that certainly has the feeling of being set up by people who know what they are doing. The firm demonstrates an understanding of what helps traders make better returns, and its success can be measured by the fact that it's doubled the number of clients it supports in recent years. The fact that the broker has grown to have more than two million accounts suggests it is getting things right for clients.