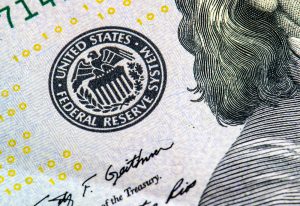 It was a dark day for the US dollar on Wednesday and into Thursday after the American central bank announced that interest rate rises were off for the foreseeable future.
The Federal Reserve effectively confirmed that there would be no interest rate rises for the rest of 2019 – leading the dollar to drop in many currency pairs.
In the JPY/USD pair, for example, it dropped to 110.47 – which represented a downward move of 0.6% overnight.
In the US dollar index, which assesses the dollar's performance relative to a number of other global currencies, it went down to its worst point since February – although it later rallied.
Elsewhere, the British pound also suffered in the markets following further confusion over whether a no-deal Brexit might be on the cards.
A message from the European Union said that Prime Minister Theresa May couldn't have a delay to the Brexit process unless she was able to get her deal through the House of Commons, something which has so far failed to occur on two occasions.
The pound dropped by 0.2% at this news in the GBP/USD pair. It reached $1.3165.
As the foreign exchange trading week draws to a close, there are still plenty of events about to occur.
The Bank of England's interest rate decision is due today (Thursday) at 12pm GMT. It is expected that this will show no change from its current position of 0.75%.
Analysts predict that the decision will be unanimous when the monetary policy committee casts its vote.
The Bank of England's asset purchase facility is also expected to remain strong, this time at £435 billion.
Over in the US, initial jobless claims data for the dates around March 15th is expected at 12.30pm GMT. This is expected to show a change from 229,000 to 225,000.
Continuing jobless claims for the days around March 8th are also due out at that time. These are expected to show a change from 1,776,000 to 1,772,000.
The Japanese national consumer price index for February is due at 11.30pm GMT. This is expected to show a year on year change from 0.2% to 0.3%.
Tomorrow morning, there will be a speech from Luis De Guindos, who is the Vice-President of the European Central Bank. He is due to speak at 8.15am GMT.
Preliminary German Markit manufacturing purchasing managers' index data for March is due at 8.30am GMT. This is expected to show a change from 47.6 to 48.
Preliminary Europe-wide Markit PMI data for March is expected at 9am GMT. This is expected to show a slight change from 51.9 to 52.
Canadian retail sales information is due out at 12.30pm GMT. Month on month, this was last recorded at -0.1%.
Consumer price index information for February will also come out of Canada at the same time. This is due to show a year on year change from 1.5% to 1.2%.
Existing home sales information covering the month of February is expected from the US at 2pm GMT. Month on month, this is forecast by analysts to show a change from 4,940,000 to 5,100,000.