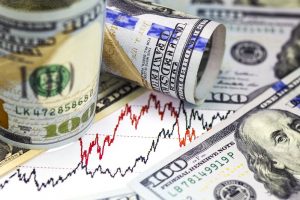 Both the US dollar and the Australian dollar faced problems in forex trading over the course of Tuesday.
The greenback suffered as a result of changes in the US bond market. The yield curve between the three-year and five-year Treasury notes was not pleasing to the markets, and there is a belief among many analysts that the two-year and decade-long equivalents could go the same way, potentially indicating a recession.
The fear for many dollar traders is likely to be that developments such as these will push the Federal Reserve to be much more cautious about going ahead with December's planned interest rate rises – and they may even decide not to pursue them this month at all.
The dollar index, which measures its performance in relation to several other currencies, went up slightly to 97.020 – a far cry from the 97.693 position seen in November.
In Australia, however, the decline was much more noticeable. The Australian dollar dropped in relation to its US counterpart by 0.4% over the course of the day, reaching $0.7310 at one stage.
This came largely as a result of economic growth figures for the third quarter of the year, which were below the levels expected by analysts.
At the halfway point for the week, there's still a lot for investors in the forex world to keep an eye on.
Today (Wednesday) will see something of a slowdown in American markets given the special closure of many institutions in honour of former US President George H. W. Bush.
However, there will still be some central banking action in the US. Randal Keith Quarles, who is a member, and Vice Chair for Supervision, of the Federal Reserve Board of Governors, will speak at 1.15pm GMT.
At 7pm GMT, the Federal Reserve's Beige Book, which looks at the US economic situation by conducting interviews with members of each Federal Reserve district, will be released too.
The major North American focus will be on the Bank of Canada, however, which releases its interest rate decision at 3pm GMT. Analysts expect that it will hold steady at 1.75%.
On Thursday, US trade balance data covering October will be out at 1.30pm GMT. This is expected to hold steady as well at $-54 billion.
Joblessness data for the US will also be due out. Initial jobless claims for last week are expected to show a steep decline, from 234,000 to 220,000. This sort of positive data about economic performance is often what is used by the Federal Reserve to justify interest rate hikes, so it will be closely watched by traders.
On Friday, the focus will once again be on Canada where major employment data for November will be released. The net change in employment is also expected to decline, and to go from 11,200 to 10,000.
Later in the day, the preliminary Michigan Consumer Sentiment Index will be out at 3pm in the US. It is expected to show a drop from 97.5 to 97.0.