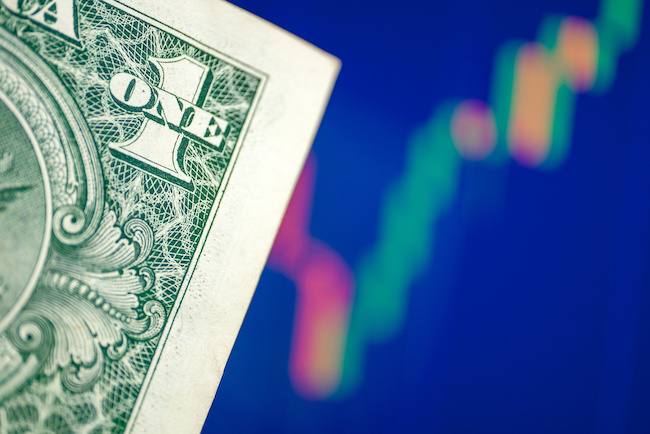 The US dollar index performed somewhat sluggishly in the foreign exchange markets on Monday after a risk-on mood appeared to take hold across the globe.
As traders at the online broker ATFX saw, the dollar index, which functions as a composite tracker of the dollar's performance against a series of other important global currencies, was noted languishing at 95.95, seemingly unable to move as the day progressed.
A number of factors were involved in this, including internal political developments in the country.
As is the case in Europe, where leaders are currently arguing over the precise mechanisms of a coronavirus aid package, the US has also been gripped by divides – this time split along partisan lines.
The aid package, which is currently going through the US Congress, is being contested by both Donald Trump's Republican Party and also by the Democrats.
However, concerns over the economic impact of coronavirus lockdowns were also on the cards.
The US has seen significant problems with the pandemic and has been accused by other countries around the world of not having a firm handle on the disease.
With some states still reporting world-record levels of cases, many parts of the US are now either on the verge of or already are reintroducing lockdown measures.
In a triple whammy for the currency, the corporate earnings season, which arrives at the end of every quarter, struck a disappointing note after Netflix revealed figures that were lower than predicted.
Some market watchers, however, are now turning their attention to the dollar's performance against other currency pairs – especially those in Asia.
Asia has been a focal point for many forex traders during the coronavirus pandemic, not least because the disease is believed to have originated there.
With so much of the world's manufacturing and trade being routed through the region, meanwhile, the economic outlook of its countries is important to forex traders.
Over the course of last week, the US dollar saw a significant rise in its pair against the Indonesian rupiah.
It went up by 1.86% in this pair overall, which was fuelled largely by technical indicators suggesting a rise.
It was also fuelled by news that the Bank of Indonesia was slashing a key rate.
However, it saw dips in many of its other Asian pairs.
It went down significantly against the Indian rupee.
In this pair, it plummeted by around a quarter of a percentage point.
In many of its other Asian pairs, however, its declines were negligible.
Against the Philippine peso, for example, the decline was just 0.08%.
Overall, the currency is – like all currencies – facing a time of protracted uncertainty due to the pandemic.
However, given that the dollar thrives on global dips in risk attitude, it may well be that its worst days are yet to come in these pairs if the pandemic's impact continues to lessen overall.