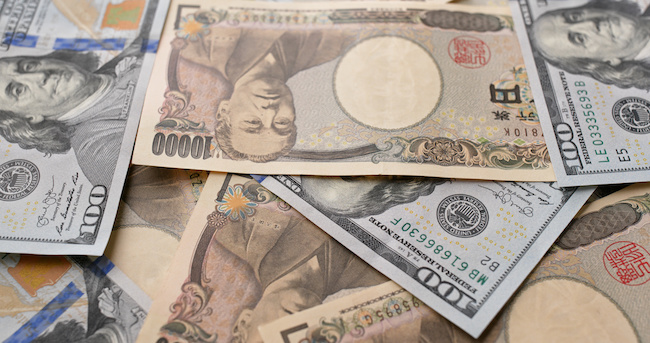 The US dollar managed to recover some previously lost ground on Friday as figures from organisations in the country showed a steep rise in coronavirus cases there.
Figures revealed that there were 77,300 new cases in just one day there earlier this week.
This marks the worst change in one day during the pandemic so far.
It came as some states in the US, including California and its metropolises Los Angeles and San Francisco, went back into some form of lockdown.
While this has caused both economic and public health problems domestically in the US, it has had a characteristic effect on the forex markets by driving demand for the dollar.
Investors are now turning to the US currency because it is one of the easiest in the world to liquidate into cash when required.
In its pair against the Japanese yen, for example, the dollar was up by 0.3% on the day to reach 107.22.
It also surged ahead in another safe-haven pair as Friday's trading got well underway.
Against the Swiss franc, it was seen at 0.9451 at one point, which was a figure near to its best performance in a fortnight.
However, geopolitical developments also fuelled the rise in the dollar's value over the course of the day.
Tensions between the US and China are continuing to rise.
There was even one suggestion this week that President Donald Trump – who is running for re-election in November – is debating whether or not to prohibit travel into the US by any member of the Chinese Communist Party.
The relationship between the two major economies has hit a stumbling block in recent weeks, and the sources of the tensions have been varied.
Part of the tension is related to the coronavirus pandemic, but it also comes from disagreements around the telecoms firm Huawei as well as China's treatment of Hong Kong.
Elsewhere around the world, traders of the single European currency were closely anticipating news from a summit of leaders from across the continent.
This summit, which will begin today (Friday) and continue into tomorrow, is expected to discuss a potentially market-moving intervention package designed to help European nations hit by the coronavirus pandemic.
It will also discuss major question marks over the bloc's financial planning for almost the whole of the next decade.
Whether or not the bloc's countries will be able to agree on funding models is another matter, given that some of them are wealthier than others.
The currency performed in a mediocre way after a largely positive week.
In its pair against the greenback, for example, it was seen merely holding firm at $1.1386.
In its pair with the British pound, it saw a negligible surge, reaching 90.62 pence at one stage.
The pound itself did not experience any major movements in its own dollar pair, however.
The currency was seen at $1.2569 in this pair at one point.