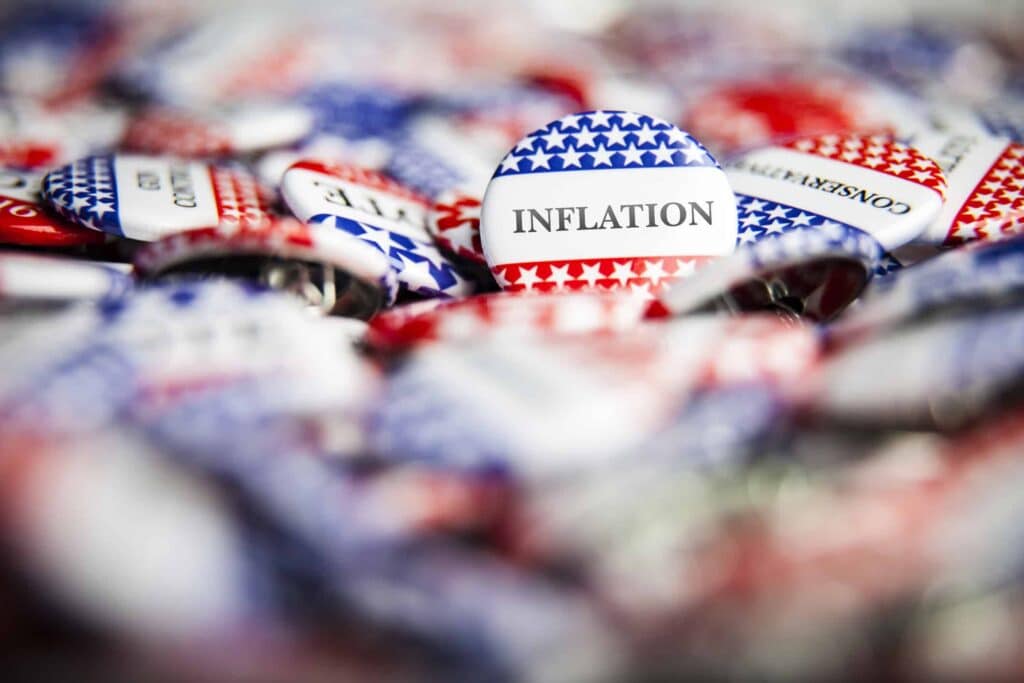 US reports CPI of 8.5%, lower than the forecasted 8.7%
GBPUSD and EURUSD both broke out of long-term patterns
Weaker energy prices are also having an effect
Major currency pairs have jolted into action on the back of better-than-expected US CPI inflation numbers released on Wednesday. Core inflation, which excludes energy costs, was the same month-on-month at 5.9% but lower than analyst forecasts of 6.1%. The headline CPI figure came in at 8.5% instead of the 8.7% forecast. Not only were analysts surprised about the downside, but also the suggestion is that US inflation could have peaked.
What Does the US Inflation Data Mean for Major Forex Pairs?
Wednesday's news was followed by a rush into risk-on assets. Major stock indices surged, and the growth stock-heavy Nasdaq 100 closed the day up 2.53%.
GBPUSD – Daily Price Chart – Trendline Break, Kiss & Bounce
Source: IG
A similar move was seen in currency markets, and from a technical perspective, GBPUSD appears to have confirmed a breakout of its long-term bearish price channel. A similar move was seen in EURUSD, which broke to the upside and out of a multi-week consolidation pattern.
EURUSD – Daily Price Chart – Breakout of Sideways Trading Channel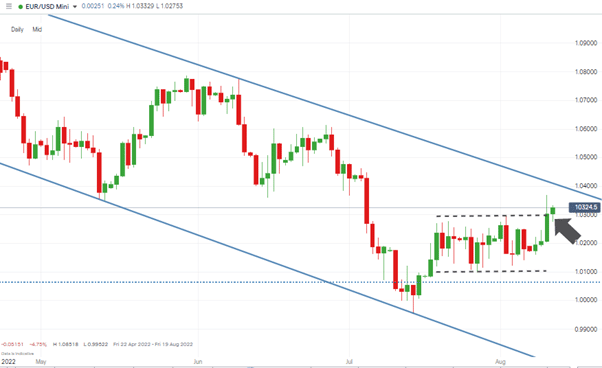 Source: IG
Also Read: GBPUSD Forecast and Live Chart
The Fed's Policy is Working
At the next meeting of the world's central bankers, it will be Jerome Powell and his team who will be receiving the most accolades. The FOMC was slower out of the blocks than its UK and European peers when it came to raising interest rates in H1 2022, but have since then delivered two ground-breaking 0.75% interest rate rises in quick succession.
The Fed has demonstrated that taming inflation is a confidence game. More importantly, the US numbers open the door to the European Central Bank and the Bank of England realising what they should have already known – that a short, sharp shock is the best approach. Deliberating over whether inflation is demand-pull, or cost-push, is a question for economists rather than the heads of central banks who have their hands on the actual levers of monetary policy.
Any reluctance by the ECB and BoE to follow the path of the US Fed would challenge the credibility of both institutions, so we can expect dramatic hikes in the UK and eurozone interest rates. For some time, a more aggressive policy has theoretically been the right approach to take, but the US CPI data released on Wednesday proves that the approach works.
Weaker Energy Prices – For Now
The slump in the price of crude oil and natural gas may well be short-lived, but it is playing a big role in making here-and-now inflation data an easier read.
Few would bet against geopolitical risk or a hard winter in the Northern Hemisphere triggering another price surge, and even a test of all-time highs. However, the air was getting thin for crude's rally from the lows of 2020 and a period of consolidation appears likely.
The Fed's take on energy prices could result in it taking a conservative approach and putting through another 0.75% interest rate rise in September. The task of reining in inflation is in many ways only half done, but the euro and sterling can be expected to benefit from the central bankers in those regions being shown that they have to play catch-up, and as soon as possible.
If you have been the victim of a scam, suspect fraudulent behaviour, or want to know more about this topic, please contact us at [email protected].
People Also Read