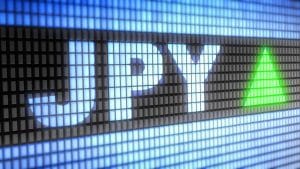 The Japanese yen saw big gains during international forex market trading on Thursday.
The US dollar, for example, went down by 0.2% in the USD/JPY pair to 112.98. Responsibility for the surge towards the yen was largely ascribed to worries about the US Treasury yield curve.
Markets were spooked in particular by the arrest of a leading figure from the Chinese firm Huawei. This took place in Canada, suggesting that tensions, which were recently eased by a meeting between Donald Trump and Xi Jinping, could be back on the horizon.
Other global currencies saw problems too. The Australian dollar, for example, dropped against its US counterpart by 0.2% to $0.7256 – a development which often occurs when China is considered to be in a tough spot, given the connections between the two major Asia-Pacific economies.
The British pound continued its decline, reaching $1.2719 in its pair against the US dollar. This came largely as a result of the British government experiencing a number of hits in the House of Commons as part of its Brexit strategy, including rows over the legal advice it received for the withdrawal.
Today and tomorrow both have busy economic calendars.
Today (Thursday) sees a range of US data releases in the afternoon. Continuing jobless claims for the week of November 23rd are due out at 1.30pm GMT and are expected to show a slight shift from 1.71 million to 1.7 million.
Initial jobless claims for the week of November 30th, meanwhile, are expected to show a similar move when they come out at the same time. In this case, the drop is expected to be from 234,000 to 225,000.
A speech from the Bank of Canada's Governor, Stephen Poloz, is expected at 1.50pm GMT. He will most likely focus on the decision taken yesterday to keep interest rates at 1.75%.
Also in Canada, today will be the Ivey purchasing managers' index for November, which is due out at 3pm GMT.
At 11.45pm GMT, Jerome Powell, Chair of the US Federal Reserve, is due to make a speech.
Into tomorrow, there are several significant events on the horizon – especially in Europe.
Gross domestic production information for the third quarter of the year is due out at 10am GMT.
Political events will also take centre stage too. The day sees the election of a new leader of the German CDU party: whoever wins will eventually take over from Angela Merkel as the party's chairperson. The race is believed to be tight between Annegret Kramp-Karrenbauer, a centrist and a close ally of Merkel, and Friedrich Merz, a lawyer and a long-time political opponent.
All eyes will be back on North America for most of the rest of the day, however. Figures on the Canadian net change in employment in November are expected at 1.30pm GMT, and these are expected to show a drop from 11,200 to 10,000.
US average hourly earnings for November will also be out at the same time. Year on year, these are expected to remain steady at 3.1%.