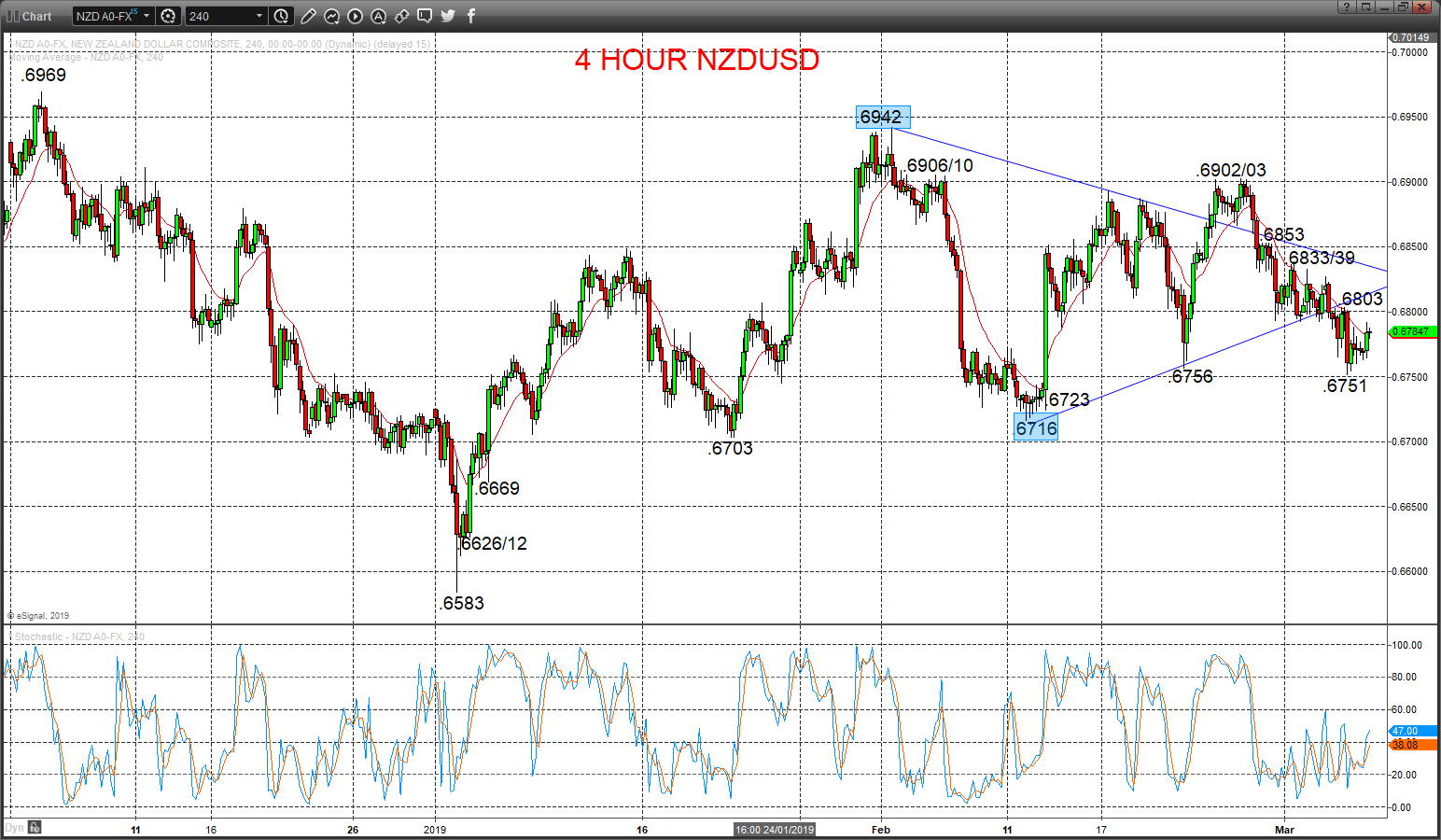 ---
We last examined the AUDUSD and NZDUSD currency pair here on 24th February here and emphasized a bearish AUDUSD trend for and downside threats for NZDUSD.
These outlooks remain the same and have been reinforced by ongoing US Dollar strength, driven by a still robust US economy, but global slowdown concerns.
The Reserve Bank of Australia has maintained a dovish outlook, whilst weakening Australian data (most notably GDP data this week) have seen expectations of rate cuts in 2019 increase, pushing the AUDUSD Forex rate still lower.
The NZDUSD remains within a broader range/ non-trend environment, but the global slowdown continues to weigh on the FX rate, with the risks skewed for a more bearish shift, signalled technically below .6716.
AUDUSD bear extension, risk of more to come
Again, a selloff on Wednesday for a better push below the .7067 dual lows and now also the February swing low at .7050, reinforcing Monday's rebound failure from .7117/21 and downside forces from the selloff since the late February failure from a rebound high at .7199 (just below the .7207 spike peak), keeping risks lower for Thursday.
The early February push .7073 set an intermediate-term bear trend, BUT risk is growing for a push to challenge .7246, above which would see the intermediate-term outlook switch straight to bullish.
For Today:                                                        
We see a downside bias through .7017; below here quickly aims for maybe .7000/6991 and maybe towards .69949.
But above .7092 aims for .7117/21, which we would look to ty to cap.
Intermediate-term Outlook – Downside Risks: We see a downside risk for .6916.
Lower targets would be .6829 and .6738
What Changes This? Above .7246 shifts the outlook straight to a bull theme.
Resistance and Support:
| | | | | |
| --- | --- | --- | --- | --- |
| .7092 | .7117/21 | .7166 | .7199* | .7207** |
| .7017 | .7000/6991* | .6949* | 6916* | 6873 |
4 Hour Chart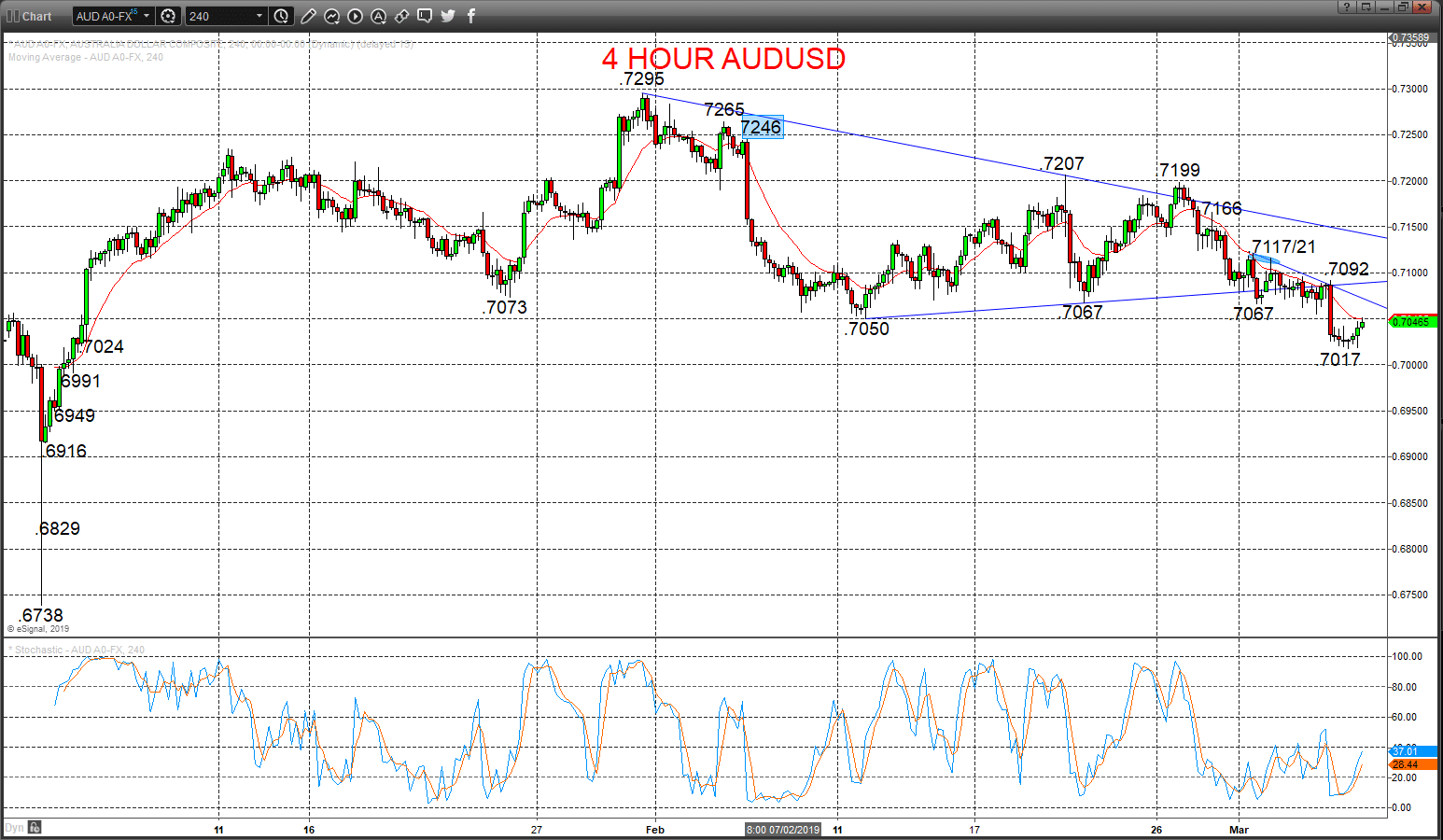 NZDUSD still a bear threat to key .6716
A probe still lower Wednesday and then a small rebound but only after a prod through notable .6756 support (to .6751), reinforcing Tuesday's selloff through the notable .6793/92 recent range support area and prior rebound failures from our .6833/53 resistance area, keeping the bias to the downside Thursday.
We see an intermediate-term range defined as .6716 to .6942, BUT now with a growing threat for a downside challenge.
For Today:
We see a downside bias for .6751 break here aims for .6723 and maybe towards key .6716.
But above .6803 targets .6833/32 and quickly aims for .6853.
Intermediate-term Range Breakout Parameters: Range seen as .6716 to .6942.
Upside Risks: Above .6942 sets a bull trend to aim for .6969, .7060 and .7437.
Downside Risks: Below .6716 sees a bear trend to target .6583, .6347 and .6195.
Resistance and Support:
| | | | | |
| --- | --- | --- | --- | --- |
| .6803* | .6833/39* | .6853* | .6903/10*** | .6942*** |
| .6751 | .6723* | .6716*** | .6703*** | .6669* |
4 Hour Chart