---
The US 10yr Future is in a negative downtrend on an intermediate-term basis, driven lower from November after the US Presidential election result and in December after the FOMC rate hike.
This move to lower prices (thereby higher yields) has been supportive of the US Dollar since November. Despite the US 10yr Future upside correction in early 2017, the failure lower after the US Employment report on Friday (6th January), leaves a bias for further negative price action (and higher yields) into January.
This should encourage a renewal of strength for the US currency, with the threat for USDJPY to move above key resistance in the 120.00/10 area.
Read more technical analysis of the currency market
US 10yr Future
A probe just above a key resistance at 125-095 on Friday, but then an aggressive sell-off after the US Employment report from just above here (from 125-105).
This has rejected a shift to a broader neutral theme, maintaining the intermediate term bearish trend and leaving risk lower again for Monday.
Furthermore, whilst below resistance now at 125-105, we still see an intermediate term bearish outlook.
For Today:
We see a downside bias for 124-065; break here aims for 123-275, maybe123-19/185.
But above 124-215 opens risk up to 125-00/01, maybe key 125-105.
Short/ Intermediate-term Outlook – Downside Risks:
We see a negative tone with the bearish threat to targets 122-06 and 121-25.
Overshoot threat is closer to 121-07.
What Changes This? Above 125-105 signals a neutral tone, only shifting positive above 126-045
Daily US 10yr Future Chart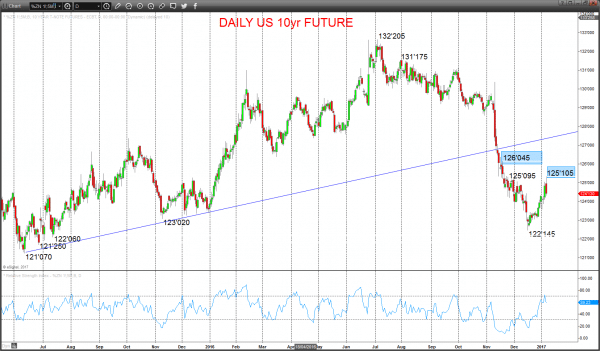 USDJPY
An extremely robust turnaround rebound on Friday after a probe just below important support at 115.05 (from 115.03), surging above resistances at 116.10 and 116.80, shifting the respect of the upside into Monday.
For Today:
We see an upside bias for 117.18; break here aims for 117.85 and maybe 118.19.
But below 116.28 opens risk down to 115.05/03.
Furthermore, we still see intermediate-term upside pressures intact from the recent push above the 50% retracement of the entire 2015-16 sell-off at 112.42.
Short/ Intermediate-term Outlook – Upside Risks:
We see a positive tone with the bullish threat to 120.00/10.
Above here targets 121.69 and maybe as high as 123.57/75 and 125.28/85!
What Changes This? Below 113.12 signals a neutral tone, only shifting negative below 111.32.
Daily USDJPY Chart