---
The US Dollar has displayed a more negative tone in 2017 than seen in November-December 2016, when the US currency produced strong rallies against most major global currencies.
However, the consolidation in early 2017 and the more negative tone seen on Wednesday 11th January after the Trump speech Lee's risk for a more negative US Dollar tone through mid-January.
This leaves EURUSD and USDCAD vulnerable to more negative shifts in the short-term.
EURUSD
An initial push lower through support at 1.0508 and 1.0480 on Wednesday, but a strong turnaround rebound through the range from this week sets up a challenge to key resistance at 1.0622/27 and critical barriers up in the 1.0653/70 area.
However, the early 2017 breakdown to another new cycle low below 1.0350 served to reinforce the intermediate-term bearish theme, but risk is now growing for a push above 1.0670, which would see a shift in the intermediate term outlook from bearish to neutral.
For Today:
We see an upside bias for 1.0622/27; break here aims for 1.0653/70, maybe then up to 1.0720/30.
But below 1.0540 opens risk down to 1.0452.
Short/ Intermediate-term Outlook – Downside Risks:
We see a negative tone with the bearish threat to parity (1.0000) and .9900, maybe as deep as .9610
What Changes This? Above 1.0670 signals a neutral tone, only shifting positive above 1.0874.
Daily EURUSD Chart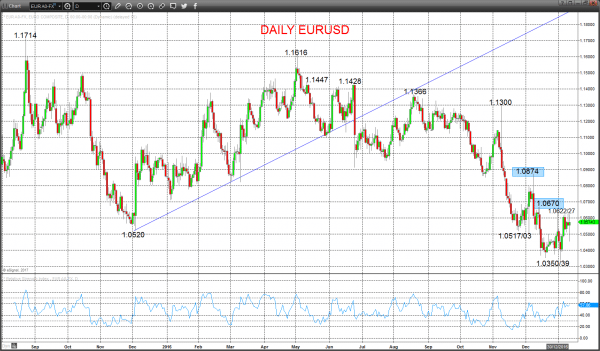 USDJPY
An erratic tone, but setting back on Wednesday from ahead of resistance at 1.3313, to plunge down through support at 1.3172 and through the uptrend line support from May 2016, shifting the risk to the downside into Thursday.
Although the intermediate-term trend remains higher from the late 2016 prod above 1.3588, risk is going for a push down through 1.2996, which will then see a move to an intermediate-term range theme again.
For Today:
We see a downside bias for 1.3118 and 1.3077; break here aims for key support in the 1.3002/1.2996 area.
But above 1.3210 opens risk up to 1.3294/1.3313.
Short/ Intermediate-term Outlook – Upside Risks:
We see a positive tone with the bullish threat to 1.3598.
Above here targets 1.3837/59 and 1.4000/17.
What Changes This? Below 1.3077 signals a neutral tone, only shifting negative below 1.2996.
Daily USDCAD Chart