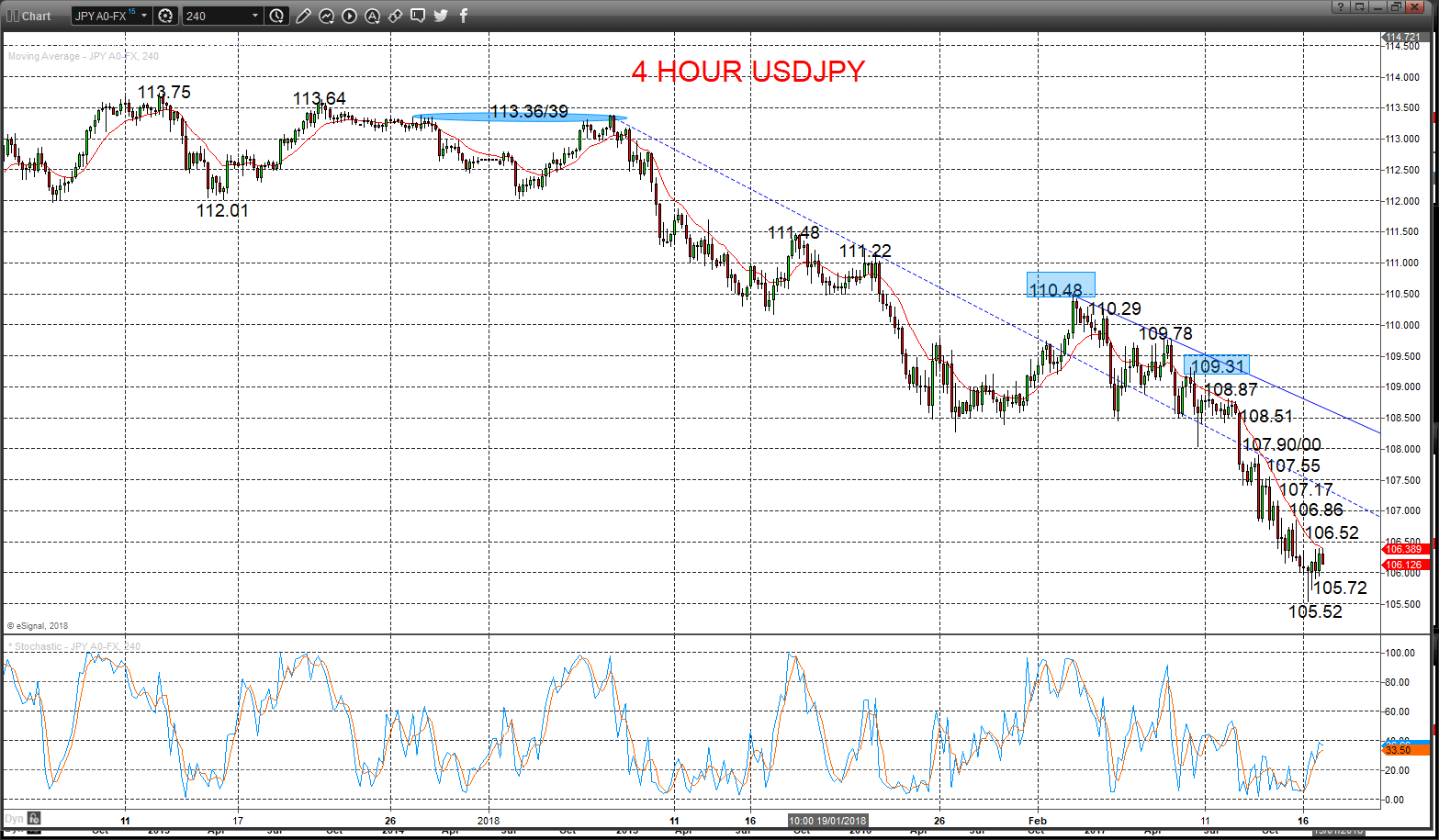 ---
The bearish tone from the aggressive sell off in US and global equity averages in early February has been eased by the strong rebound seen through mid-month.
This activity has seen the US Dollar resume it prior theme of weakness.
USDJPY has remained bearish throughout this "risk off/ risk on" phase, with strong threat for further losses into the second half of February (and likely March).
USDCAD bear pressures were eased by the February rebound during the "risk off" phase, for a shift to an intermediate-term range environment, but with the skewed bias for bearish pressures to resurface (triggered below 1.2422).
Read all technical forex analyses
USDJPY Bear forces intact
Yet another push lower Friday through a significant support area at 106.00/105.99, reinforcing Wednesday's surrender of a key target at 107.29 (the September 2017 multi-month swing low) and 107.19 (an important longer term retracement target), to keep the bias lower Monday .
The mid-January selloff below 112.01 produced an intermediate-term bearish range breakout, with losses this year sustaining a bear theme into February (whilst below 110.48).
For Today:
We see a downside bias for 105.72 and 105.52; break here quickly aims for 105.33 and even a key area at 105.00/104.93.
But above 106.53 targets 106.86 and maybe aims for 107.17, which we would look to try to cap.
Intermediate-term Outlook – Downside Risks:
Whilst below 109.31 we see a bear theme with the downside threat to 107.29/19, 105.99 and93.
What Changes This? Above 109.31 signals a neutral tone, shifting bullish below 110.48.
Resistance and Support:
| | | | | |
| --- | --- | --- | --- | --- |
| 106.52 | 106.86** | 107.17 | 107.55** | 107.90/00 |
| 105.72 | 105.52* | 105.33 | 105.00/104.93** | 104.71 |
4 Hour USDJPY Chart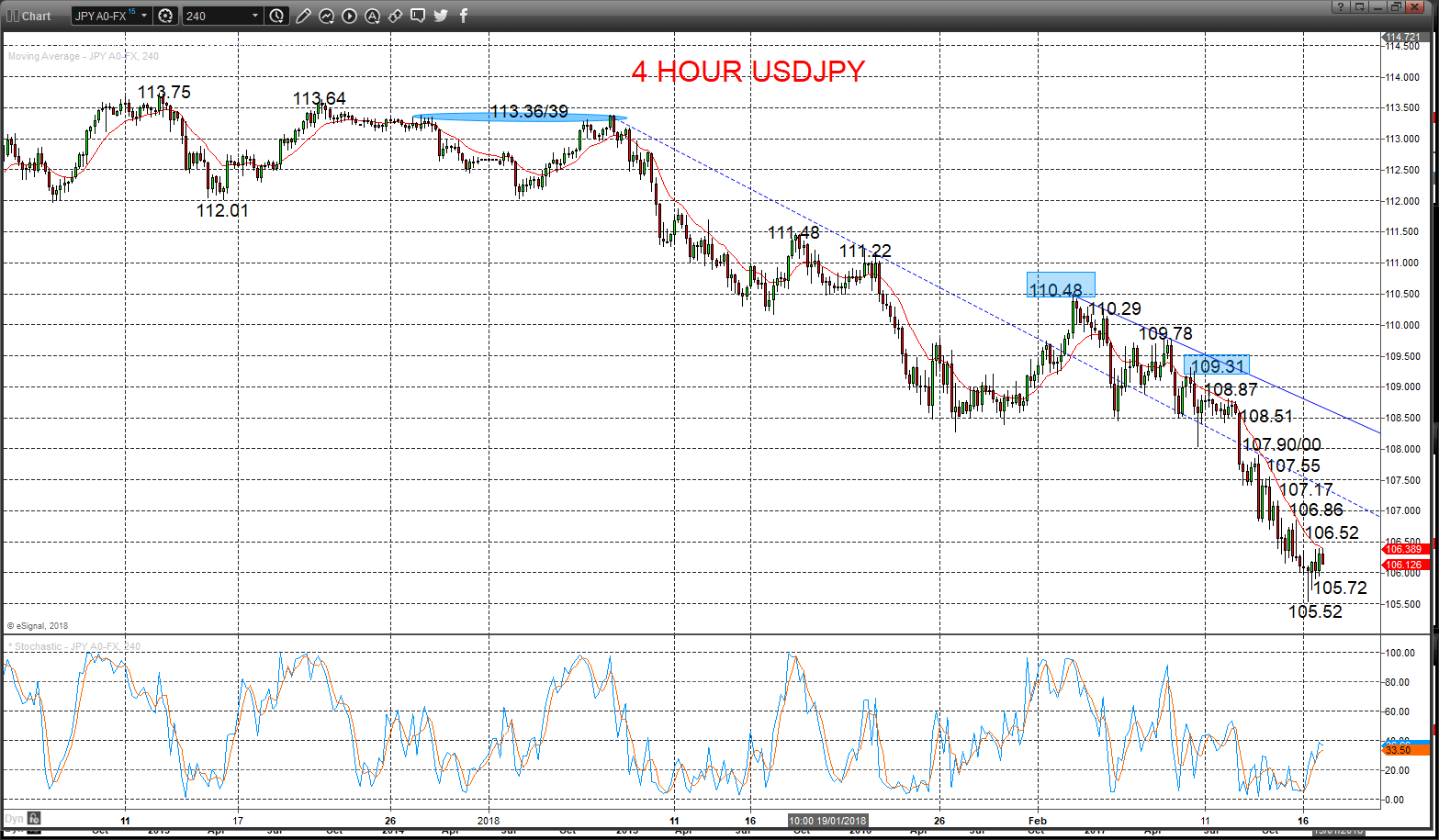 USDCAD Negative tone intact, despite bounce
A Friday bounce, to prod above resistance at 1.2535/37, but a stall ahead of the 1.2580 barrier, sustaining negative pressures from Wednesday's sell off (after an initial spike after the US CPI release), keeping the risk lower Monday.
The early February push above 1.2589 neutralised the intermediate-term bear trend to set a broader, intermediate-term range theme (1.2728 to 1.2422), BUT we now see the asymmetrical bias in the intermediate-term range for a bear shift again below 1.2422.
For Today:
We see a downside bias for 1.2507/05 and 1.2445; break here aims for the key 1.2422 level, maybe 1.2362.
But above 1.2580 opens risk up to 1.2649, which we would look to try to cap.
Intermediate-term Range Breakout Parameters: Range seen as 1.2728 to 1.2422.
Upside: Above 1.2728 targets the cycle high at 1.2917 and 1.3000.
Downside A break below 1.2422 sets a negative tone with the bearish threat to target 1.2247, 1.2194 and 1.2060.
Resistance and Support:
| | | | | |
| --- | --- | --- | --- | --- |
| 1.2580 | 1.2649** | 1.2689* | 1.2728*** | 1.2796* |
| 1.2507/05 | 1.2445 | 1.2422*** | 1.2362 | 1.2299 |
4 Hour USDCAD Chart