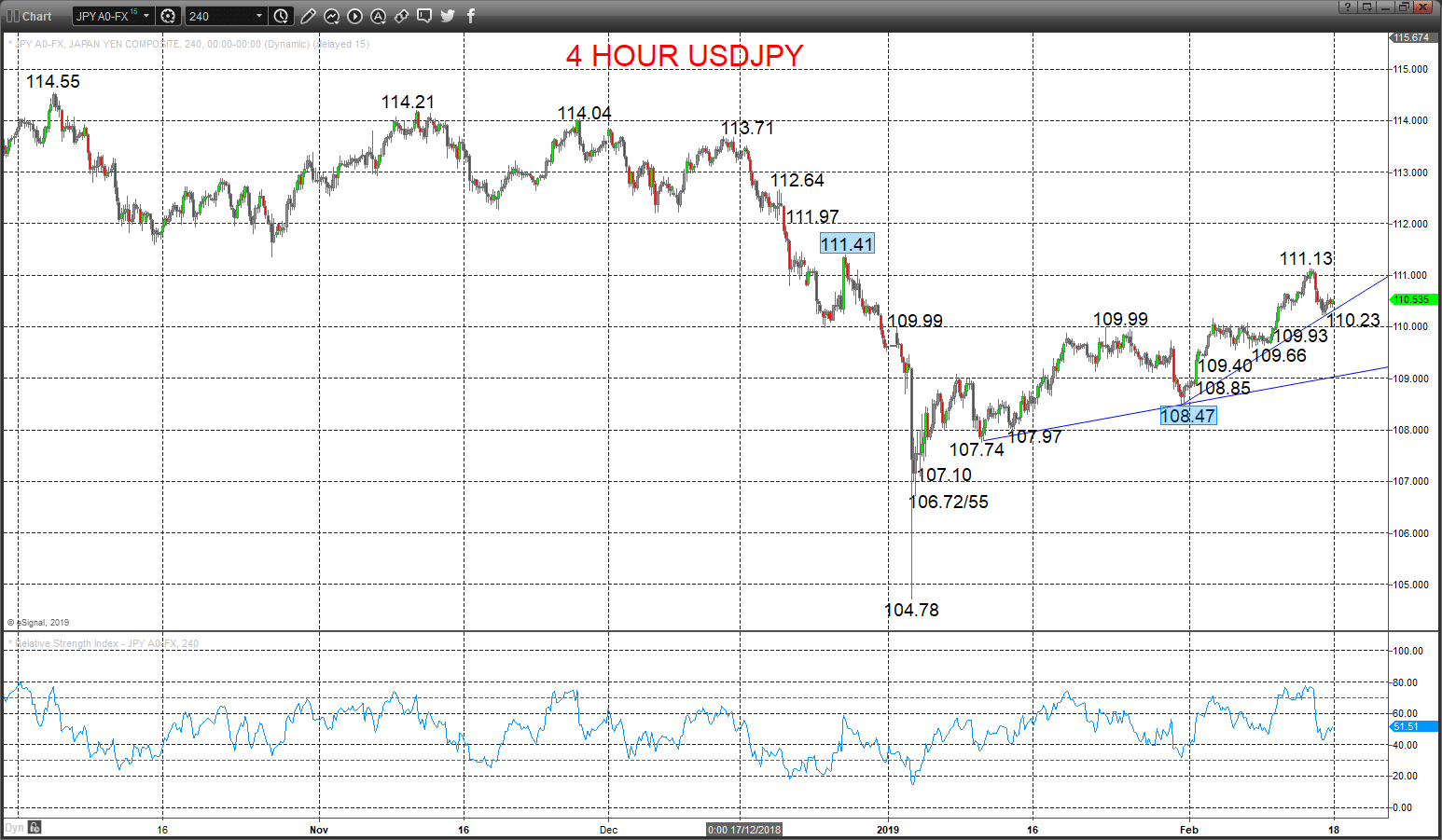 ---
When last looking at USDJPY and USDCAD here on 7th February we highlighted USDJPY showing a positive tone within short- and intermediate-term ranges, whilst USDCAD had signalled an intermediate-term bearish shift, but also stated that "the immediate risk is for a correction back higher",
The USDJPY currency pair has built on the breakout of the short-term range through the 109.99 resistance level, to shift the risk for an intermediate-term bullish breakout from our range, but only above 111.41.
The USDCAD Forex rate attempted to continue the correction higher from early February, but the recent setback sustains the intermediate-term bearish trend, still intact whilst below 1.3375.
USDJPY dip, but still an upside risk
Another small dip Friday just below 110.31 support but then rebounding from the February up trend line, off of 110.23, and whilst above here, we hold onto immediate upside forces from the mid-February advance through various resistances and earlier February push above key 109.99, to keep risks higher Monday.
We see an intermediate-term range as 111.41 to 108.47, BUT growing risk for an intermediate-term bullish shift above 111.41.
For Today:
We see an upside bias for 111.13; break here aims for key 111.41, maybe towards 111.97.
But below 110.23 quickly opens risk down towards 109.93 and maybe 109.66, which we would look to try to hold.
Intermediate-term Range Breakout Parameters: Range seen as 111.41 to 108.47.
Upside Risks: Above 111.41 sets a bull trend to aim for 71, 114.55 and 115.00.
Downside Risks: Below 108.47 sees a bear trend to target 107.74, 72/55 and 104.78/56.
Resistance and Support:
| | | | | |
| --- | --- | --- | --- | --- |
| 111.13 | 111.41*** | 111.97 | 112.64* | 113.11/18 |
| 110.23 | 109.93 | 109.66* | 109.40* | 108.85* |
4 Hour USDJPYChart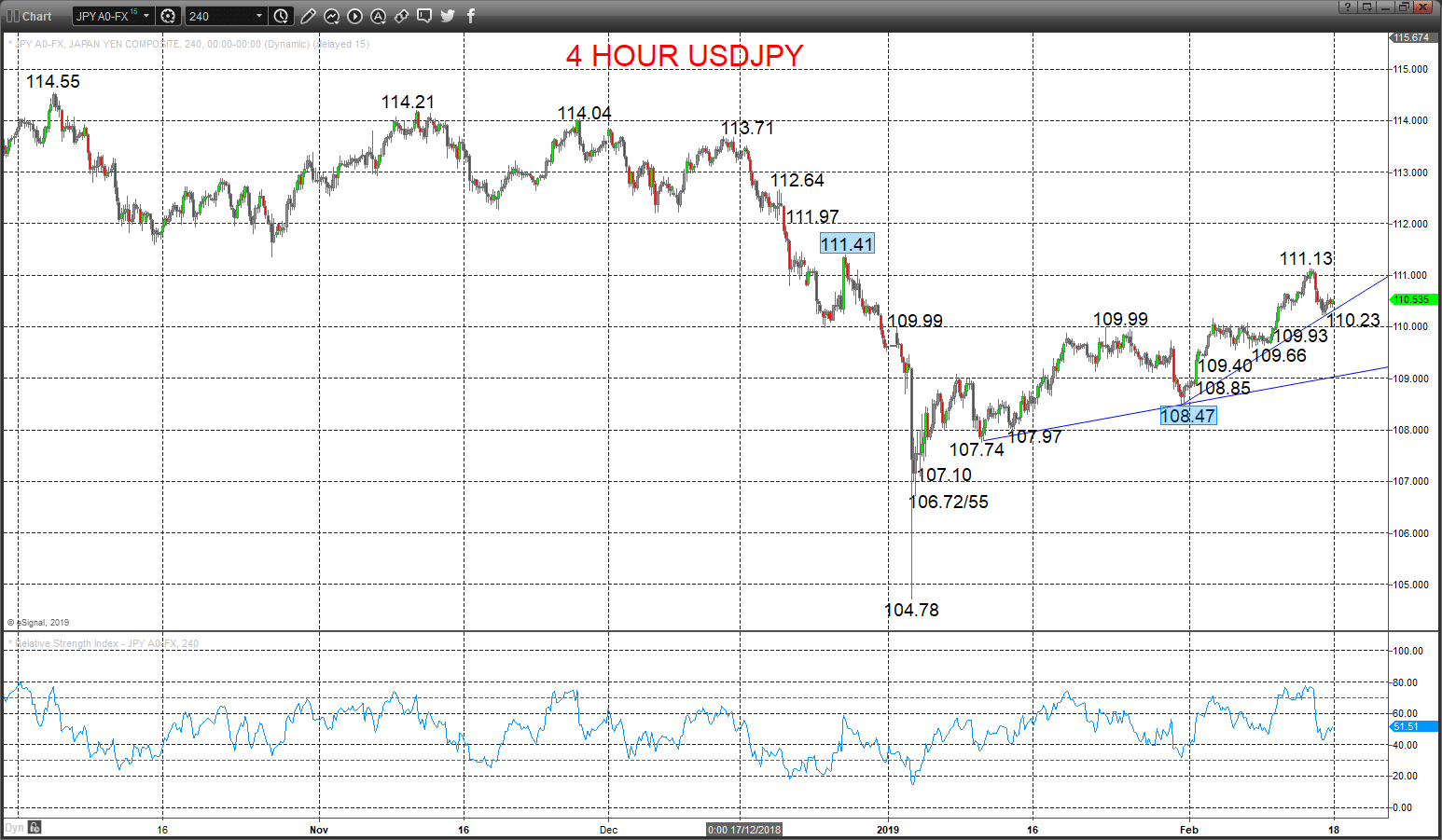 USDCAD negative tone
A setback Friday (after Thursday's solid bounce through the1.3329/32 resistance), to approach 1.3226 support and damage upside forces from last week's rebound, to switch risks lower for Monday.
The late January plunge below 1.3157 shifted the intermediate-term outlook to bearish, BUT risk is growing for a shift to neutral above 1.3375.
For Today:
We see a downside bias for 1.3226; break here aims for 1.3192 and maybe aims for 1.3168.
But above 1.3300/03 opens risk up to 1.3340, possibly towards key 1.3375.
 Intermediate-term Outlook – Downside Risks: We see a downside risk for 1.3000.
Lower targets would be 1.2912 and 1.2784.
What Changes This? Above 13375 shifts the intermediate-term outlook straight to a bull theme.
Resistance and Support:
| | | | | |
| --- | --- | --- | --- | --- |
| 1.3340 | 1.3375*** | 1.3421 | 1.3474/88* | 1.3567 |
| 1.3226* | 1.3192* | 1.3168 | 1.3136 | 1.3064* |
4 Hour USDCAD Chart