CFDs are complex instruments and come with a high risk of losing money rapidly due to leverage. 81% of retail investor accounts lose money when trading CFDs with this provider. You should consider whether you understand how CFDs work and whether you can afford to take the high risk of losing your money.
Interested in ETFinance? We've found that FXTM consistently comes out on top in our exhaustive broker reviews.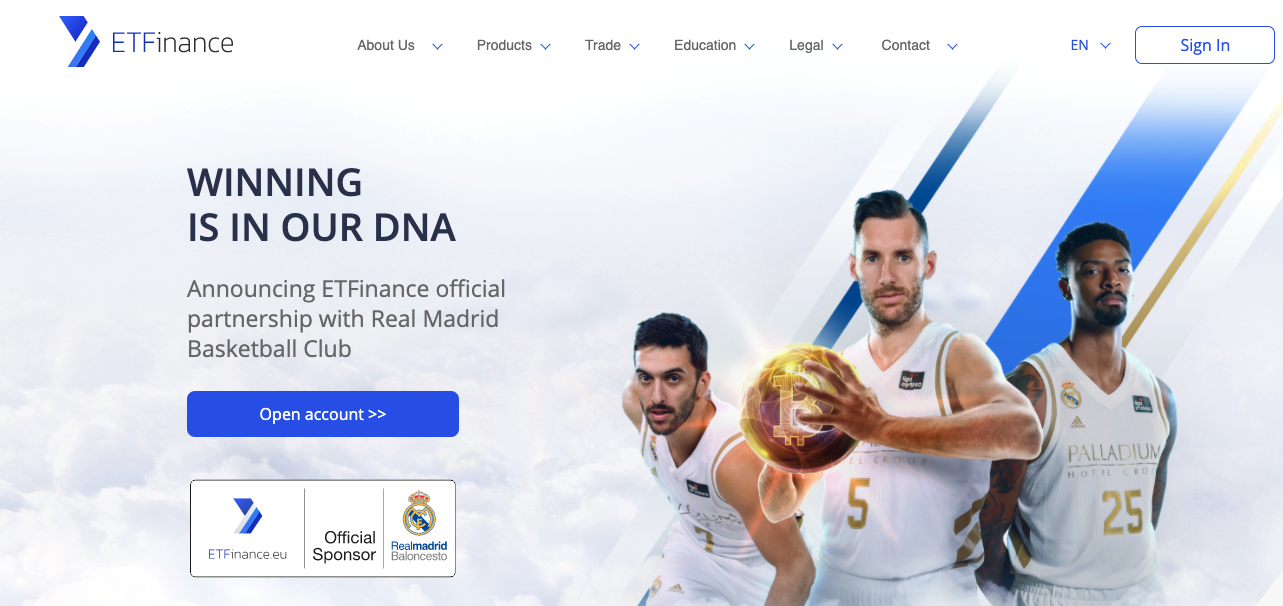 | Pros | Cons |
| --- | --- |
| Large library for learning | Limited conditions for beginners |
| Many trading tools | Limited options for experienced traders |
Experts Viewpoint
ETFinance was founded in 2018 and is a European online broker, managed by Magnum FX (Cyprus) Ltd – a large investment company in Cyprus. The Cyprus Securities and Exchange Commission, CySEC regulates the activities of the broker; it follows that all transactions and financial transactions are controlled, this inspires confidence.
ETFinance allows customers to trade CFDs on a variety of trading instruments including Forex, stocks and stocks, products, indices and cryptocurrencies.
Like most other brokers, its principle of operation is transparent. There are no hidden commissions; the broker's main income comes from floating spreads on instruments traded by clients.
ETFinance support service, supports its customers in several languages: English, Spanish, Italian, German, Swedish. She can be reached from Monday to Friday by phone or email around the clock.
ETFinance offers a large selection of videos that covers many areas of trading, and the broker also offers many articles for study, which are regularly updated. Of course, this can help beginners to acquire a knowledge base for a successful start in trading.
Importantly, the broker has access to a demo account; this is a useful option that will help beginners try their hand at no loss and for experienced traders to test new strategies.
The broker has several statuses for his clients on the trading account. The status of a trading account depends on the requirements for obtaining the status of an account, depending on the status, the spread and allowable leverage also change.
Accounts are divided into: "Main" – this status is assigned to each new client, however, it should be added that this status has some restrictions on an account of 750 assets, the minimum spread is from 0.07 and the maximum leverage is up to 1:30.
"Gold" is this the status gives customers discounts on spreads starting at 0.05 and a maximum leverage 1: 500 for a professional account.
"Platinum status" – gives customers an even greater discount on the spread, starting from 0.03 pips and full access to all broker services. ETFinance also has a special offer in the form of an Islamic account.
The broker offers several platforms for trading his clients, including one of the most popular trading platforms in the world MetaTrader 4 (MT4), which contains advanced analytical and trading technologies. In addition, traders can trade from a mobile phone through a developed mobile application that is available for iOS and Android devices.
The offer also includes a platform that is gaining popularity. WebTrader has a web interface and is accessible from any compatible browser. The platform includes many technical indicators and other trading tools with a simple and intuitive interface. You can test the WebTrader platform by opening a demo account.
Although ETFinance is a relatively new brokerage company, it has a fairly wide portfolio of products and capabilities. In addition, the company offers many currency pairs and CFDs on the well-known and convenient MT4 platform. In addition, it is a regulated broker licensed and authorized by the Cyprus Securities and Exchange Commission (CySEC).
ETFinance offers a commission-free trading account that is ideal for novice traders. Trading conditions and spreads are also quite attractive. The web interface and personal account are easy to use, helping users navigate between live and demo accounts.
ETFinance is a Cyprus-based broker. As a relatively new player on the scene, they have not built up the reputation that other brokers have at present. They are attempting to move into a crowded market and as such need to offer high-quality services to their customers. In this ETFinance brokerage review, we will find out exactly what ETFinance offer to their customers and discover where they can compete with the bigger names in the market.
Based in Cyprus, so conform to EU regulations
New broker, so have very little in terms of reputation
High-quality services on offer
Stock Trading Offers with ETFinance
When trading with ETFinance, there is a relatively large number of stocks on offer to traders. With over 150 different companies offering their stocks through ETFinance, the range of choice on offer is well in line with other brokers. Traders can easily choose their trading strategy within the available offerings and a large number of major companies are within reach for traders.
The account types that ETFinance have available to traders are quite simple to understand. They all allow access to the full range of trading platforms and educational materials. However, for eligible clients the professional account offers traders a higher leverage, which in turn makes higher volumes of trading much more likely.
If your next question happens to be, is ETFinance good, they answer this by offering traders the ability to trade in commodities and indices. This allows traders to simply diversify their portfolios and stick to whatever trading strategy that they feel the most comfortable with. On the whole, ETFinance offers traders a wide range of choice in terms of their trading options.
Three types of account are on offer
The professional account allows high trading volume with higher leverages
150 stock CFDs are on offer to customers
Both commodities and indices are also available
ETFinance Stock Exchanges and Trading Centres
ETFinance offer a range of different stock exchanges for traders to utilise. The most popular indices that they offer are Nasdaq 100, FTSE 100, S&P 500, and DOW30. There are more options available for traders if they so wish, but these are the choices most usually taken up.
A range of stock exchanges is available
Nasdaq 100 and FTSE 100 are the most popular
Other stock exchanges are available
ETFinance Account Types
There is a standard ETFinance brokerage account on offer to traders when they sign up to ETFinance. This offers traders a simple fee system that helps to keep costs low for all traders. There are no commissions on any trades that are made at ETFinance – this is one of the choices that they made as a new company to set them apart from the majority of the competition. The spreads for ETFinance stock trading are also quite low, although they can vary depending on the market, which helps to keep costs lower for traders. There is no volume limit on trades for the professional account.
While there is no custody account available at ETFinance, they do help traders by keeping their accounts free. This means that there are no monthly costs for active users. This is another way in which ETFinance are trying to stand out from the other brokers in the market. All of these factors means that ETFinance are currently one of the cheapest brokers around.
No commission on trades, with no trading limit
No account fees for active users
Dormant fees
ETFinance Trading Platform
In order to decide on the best broker, it is often best to do a stock broker comparison: this will allow you to see the strengths and weaknesses of a particular broker. One of the areas where ETFinance comes out as one of, if not the best stock broker, is in the platform choices that are on offer. The choices available are excellent.
The first choice is the WebTrader platform, which is integrated into a web browser and as such can be used anywhere at any time, as long as you have internet access and a web browser. It includes a two-week demo account, which is perfect for new traders who want to get used to both trading and how the platform works, before investing real money. It also includes some basic analysis tools, which ensures that traders are able to research their investment before making a trade.
Next up is the well-known Metatrader 4 platform. This is at the forefront of the trading industry and gives traders access to one of the best trading tools available. It has a wide range of analytical features, and there is a great deal of customisation, which allows traders to make their trading screen show exactly what they need at all times.
Mobile traders also have a great deal of choice, with the Metatrader 4 mobile app and the ETFinance in-house mobile app both available. The Metatrader 4 app offers a more in-depth trading experience than the ETFinance app, so beginner traders may find it easier to use the ETFinance app, while more advanced traders should find the MT4 app more useful.
Traders can trade on the go with a choice between two mobile apps
An integrated web browser app is available
Metatrader 4 is available to traders, offering an industry-standard trading experience
Usability of the ETFinance Website
The ETFinance website is in general very easy to use. All of the relevant sections are simple to find, at the top of the page. Some of the menu options open a drop-down menu, which allows traders to find exactly what they need very quickly. The way that it is laid out makes sense, as everything is placed at the top of the screen and as such is the first thing that you see when you log on. All of the products that ETFinance offer to their customers are laid out right at the top of the page, so customers do not have to search to find them.
The design of the site is superb – it is easy to look at and the colour scheme is very easy on the eyes. There are no harsh colours and nothing that makes the page difficult to look at over a long period of time. All of the relevant legal information is also available at the top of the page. When carrying out broker comparisons, this is always something that is encouraging to see because it shows the broker has nothing to hide.
Nice, clean design that is easy to look at
The navigation is simple and makes sense
All legal information is available at the top of the page
ETFinance Customer Support
ETFinance is a relatively new company, so there are very few instances of user feedback available, which may serve to inform this ETFinance brokerage review of how reliable they are in a business setting. However, they do offer the usual range of service options to their customers. This includes both a live chat and phone-based customer service option for instant solving of problems.
The phone option could incur charges to the customer depending on where in the world they are based, so it is best to check before using this. The live chat option has some slight teething issues, usually the changing of agents while using the service, but as a new company, ETFinance should be able to solve this in the short term. All of the instant customer service options are open from 7am until 7pm GMT in the week.
For customers who need a more long-form option to inform ETFinance of issues, email support is available. This can also be used to inform ETFinance of concerns outside of operating hours. While they will not get your message until the next day, you will be able to inform them while it is still fresh in your mind. As a new company, ETFinance will have had a smaller number of customer service issues so far, but if there are regular problems with the service then they will need to solve this quite quickly.
There is live chat, phone, and email customer service on offer
The live chat can sometimes be unreliable
The operating hours limit when customers can get instant support
Methods of Payment for ETFinance
The e-wallets that are available at ETFinance are Skrill and Neteller. This is all part of the attempts by ETFinance to lower the overall costs when it comes to trading. The processing time for deposits is almost instant and withdrawals can take up to an hour
All payments and withdrawals use a secure socket layer – this means that carrying out ETFinance stock trading is safe and offers the best levels of security. Both financial transaction methods have no limits on the number of no-fee transactions that can be made, which ensures that there are no additional costs that appear out of nowhere. If speed is your main priority when withdrawing money from your broker account, then choosing one of the e-wallet options would be your best choice.
Credit and debit cards are available to customers
Skrill and Neteller are also available
Additional ETFinance Offers
ETFinance have a relatively small selection of additional offers for their customers. This is not a huge negative, however, because they do offer customers some excellent features with their regular accounts such as commission-free trades. This means that even without many offers, ETFinance still come out ahead of lots of other brokers. They also offer some small extras that make them more appealing to customers.
One of the best added extras that ETFinance have is their two-week demo account. This comes into effect when a trader uses the WebTrader platform after signing up. You will be given the option to use a demo account for two weeks, and for beginners, this is an excellent tool. It allows for some extra familiarity to be gained with both how trading works and in terms of getting used to the platform itself. While advanced traders may not get much benefit from it, beginner traders will find it an excellent, risk-free way to get hands-on experience of trading.
There is also an educational section that includes a video on demand (VOD) service. This provides traders with 12 lessons on basic trading and again is an excellent resource for beginner traders. The education section appears to be under construction and ETFinance should be adding additional resources to it over time in order to bring it in line with the education sections at other brokers.
Beginner traders can use a two-week demo account with the WebTrader platform
There is a 12 video series on beginning trading in the VOD section
Traders already get a lot of commission-free trading options from ETFinance
Regulation of ETFinance and Deposit Protection
One of the first things you notice when you enter the ETFinance website is that they include a legal section at the top of their page. This is especially nice to see when carrying out ETFinance stock trading, because it shows that they have nothing to hide in terms of the regulations. The first option in their legal section is the GDPR section. This covers the General Data Protection Regulations that they must adhere to. This is due to ETFinance being located within the EU. This shows customers exactly how their data will be handled when they use ETFinance and is an excellent example of transparency.
The second section under the legal heading is the regulation and licenses section. In this section, it shows that ETFinance are licenced and regulated by CySEC, which is one of the major financial regulators within the EU. They are also members of an investor compensation fund, which shows that customers are covered and will receive compensation if there is any issue with their funds.
Transparent regulations on site
GDPR regulation
Licenced by CySEC
ETFinance Awards
ETFinance was awarded as the "Best Cryptocurrency Broker" in Europe at the GBM Awards 2019.
ETFinance Review Conclusion
Overall, ETFinance offer customers an excellent trading experience. When taking into account that they are a new broker, there are many very positive aspects to the service they offer. Their decision to offer customers commission-free trades is certainly a positive one. This is backed up by not charging for a fee for active accounts, and making deposits free.
The website is still under construction in some places, which could hinder some people's opinion of the site, but this just shows that they are constantly improving what they offer to their customers. The education section, in particular, should show signs of improvement over the coming months.
Overall, ETFinance are a good new broker that offers some excellent services to their customers. The prices are low and as their regulation shows, they are backed up by legitimate means. In addition to this, you can expect there to be improvements to the services that they offer over the coming months to make ETFinance a potential competitor to the bigger names on the market.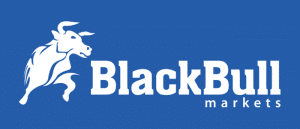 Forextraders' Broker of the Month
BlackBull Markets is a reliable and well-respected trading platform that provides its customers with high-quality access to a wide range of asset groups. The broker is headquartered in New Zealand which explains why it has flown under the radar for a few years but it is a great broker that is now building a global following. The BlackBull Markets site is intuitive and easy to use, making it an ideal choice for beginners.
Please be advised that certain products and/or multiplier levels may not be available for traders from EEA countries due to legal restrictions.