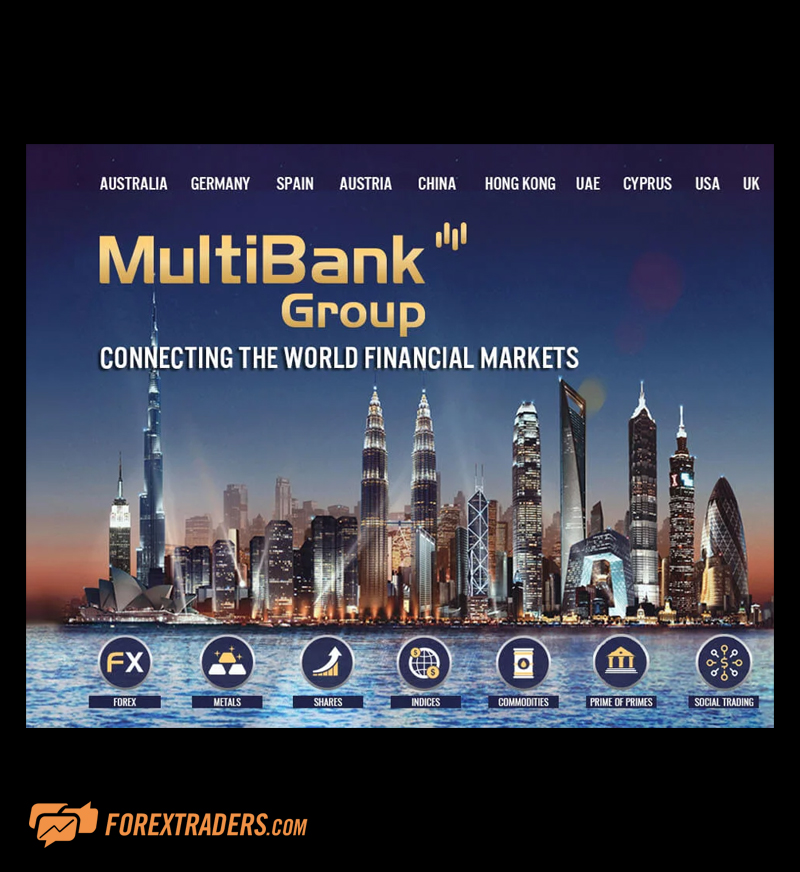 Pros
Cons
Quick and easy account opening
High stock CFD prices
Free and multiple replenishment and withdrawal options
High Inactivity Charge
No withdrawal fee
Trader's Viewpoint
Multibank is a trading platform that provides its customers with an extensive range of assets for trading spot metals, indices, individual stocks, goods, cryptocurrencies and Forex currency pairs, both in major and small financial markets.
One of the features of MultiBank is that they provide high liquidity and do not restrict trading. Also, the broker provides access to automated trading and hedging.
Multibank provides its customers with a wide variety of accounts to choose from. Clients can select their tariff plan themselves, depending on their activity in the market, since ECN will work better for some clients than for others, in turn, the broker does not promise no slippage.
MultiBank allows its customers to open an account without any problems and provides many options for replenishing and withdrawing earned funds from the account
The Multibank brand uses the ECN / DMA brokerage model, allowing its customers to receive pricing and execute orders from various liquidity providers without the intervention of a dealing desk. Multibank FX offers the ability to use three types of trading accounts to trade five different classes of assets. At the same time, accounts that beginners, intermediate and advanced investors can use become available for trading in a multi-regulated environment.
As a global company, it uses its vast network of offices and data centres to provide an efficient, reliable and cost-effective trading environment. MultiBank offers markets in 55 Forex currency pairs, commodities, cryptocurrencies and more than 1000 stocks. Trading spreads are particularly limited, and orders benefit from processing through electronic communications networks (ECNs) and 20 leading liquidity providers.
MultiBank provides its clients with a very impressive trading experience. Founded in 2005, the firm has since built a platform that scores highly in all categories. There are various execution interfaces to choose from, all of which can be tailored to a trader's needs. The user-friendly functionality is supported by a rigorous compliance structure, with the firm demonstrating a strong understanding of the need to provide clients with best-in-class levels of security.
A global company, it takes advantage of its broad network of offices and data-centre locations to provide an efficient, robust and cost-effective trading environment. MultiBank offers markets in 55 forex currency pairs, commodities, cryptocurrencies and in excess of 1,000 stocks. Trading spreads are especially tight, and orders benefit from being processed via electronic communications networks (ECN) and 20 top-tier liquidity providers.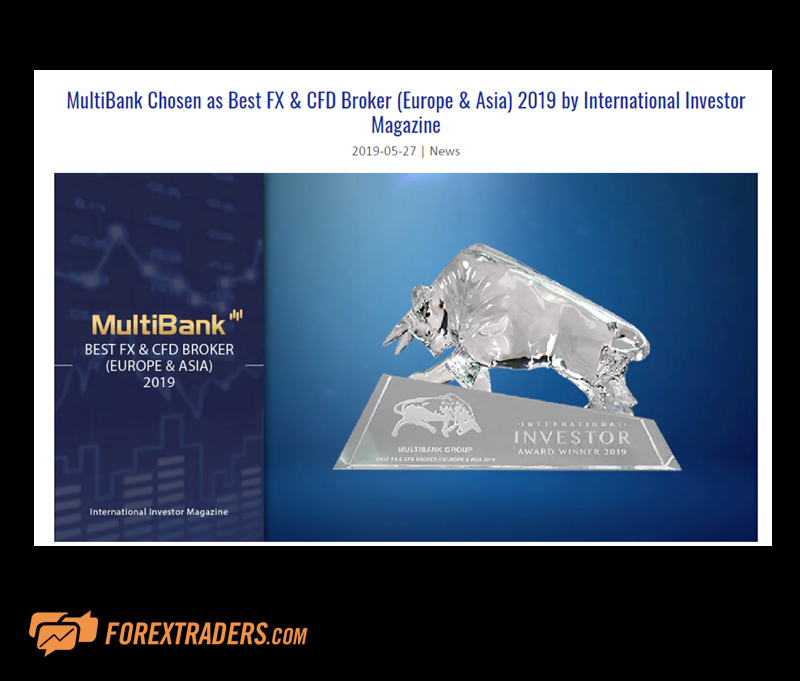 The firm boasts 320,000 customers across 90 countries and a trophy cabinet full of industry awards, including "Best FX & CFD Broker (Europe & Asia) 2019".
About MultiBank
MultiBank offers its customers an impressive trading experience. Founded in 2005, the company has created a platform that has high ratings in all categories. There are various execution interfaces to choose from, each of which can be adapted to the needs of the trader. Convenient functionality is supported by a strict compliance structure, while the company demonstrates a deep understanding of the need to provide customers with best-in-class security levels.
As a global company, it uses its wide network of offices and data centres to provide an efficient, reliable and cost-effective trading environment. MultiBank offers markets in 55 Forex currency pairs, commodities, cryptocurrencies and more than 1000 stocks. Trading spreads are particularly limited, and orders benefit from processing through electronic communications networks (ECNs) and 20 leading liquidity providers.
The company boasts 320,000 customers in 90 countries, as well as a trophy cabinet full of industry awards, including the "Best FX & CFD Broker (Europe and Asia) 2019".
Who Does MulitBank Appeal To?
MultiBank clients have a lot of input over the design of their trading profile. There are, for example, a range of platform types and leverage options from which to choose. This decision-making involved obviously ultimately benefits the user, who gets a 'best-fit' account, but differs from a platform that is designed specifically for novice traders, where there may be fewer choices to make.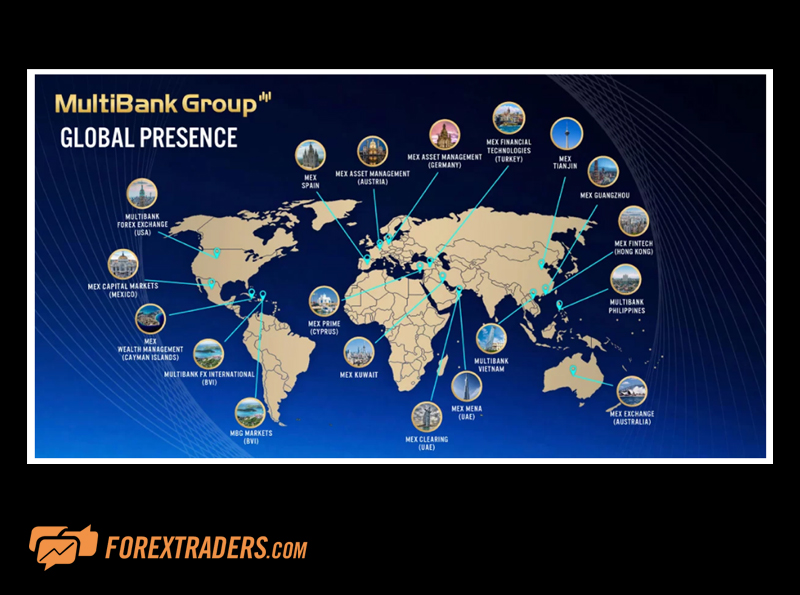 Our reviewers could easily imagine a large part of the client base of MultiBank being made up of traders who have outgrown another platform. There is nothing to prevent a beginner from starting out with MultiBank, but there is a lot to attract the intermediate and advanced trader.
Trading involves tight spreads, and the MetaTrader 4 (MT4) and MetaTrader 5 (MT5) platforms are the most popular trading platforms in the world. The firm is also authorised by highly regarded regulators such as ASIC in Australia, CIMA in the Cayman Islands and BaFin in Germany.
MultiBank Account Types
The account types, ECN Pro, MultiBank Pro and Maximus, all work off MT4. The MT5 account offers a slightly different version of the MetaTrader software. Having MT4 and MT5 as options allows traders to try slightly different formats of the same great product.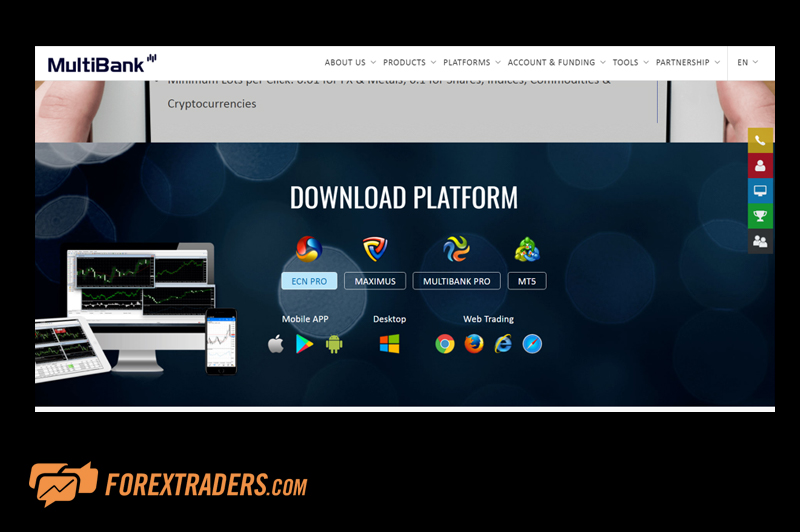 The default demo account is ECN Pro, but this can be adjusted to the other account types upon request.
Social trading is not available on demo.  Copy trading using Expert Advisors is done using MT4.
There is the option of operating an Islamic account. These trade in the international market in accordance with the Muslim religion, and there are no interest/swap charges on overnight positions.
One neat feature is the Demo Account Championship, which sees traders compete against each other using virtual funds.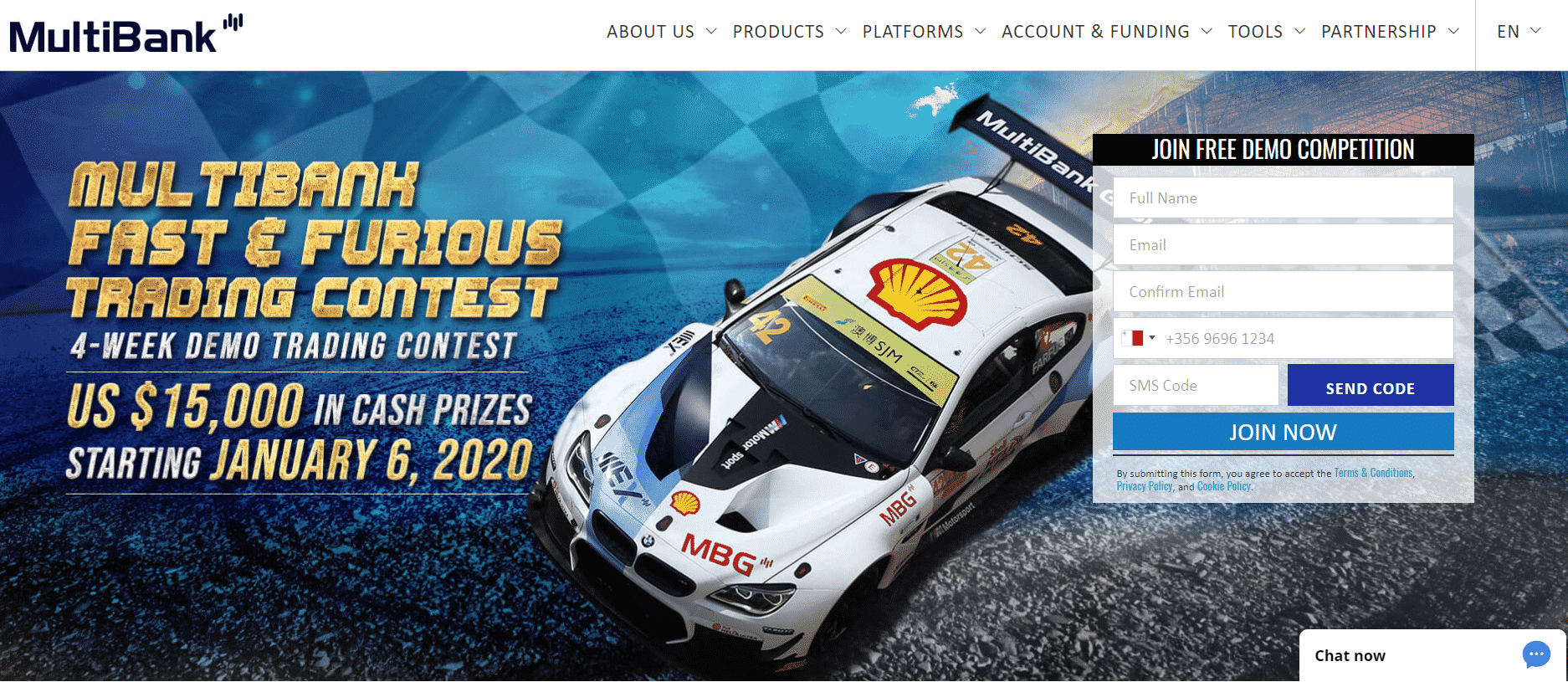 MultiBank Markets and Territories
MultiBank offers access to over 45 forex markets, two metals, over 1,000 equities, four cryptocurrency markets, 12 equity indices and four commodities markets. The spread of markets is global. Forex markets available include a whole range of major, minor and exotic currency pairs.
MT4 can be set to operate in one of 41 languages, ranging (alphabetically) from Arabic to Vietnamese.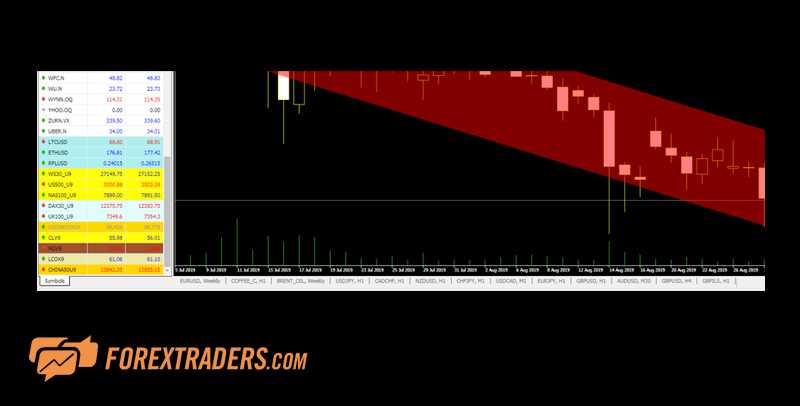 The range of instruments will be perfectly satisfactory for most traders. There are, however, some brokers offering in excess of 10,000 markets, meaning that traders who are looking for coverage on that scale may be disappointed.
Customer Support from MultiBank
During this review, the testing of the customer support team found the staff to be particularly knowledgeable about their systems and processes, and they were able to address all queries promptly and accurately. It quickly became apparent that MultiBank is devoting a lot of resources to making its clients' use of the system as hassle-free as it can possibly be.
The live chat, for example, highlights that "this is our 24 hours Multilingual First Class Customer Service".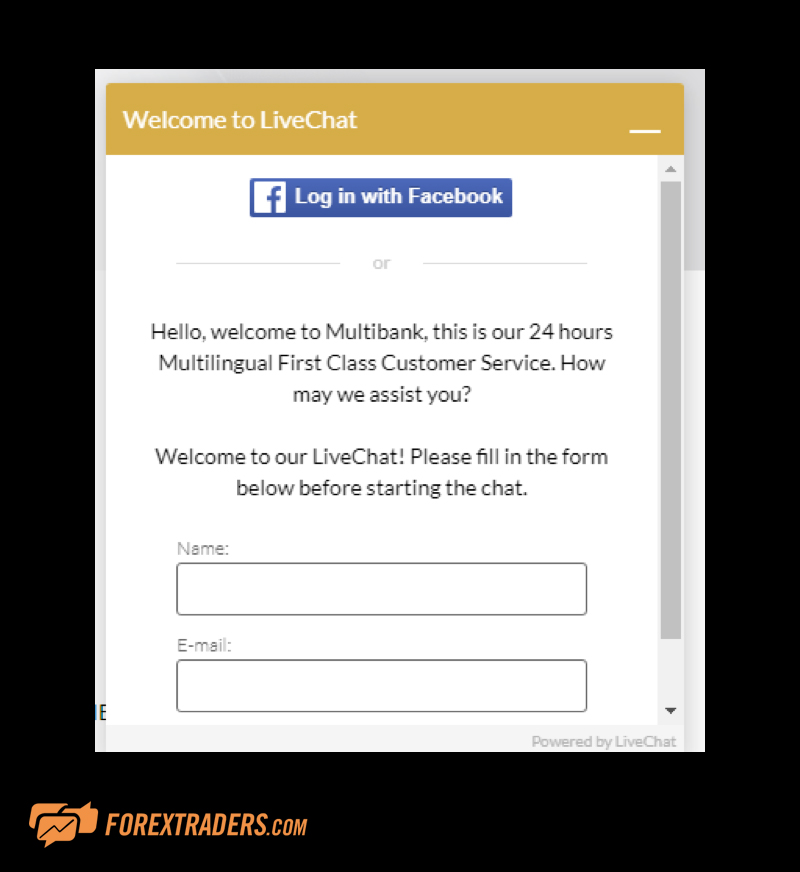 The support team can be contacted directly using a range of country-specific telephone numbers and Skype. Having the ability to speak directly with someone, and quickly, can impact the bottom line on a trade, and those brokers that don't provide a call service would do well to consider the positive feeling generated by MultiBank's approach.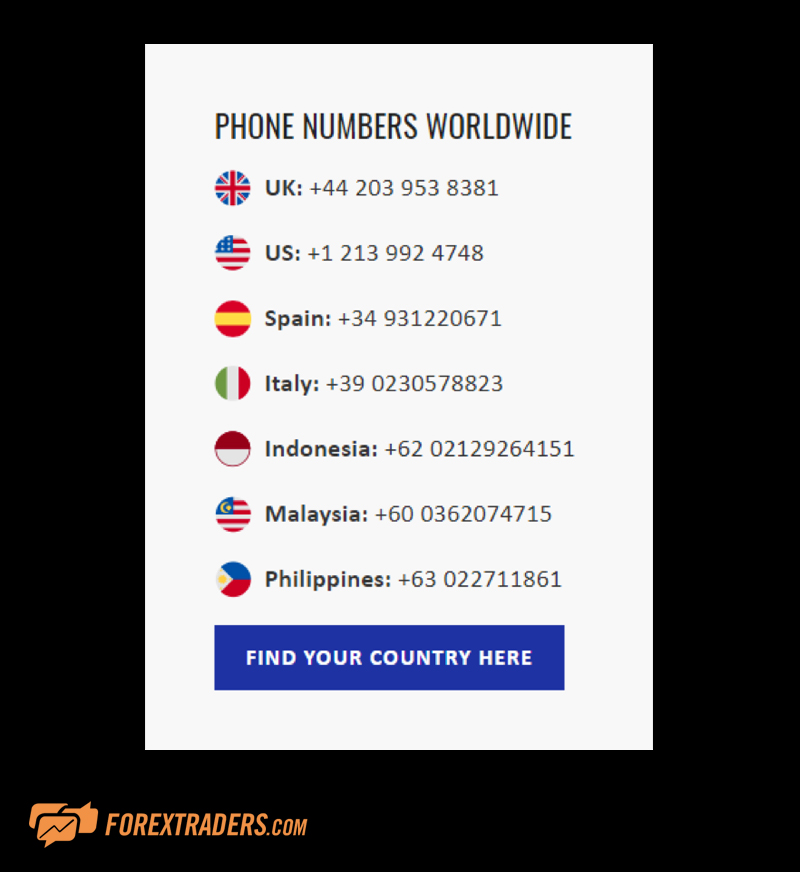 There is also the option of a call-back service. This can be a convenient way of addressing issues that are less time-sensitive.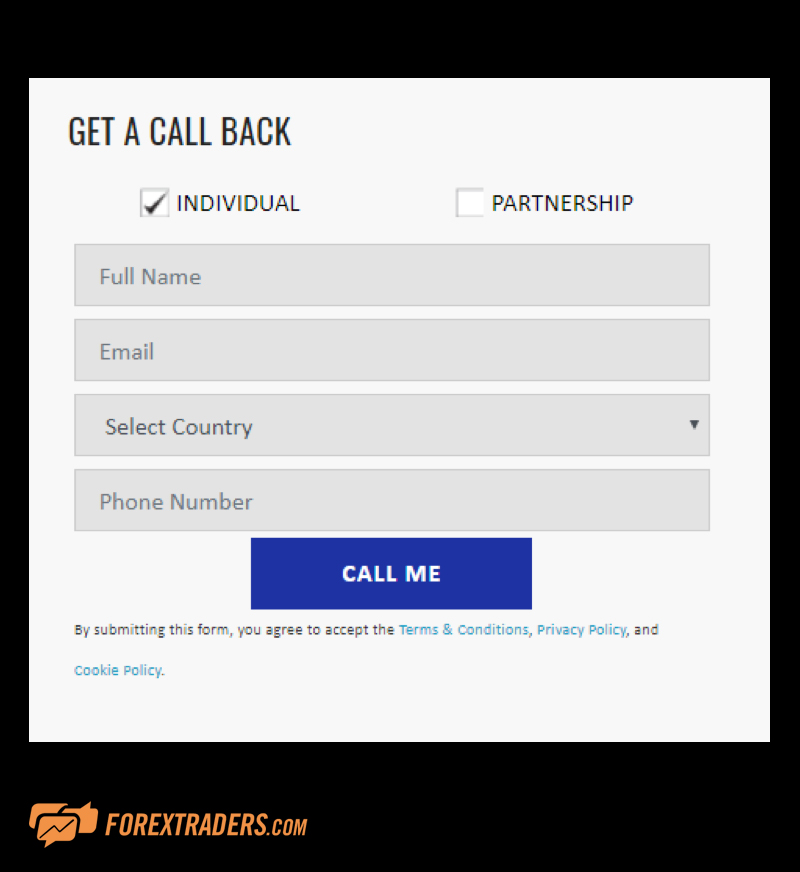 The email address [email protected] can be used for queries that are slightly more involved or require the transfer of data files.
In 92% of cases, our issue was resolved in the first instance.
The firm also offers two more neat touches that reflect its fresh approach to the sector. It is possible to hold a video conference with the MultiBank team, and the firm also has an active and engaging social media presence. The 'contact us' page encourages clients to use Facebook, Twitter, YouTube and LinkedIn to improve their understanding of the service offered and also of news and events.
The support service is available on a 24/5 basis. This is at least in line with the peer group and possibly better than the average.
Considering the strength of the whole package, it may appear too critical to note that a handful of brokers offer support on a 24/7 basis. Running the support on a seven-day basis would be categorised as a nice-to-have, and the absence of weekend support doesn't considerably diminish the all-round service levels. There were also some instances when navigating other areas of the site meant that we lost contact with an open live chat window, but that problem is more to do with live chat and is not specific to MultiBank.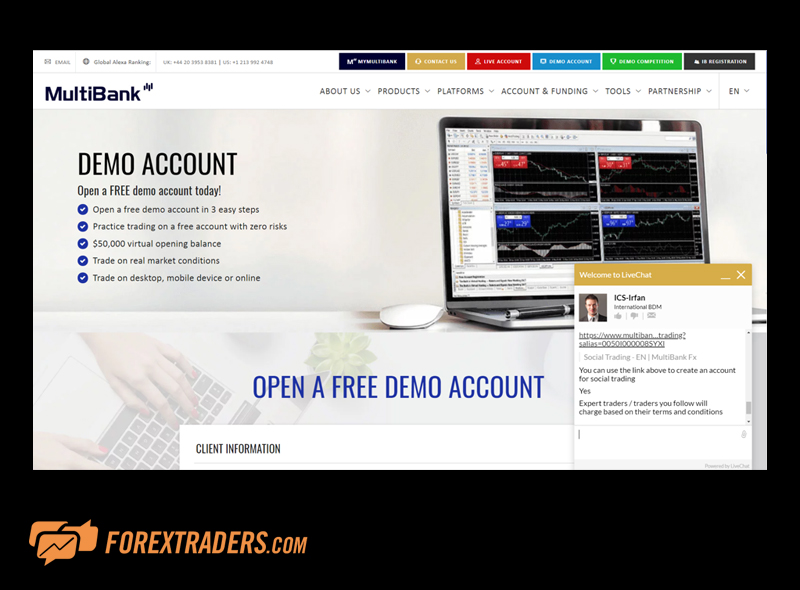 Instruments and Spreads
One of the main selling points of MultiBank is its highly competitive execution spreads. The firm gives a clear and concise breakdown of rates, which are pretty hard to beat.
MultiBank's clients will benefit from the firm's trade execution policy guaranteeing no price slippage, no requotes and no rejections.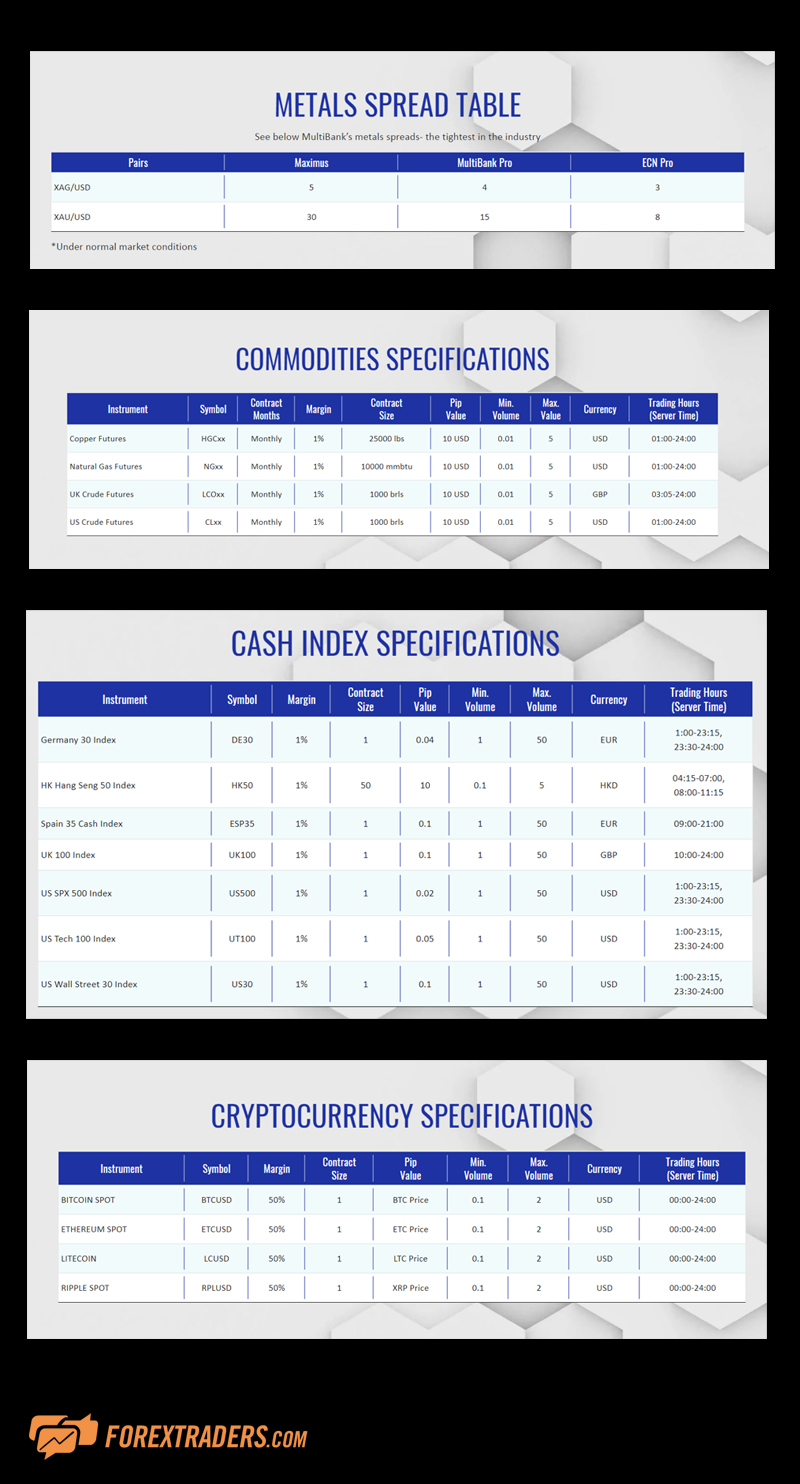 The spreads are variable, which means that traders tend to get better rates during periods of low volatility but might experience widening during times of market stress.
Scalping is a grey area. Whether or not 'scalping' is allowed depends on what each trader defines to be 'scalping'. The broker's approach to this grey area is laid out here: https://www.multibankfx.com/scalping-policy
ECN Markets with MultiBank
All of MultiBank trading is handled by ECN. There are five levels of market depth and nano-second execution.
The firm takes advantage of its global reach to position its servers in data centres that are close to the relevant markets. It has established trading relationships with over 20 liquidity providers, and the technological infrastructure allows for low-latency, co-location connectivity.
There is complete transparency of market, with only the best bids/offers being displayed. Virtual Private Server (VPS), Multi-account Manager (MAM) and Percentage Allocation Management Module (PAMM) services are available for no charge.
MultiBank has obviously set out to develop an ECN framework that is market leading. It's a very strong offering, and one particular claim helps it stand out from the crowd. MultiBank guarantees no price slippage, no requotes and no rejections.
There is no dealing desk alternative, but the automated service is particularly strong, and by offering a direct route into the market, avoids any potential conflicts of interest.
Fees and Commissions
MultiBank offers a range of account types and a range of trading platforms. On top of that, the firm has a truly global outlook, so clients of one domicile may find that their terms and conditions differ from those of another country. It's therefore hard to make a direct comparison with other brokers, some of which have equal degrees of complexity.
MultiBank's platforms are performing better than average in terms of fees and commissions:
ECN Pro – average spread is 0.1 with US$3 commission – minimum deposit is US$5,000
MultiBank Pro – average spread is 0.8 (no commission) – minimum deposit is US$1,000
Maximus – average spread is 1.5 (no commission) – minimum deposit is US$50 only
For ECN, if the deposit is more than $20,000, commission is $2 per lot round trip.
Regarding swap charges, it depends on the pair you are holding and the account type. At this stage, traders are required to access data, which can only be done by opening a demo account. From there, they can carry out their own all-important due diligence and check the terms and conditions and costs of holding positions relating to their respective strategies.
In Depth MultiBank Trading Platform Review
The MT4 platform has been providing traders with a market-leading experience for almost two decades.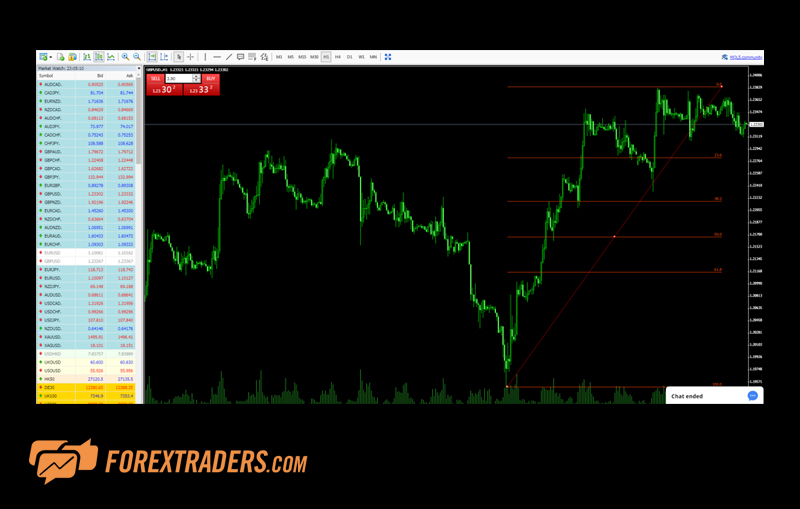 MultiBank makes versions of MT4 and MT5 available in a downloadable format, which is compliant with Windows, Mac, iOS and Android, and in a web-trader version.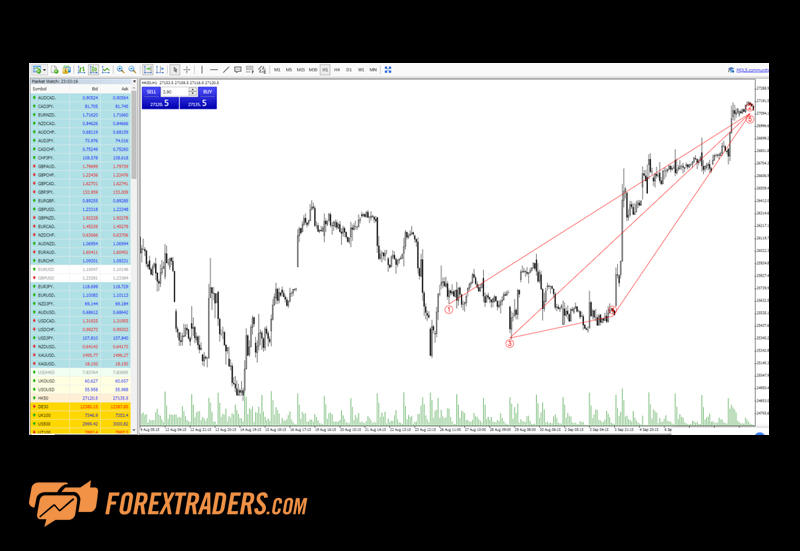 Both versions have been tried and tested by millions of traders across the globe. Trade execution is intuitive, smooth and reliable. Users can set certain features of the system to match their personal preferences. 'One-click' trading is available, and the trading GUI also features 'market', 'pending' and 'stop' orders and trailing stop losses and take profit instructions.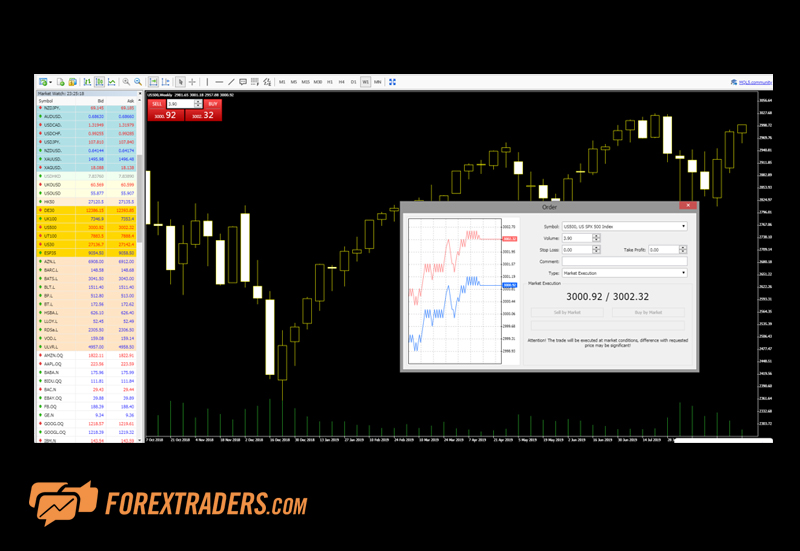 The powerful software that drives the platform is kept behind the scenes, meaning that the dashboard itself remains uncluttered. Navigating across markets and self-designed templates is simple and easy. The combination of agility and power makes it an ideal base from which to trade the markets.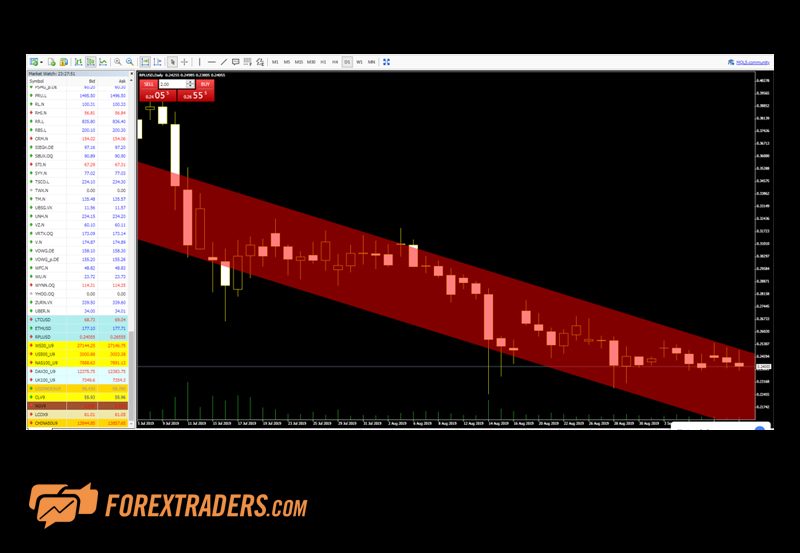 The MultiBank website (rather than the MT4 and MT5 platforms) has a colour scheme that leans towards shades of corporate blue and grey. The dark tones don't actually hinder site navigation, but they do give a 'heavy' feel to the site.
Mobile Trading with MultiBank
The MT4 mobile trading app is available in iOS and Android format for tablets and smartphones. It is free to download and supports both demo and live account formats.
The MetaTrader mobile app provides an experience of similar high quality to the desktop version. Clients can access all the services needed to support their trading, and while there are a few tools and indicators that don't transfer over to the smaller screen, the range of software on the mobile package is still of the highest quality. The app supports 30 technical 'indicators' and 24 analytical 'objects' such as Gann and Fibonacci levels.
The mobile experience achieves the aim of helping traders and analysts keep on top of the markets when on the go.
Social Trading with MultiBank
The MultiBank platform includes a standalone social trading platform, which is provided free of charge to clients.
Those looking to take the 'advice' of others would enter into a relationship where that information is provided for a fee paid to the signal provider.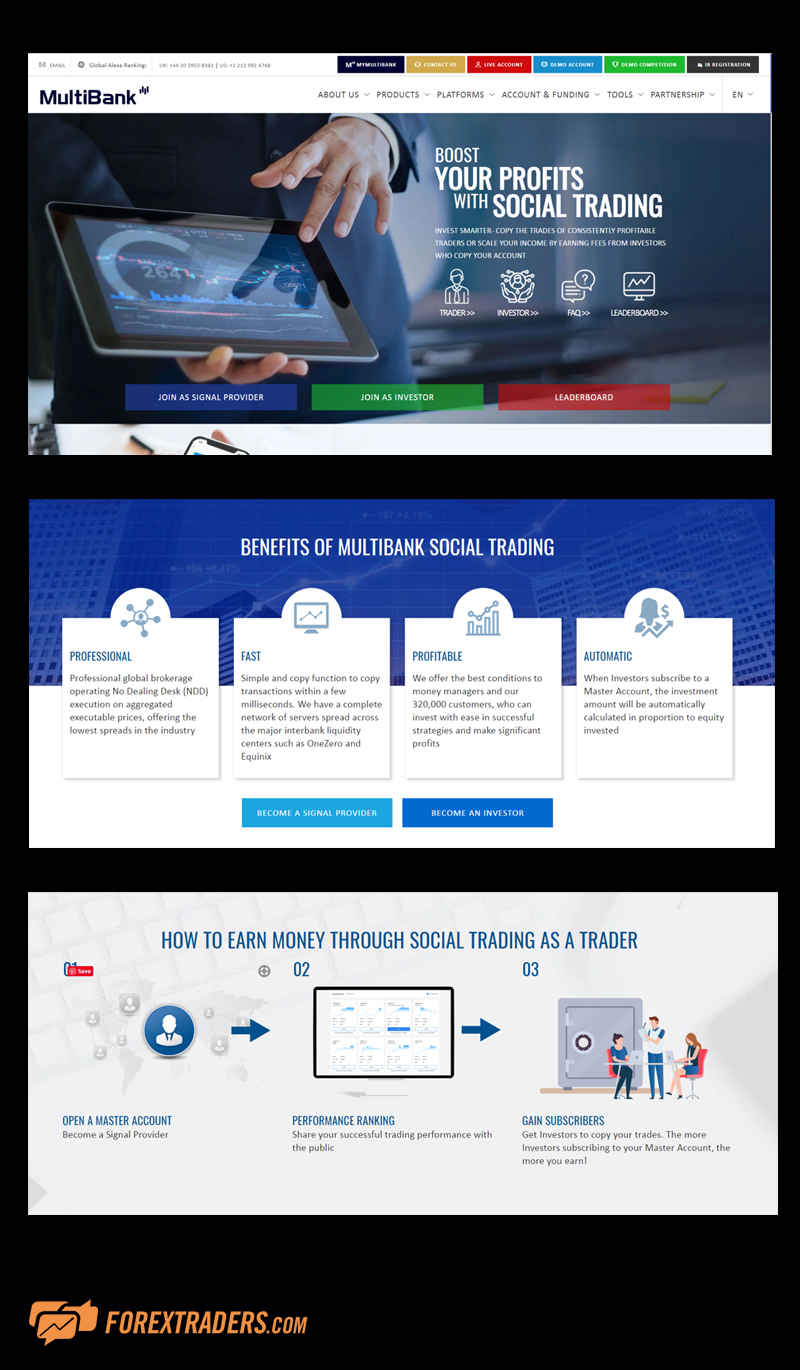 Traders with an enviable track record and trading history can also set themselves up as 'Signal Providers' and earn passive income from the fees paid by their followers.
MultiBank Copy Trading
Standard account holders can use the MetaTrader Expert Advisor (EA) service. EAs are algorithmic programs that run on the MT4 platform and monitor and trade the markets. MultiBank accounts that hook up to the EA programs will be notified of any trading signals that the EA finds. There is the option to be sent a message of the trigger event or to have an account traded automatically.
Crypto and MultiBank
MultiBank offers a limited range of cryptocurrencies.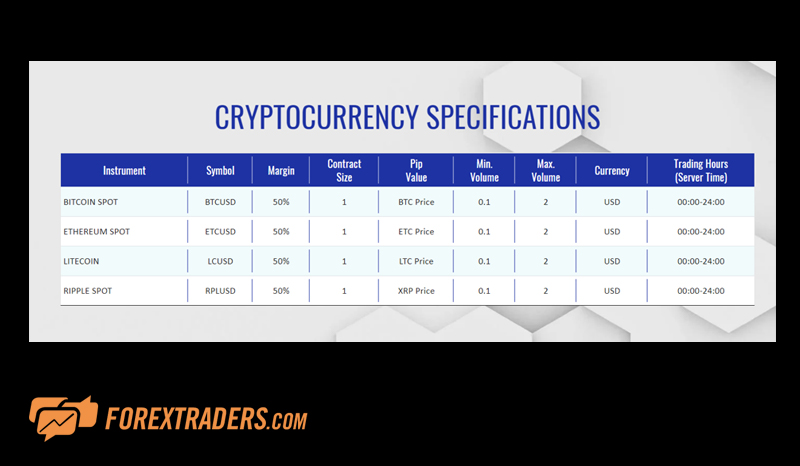 Providing coverage for four big names (including Bitcoin) will meet the demands of those traders who want to gain exposure to the sector, but expanding the service is something that MultiBank would do well to consider.
MulitBank Charting and Tools
MetaTrader platforms are renowned for their powerful analytical software. Each market can be displayed in nine different timeframes. There are 30 technical indicators and 24 graphic objects that help traders to price and trade with the dynamics of the markets.
The functionality has been fine-tuned over millions of hours of use, which means that incredibly powerful instruments and indicators are to hand but not in the way. They can be applied, adjusted and removed with ease.
Education
Trader education is the category in which MultiBank scores lowest. The resources that are on offer are interesting enough and of some value, but they are mainly news-orientated (rather than research-driven), limited in size and uncoordinated.
Trader protections by territory
The good news for those who might be considering trying out the service is that MultiBank scores very highly in terms of client protection.
The number of separate measures is extensive and suggests that time and resources have been, and continue to be, spent in this area.
The broker is regulated and authorised in various domiciles around the globe. Some of the top picks include ASIC in Australia, CIMA in the Cayman Islands and BaFin in Germany. The list is extensive, and further due diligence can be conducted by clicking here: https://www.multibankfx.com/about/regulations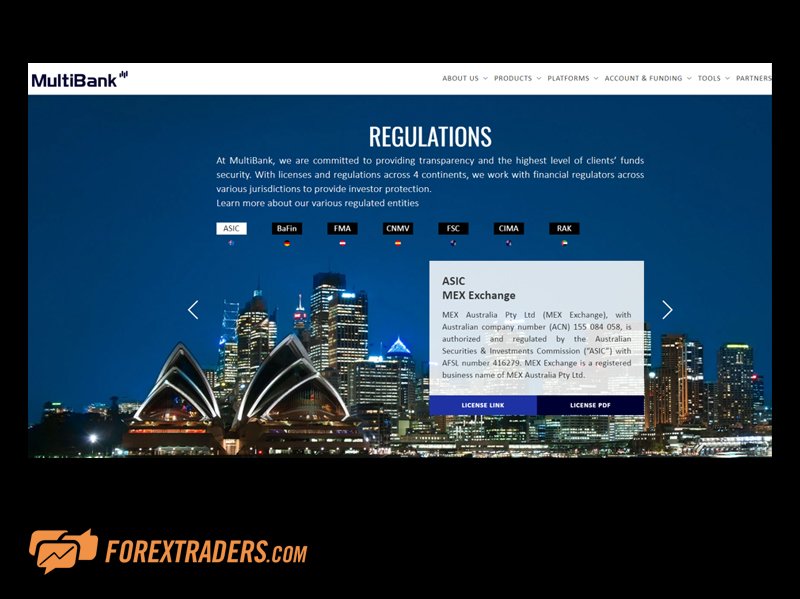 Technological and operational risk is mitigated through the use of 128-bit encryption to secure all data transmissions on the website.
Client funds are held in fully segregated bank accounts, and the firm keeps $322m as 'paid-up capital', which ensures that withdrawal requests are always fulfilled, and broker solvency is assured.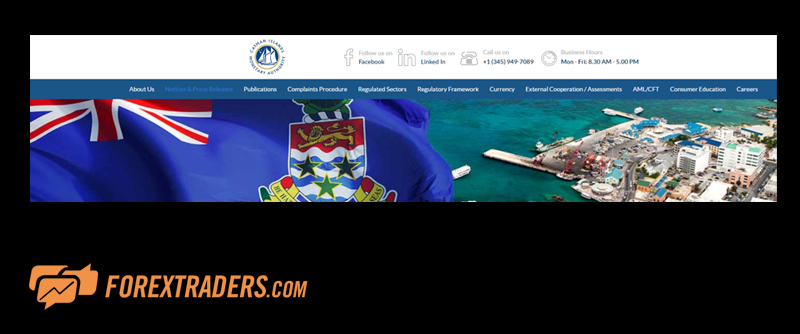 There is also negative balance protection, which is designed to protect clients from extreme market conditions when it would feasibly be possible to incur losses greater than the initial deposit to the trading account.
How to Open a MultiBank Account
Opening a demo account takes moments and gives immediate access to trading the markets using virtual funds.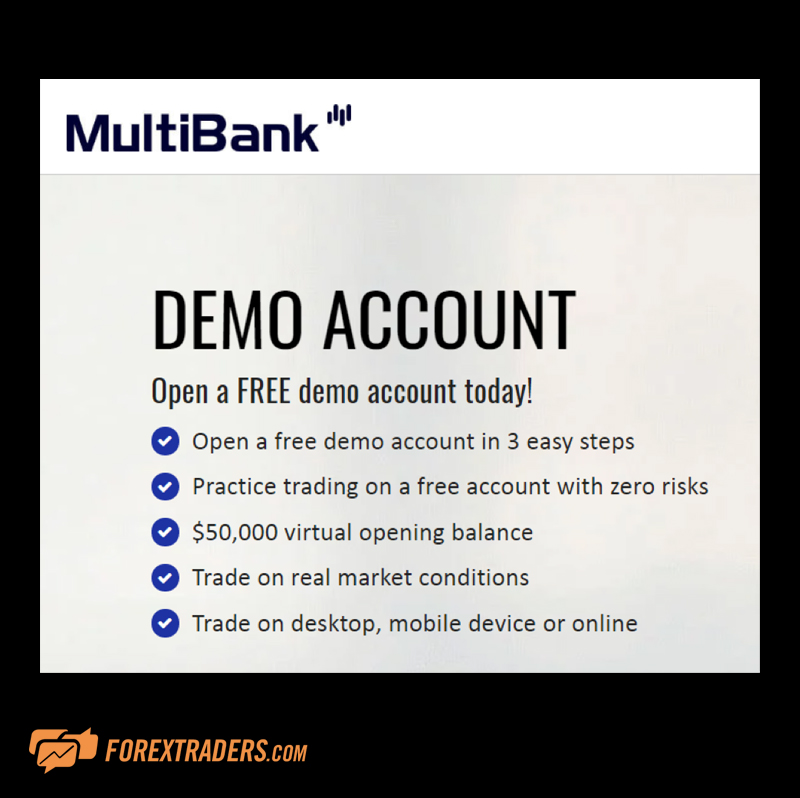 Setting up a live account requires more KYC information to be shared with the broker, and this administrative processing inevitably comes with something of a time lag. Patience is to be rewarded. Not only is the live account a top-tier offering, but there is also a degree of security associated with using a broker that demonstrates a need to comply with onboarding regulation. The checks that MultiBank (or any broker) request are designed to protect investors and confirming their presence should form part of an investor's due diligence process.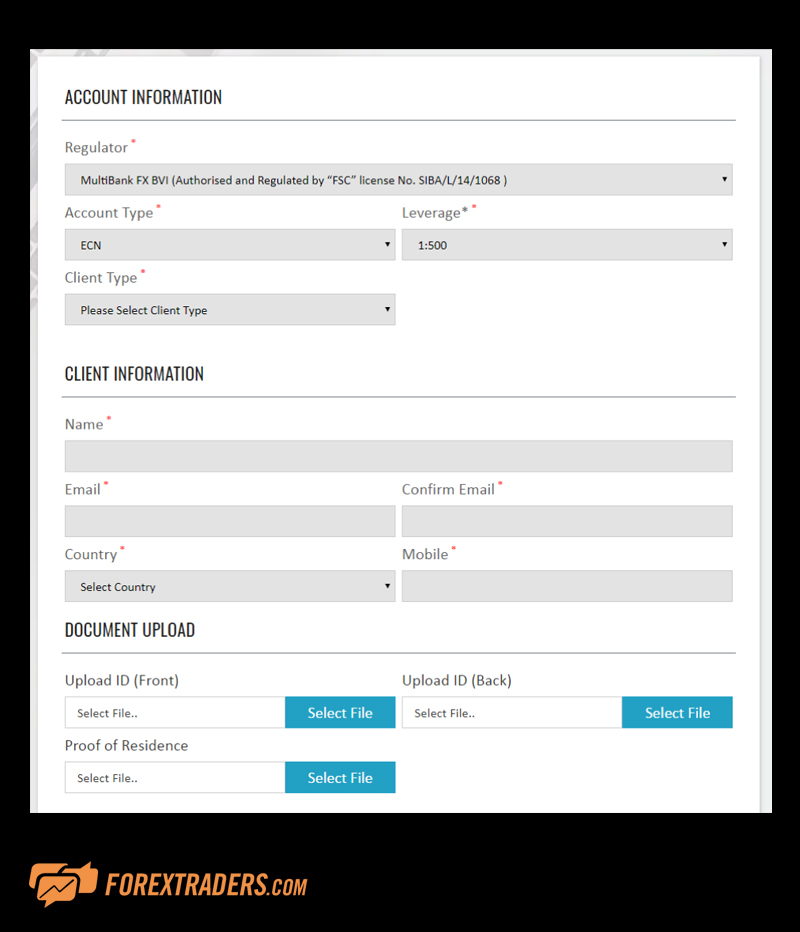 Leverage rates range from 1:100 to 1:500 and are selected at the client's discretion, and the minimum balance requirement is $50. There is a range of bonuses related to opening an account, though these change with time, so would need to be checked by visiting here: https://www.multibankfx.com/account/bonus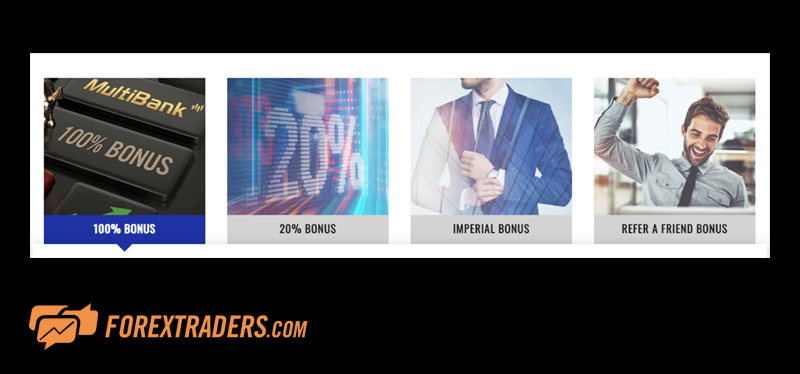 Deposits to live accounts can be made using a variety of payment types. The below example of deposit options relates to those funding an account with the MultiBank entity. Being a global firm, some accounts will be set up with different MultiBank entities, and payment types can vary slightly. The conclusion of this review was that all clients would have a satisfactory range of recognised payment types from which to choose.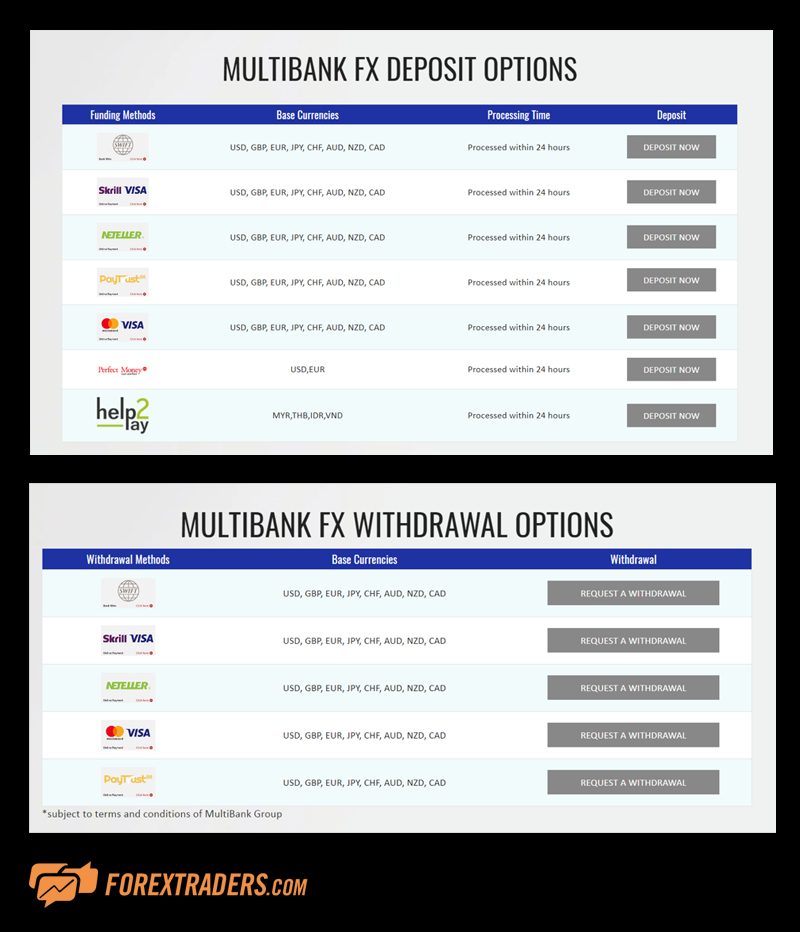 We would suggest that the withdrawal service would benefit from an upgrade. The hot buttons in the 'select your amount' section are nice features for those making online transfers, but the reference to refunds taking up to three days is some way down in the small print of the actual hardcopy-style forms.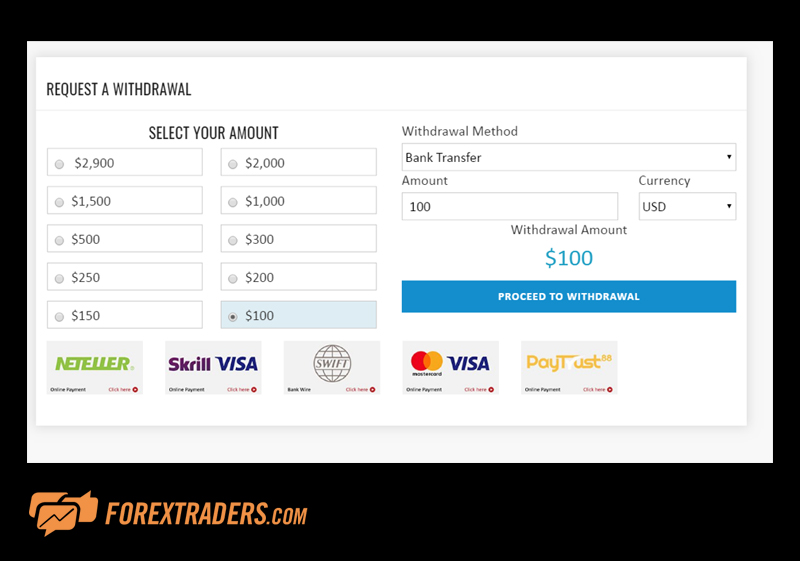 The bottom line
MultiBank is the real deal. The core trading service that it offers stands toe to toe with other brokers in the sector. The trading interface is a combination of tight spreads, top-quality ECN trade flow, and operational risk management tools that ensure the quality of execution.
This is founded on a regulatory framework that has been painstakingly set out and maintained to give clients as much confidence as possible.
The educational tools are relatively weak, and the administrative (but not the trading) side of the site has aesthetics that would benefit from a dash of finesse. Picking up on these minor points is border-line overly critical – the trading experience is as good as it gets and definitely worth a try.
Please be advised that certain products and/or multiplier levels may not be available for traders from EEA countries due to legal restrictions.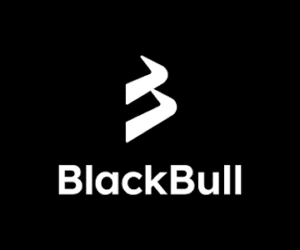 Forextraders' Broker of the Month
BlackBull Markets is a reliable and well-respected trading platform that provides its customers with high-quality access to a wide range of asset groups. The broker is headquartered in New Zealand which explains why it has flown under the radar for a few years but it is a great broker that is now building a global following. The BlackBull Markets site is intuitive and easy to use, making it an ideal choice for beginners.
Please be advised that certain products and/or multiplier levels may not be available for traders from EEA countries due to legal restrictions.