A CySEC-licensed broker, NAGA Markets have taken a three-pronged approach to "turning their traders' passion into wealth".
To accomplish this rather ambitious goal, the broker has put more than 750 tradable assets at its clients' disposal, making sure that its market coverage is truly cutting-edge in every regard. Indeed, in addition to the more "traditional" asset-classes, the broker has cryptocurrencies covered as well.
NAGA Trader is a copy-trading solution, which means that through it, beginners can copy the trades of their more successful peers, thus taking a major shortcut to success.
The third branch of NAGA Markets' wealth-generating effort rests upon the NAGA Academy, which is an education system consisting of eBooks, eCourses and webinars, meant to tech traders the basic and advanced concepts involved in trading.
By taking advantage of the information and opportunities offered by NAGA Academy, traders will find themselves capable of making better decisions and becoming more profitable over time.
As alluded to in the title, the reputation of the broker is a pleasant surprise: it is quite outstanding, not just decent. The various review portals out there have nothing but praise for the operation, but more importantly: the same is true for actual traders too, whose feedback on NAGA Markets' services is indeed excellent as well.
The corporate background of the operation makes a rather decent picture as well. Naga Markets Ltd is the company behind the brand and it is based in Cyprus. The exact address of the company is Spyrou Kyprianou 27, Mesa Geitonia, 4003, Limassol, Cyprus.
The regulatory authority which has provided the broker with a license is CySEC. NAGA Markets' license number is 204/13. In addition to CySEC, BaFIN and Deutsche Borse are listed among the regulators too.
What this means is that the broker is MiFID-compliant and as such, it can theoretically peddle its services legally in all MiFID-affiliated countries. The USA, Japan, Canada, France and Belgium are exceptions in this regard though.
On the official site of the brokerage, a word of caution is dropped (possibly at the behest of the regulatory authorities) regarding the risks involved in trading. Apparently some 79% of retail investors end up losing money, though the broker saw it fit to add that of these people, ~65% do not lose more than EUR 200.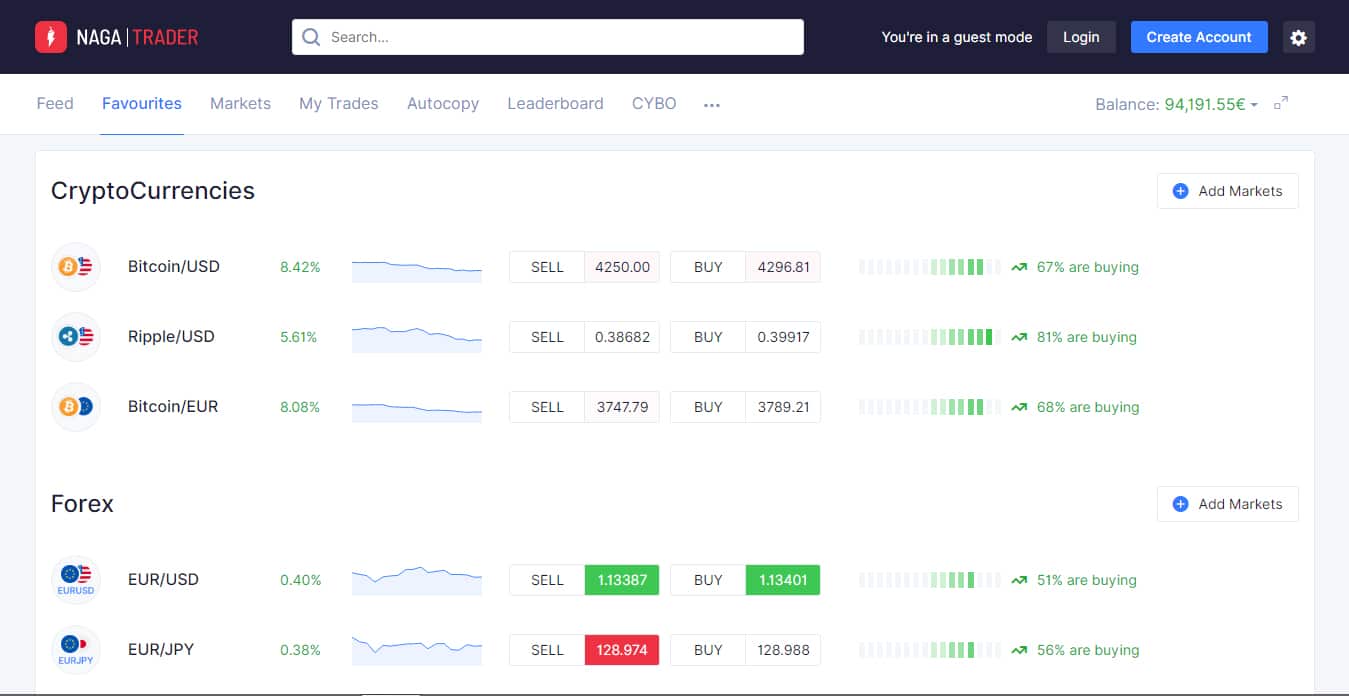 Why would you – presumably a retail trader yourself – want to create an account with NAGA Markets, knowing the above? What are the unique selling points of the operation?
Above and beyond its good reputation and social trading advantages (not to mention its solid regulatory status), NAGA Markets offers lightning-fast execution. The execution speed of trades is said to be under the 20ms mark. The broker also keeps its clients' monies in segregated bank accounts and it offers negative balance protection.
Multi-lingual support is available 24/5 too, and there is a Demo account option offered, to let traders put the broker to the test without risking any real money in the line of fire.
In addition to all the above, the broker also offers a MasterCard, putting fast and secure global transactions at its clients' fingertips.
The broker is thoroughly embroiled in the crypto industry. Besides giving its traders the opportunity to trade crypto, it also features a crypto wallet service, as well as its own crypto coin.
NAGA Markets Trading Platforms
The trading platform offered by the broker is its own proprietary NAGA Trader. As you may have guessed, NAGA Trader is all about social trading. It lets users copy the trades of others, or even auto-copy them.
The platform also comes with a handy leader board feature, and an impressive selection of social trading tools.
The NAGA Protector for instance, is a risk management tool which is aimed at the protection of clients' profits. The tool is a dynamic and fully customizable one and it achieves its goals through stop losses/take profits.
CYBO is a cutting edge trading tool meant to devise new trading strategies by using the wisdom of the crowd and AI-based learning. Through CYBO, traders can input their trading preferences and risk appetite, and the robot advisor then develops a custom trading strategy for them.
Auto Copy is all about maximizing profitability. It helps traders find top performers from the leader board, after which it automatically copies the moves of these pro traders. Whenever the pros profit, the beginners profit as well.
Those who are already profitable traders and possess all the knowhow required to maintain their profitability, can become copied traders as well.
As the above makes it clear, NAGA Markets' trading platform is everything but conventional. In fact, it is more of a copy trader than an actual trading platform, so it is safe to say that with it, the broker has gone all-in on the social component of trading.
Account Types
Besides a free Demo Account, NAGA Markets feature no fewer than 6 real money account options.
The Iron Account is the most accessible, with a minimum deposit requirement of EUR0. This account type also offers limited access to the NAGA Academy.
The Bronze Account throws a discount NAGA Card into the mix too, though it requires a minimum deposit of EUR 1k.
The Silver Trader ups the stakes to 5,000 EUR, offering still more additional benefits.
The Gold Trader includes personal coaching and trading strategies too, but it requires a minimum deposit of EUR 20k.
The Diamond Account is almost at the top of the account-type ladder, with a minimum deposit requirement of EUR 50k.
Last, but certainly not least, we have the Crystal Trader, which features better trading conditions, trading strategies, as well as personal coaching. The minimum deposit requirement on this one is EUR 100k.
Deposits/Withdrawals
As far as account funding is concerned, the broker accepts a more than fair selection of credit/debit cards, electronic payment methods and wire transfer.
The accepted cards are VISA, MasterCard and Maestro. Alternative payment methods are Neteller, Skrill, Giropay, Klarna, EPS and iDeal, among others. A wide range of currencies are accepted, such as USD, EUR., PLN and GBP.
The same goes for wire transfer.
Market Coverage
As said above, the market coverage of the broker is excellent. In addition to more conventional asset classes such as various commodities like wheat and corn, ETFs, CFDs and Forex pairs (of which scores are available), an impressive selection of crypto/fiat and crypto/crypto pairs can be traded too.
What's more, the broker acts as an exchange for various virtual items that can be used in online games. This part of the operation is truly a novelty as well as a cross-over into a realm as new and as revolutionary as the cryptocurrency industry.
Conclusion
NAGA Markets is not your run-of-the-mill online FX/CFD provider in any way. The broker – which is quite reputable indeed – has a platform of its own, which is focused on copy trading. This platform is a unique, proprietary one. Through it, even beginners can replicate the success of their more experienced and skilled peers.
The crypto market coverage of NAGA Markets is also quite superb. Its online gaming exchange is quite a surprising addition as well.
The fact that the broker features its own crypto coin and crypto wallet option is the cherry on top of the cake.
Read all reviews of the major forex brokers
Please be advised that certain products and/or multiplier levels may not be available for traders from EEA countries due to legal restrictions.