While traders waited for big corporate earnings announcements and US presidential news to filter through, the markets have made an early move downwards on the back of COVID infection fears. There is still a chance for significant news events on Thursday to play their part, but the mood on Wednesday is 'risk-off' as infection rates soar and global lockdowns appear more likely.
COVID fears shake the markets
From a global perspective, the COVID infection rate reports paint a mixed picture. China and Australia, for example, are both reporting positive news, while increasing European and US cases are what is driving the sell-off in equities and non-USD currencies.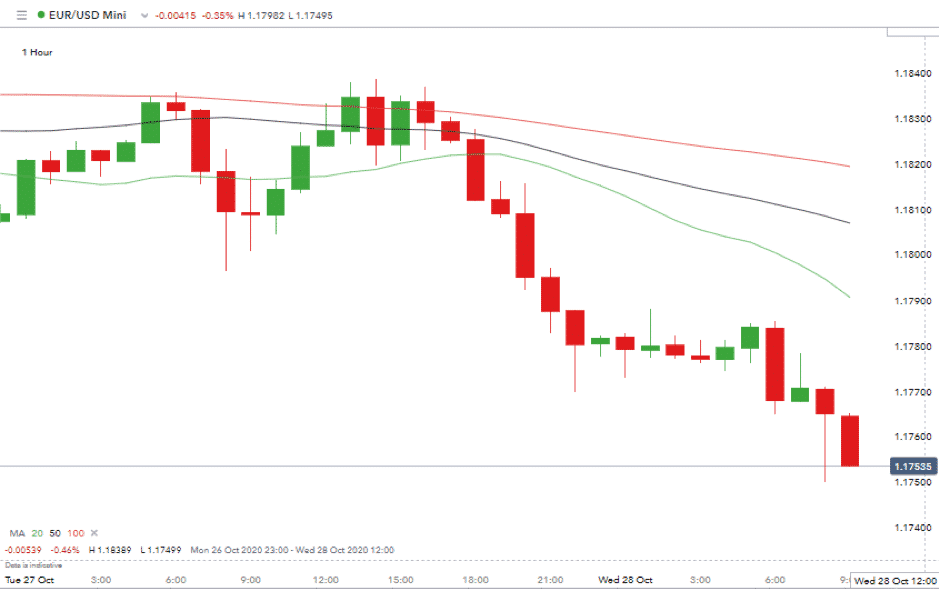 A major headache for investors is a report released on Tuesday by Imperial College London. The team there found that individuals infected with the virus lose their immunity over time. In the research, the number of people testing positive for antibodies fell by 26% between June and September. With apparently increased chances of multiple infections, the mood among investors has turned bearish.
When profit-taking becomes selling-out
Tuesday's price moves in equities had the hallmarks of profit-taking. Investors were trimming their books on the back of bad news and upcoming political uncertainty. The hourly candle of the UK100 equity index shows a bearish pattern through the Tuesday session but still some opportunities for range-trading.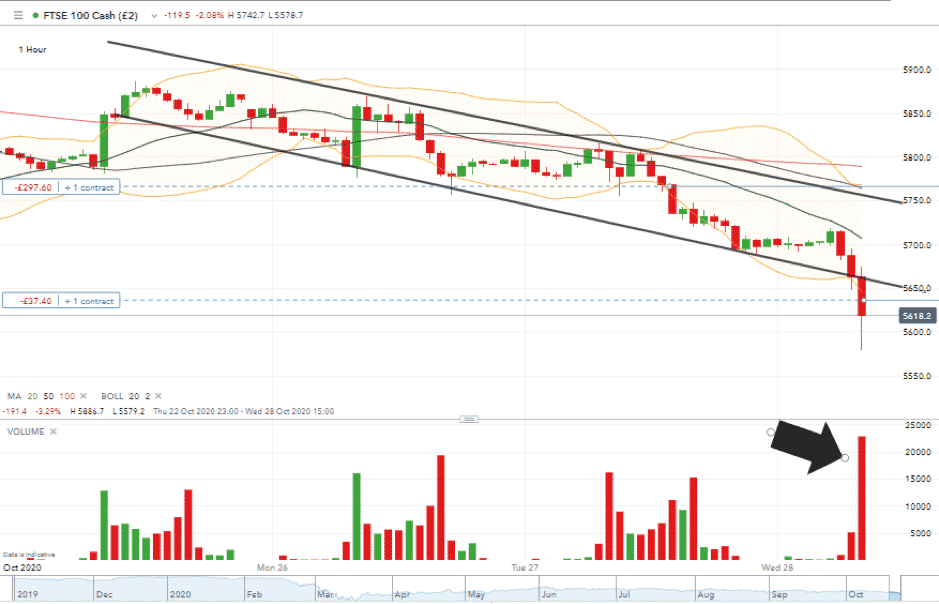 By Wednesday morning, those who had been trading the retracement were suffering the painful reminder that it's never a good idea to catch a falling knife.
In the hour before the European exchanges opened on Wednesday, index futures were already pointing lower. After the opening bell, price action was showing even more determination, with UK 100 at one point breaking through the 5,600 support level. As the below chart shows, transaction volumes also picked up to offer secondary confirmation of the direction of traffic.
The Forex Traders analyst report on Monday picked out the increased likelihood of a break-out occurring some-time this week. The size and timing of the move may be a surprise but that is after all what bearish markets are known for.