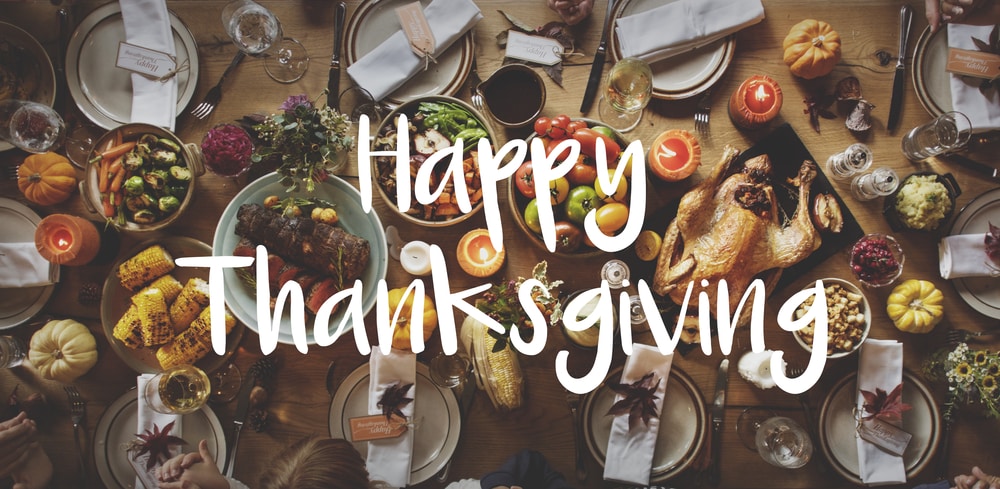 Happy Thanksgiving! Given the importance of the US economy, the markets are expecting the week to tail off quietly. This being 2020 there is, of course, a chance for a surprise, but for most, the real business will start again on Monday.
Trading sessions over the last week have had more of a feel of 2019. Markets have been able to embrace any positive news while overlooking any negative reports.
Reports that crude inventories were lower than forecast gave oil traders enough encouragement to take US Crude prices to levels not seen since the 6th of March. Trading above $45 per barrel, oil has benefited from vaccine news and the increased likelihood of a smooth transition at the White House.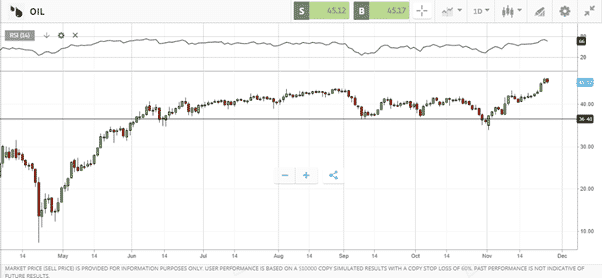 Source: eToro
Support for crude at the $36.50 price level has for some time been a significant barrier to the price moving below that point.
Any short-selling would have to factor in any price fall being capped near $36.50, so the sell-off seen during early trading on Thursday looks more like profit-taking. Price has, after all, risen 34% in 18 days. But from a daily perspective, the RSI is still some way from being 'overbought'.
Bitcoin finally gave up its meteoric price rise. In a matter of hours, BTC dropped from being just shy of $20,000 to below $16,500. No one would bet against BTC breaking the 20k barrier. It's become such a totemic marker for the crypto community that some appear to be getting cold feet at the last minute and understandably are banking some profits.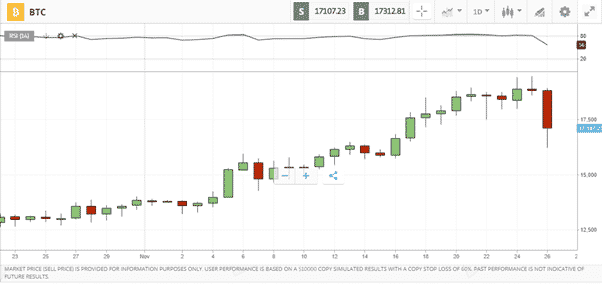 Source: eToro
Others will be considering buying the dip and squeezing a return between $16,500 and $20,000. That would represent a return of more than 20%; however, being crypto a big move to the downside can't be ruled out.
A few hours into the European session on Thursday morning BTC was trading above the 20 and 50 SMA.
Given the crypto's strong fan base in the US, the price dip could be explained by Thanksgiving. Traders are perhaps cashing in before taking a long weekend. Some might have even freed up cash to buy gifts.
The coincidental timing to match the US holiday will be causing some to make a note in the diary for the run-up to the same holiday in 2021.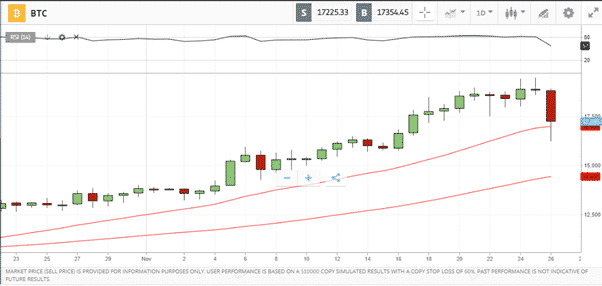 Source: eToro
Disappointing jobless claims figures from the US on Wednesday didn't hold equity markets back, but they did contribute to the USD continuing its slide. The USD Basket breaking the 9200 level.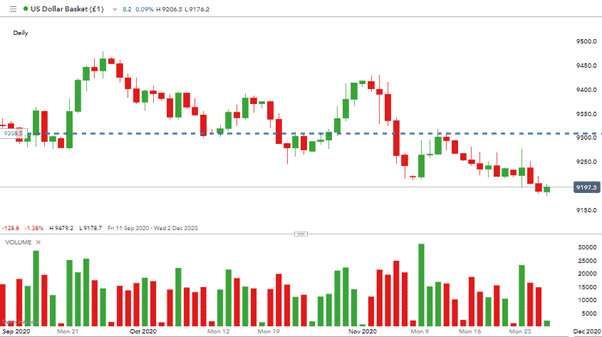 Source: IG
The USD Basket is now threatening to break the August low of 9174. You have to go back to 2018 to find USD Basket trading at levels as low as these. Any dollar strength would require a reversal in risk appetite, and there doesn't appear to be many potential catalysts for such a move.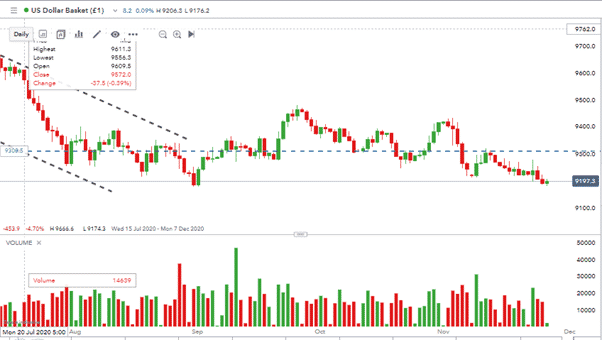 Source: IG
The weekly RSI has on three occasions correctly signalled a relief rally. In July 2017, January 2018 and August of 2020 it touched 30 to be then followed by a price rise. Many will be watching that indicator to see if it gets close to 30 again.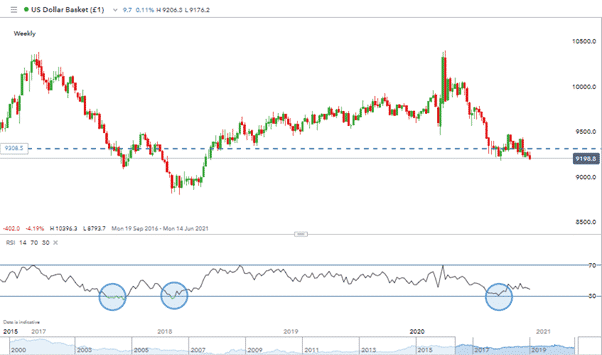 Source: IG