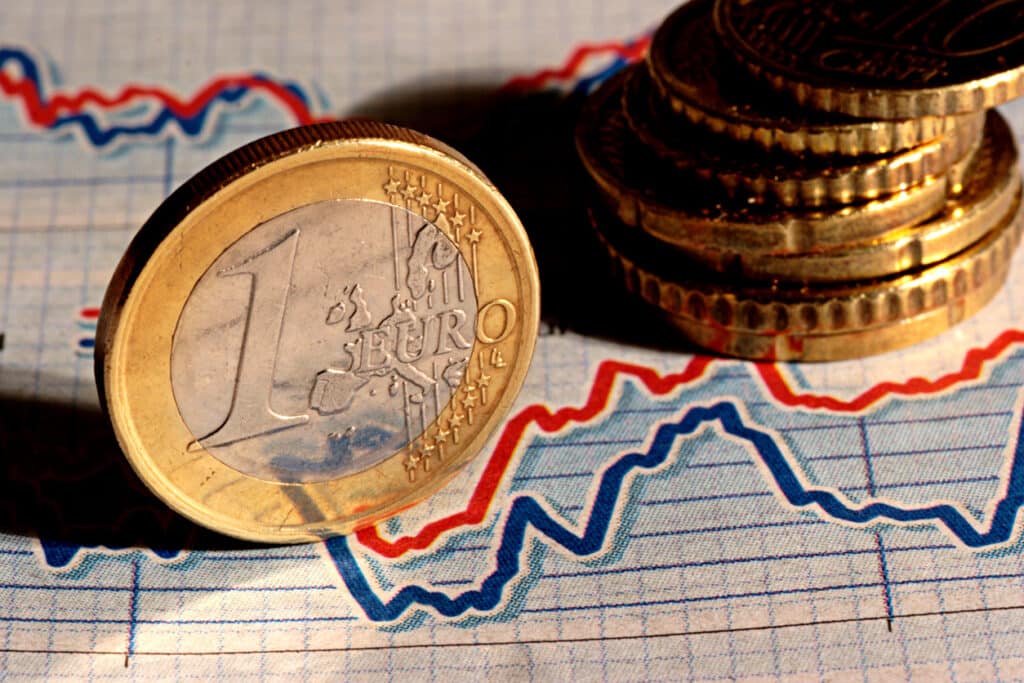 The collapse of SVB bank forces central banks to rethink their approach.
The ECB meets on Thursday amid signs that interest rate hikes aren't a victimless policy.
Is this the moment central banks pivot to more dovish policies?
Despite a mini meltdown in the banking sector brought on by the collapse of tech-start-up bank SVB, the Eurodollar currency pair has traded broadly in line with expectations. Its period of range-bound trading between Monday and Wednesday was forecast earlier in the week. A period of sideways price action is expected in the build-up to the ECB announcing its interest rate decision on Thursday.
The low volatility in the EURUSD forex pair looks like a case of the calm before the storm. With talks of a banking crisis and the US Federal Reserve interest rate policy potentially pivoting to protect economic fundamentals, the ECBs rate decision has taken on greater significance. It could act as a catalyst for a new sustained trend price.
EURUSD – 4H Price Chart March – 2023 – Range-Bound
Source: IG
Also Read: USDCHF Forecast and Live Chart
EURUSD vs USDCHF – Volatility Comparison
Price action in EURUSD needs to be put into context, and a glance at the USDCHF price chart for the same period shows how easily volatility can spill into the currency markets.
USDCHF – 4H Price Chart March – 2023 – Increased Volatility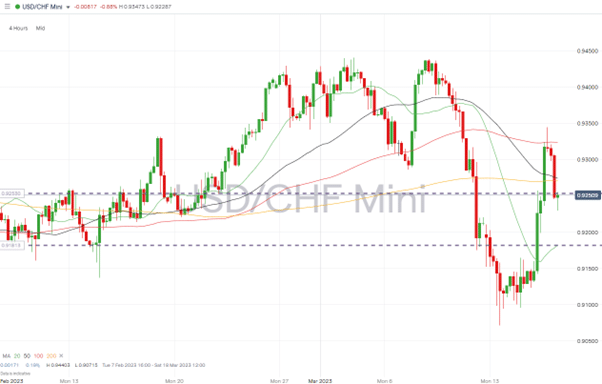 Source: IG
As SVB was wound up and investors and customers bailed out to varying degrees, the market has been gripped by fears of financial contagion. The price of the Swiss franc has whipsawed as problems at banking giant Credit Suisse leave forex traders wondering if the franc is a safe-haven currency or is the epicentre of a looming financial crisis.
The constricted price move in EURUSD starkly contrasts what has been occurring in other currency markets, most notably USDCHF. The sideways pattern has justifiably, and somewhat predictably, been part of the build-up to the ECBs rate news. But the volatility increase in other markets hints at how the price in EURUSD could move dramatically after the Eurozone rate increase is announced.
Before the collapse of SVB, the guidance from the ECB was that a 50-basis point hike made sense. But over the last week, the market has been pricing in a 25-basis point rise instead. That divergence means EURUSD is set for a more significant move than expected. The direction of travel is yet to be decided and will depend on the call made by the ESB, but traders should be braced for a breakout and the potential of a new trend forming.
People Also Read:
If you have been the victim of a scam, suspect fraudulent behaviour, or want to know more about this topic, please contact us at [email protected]