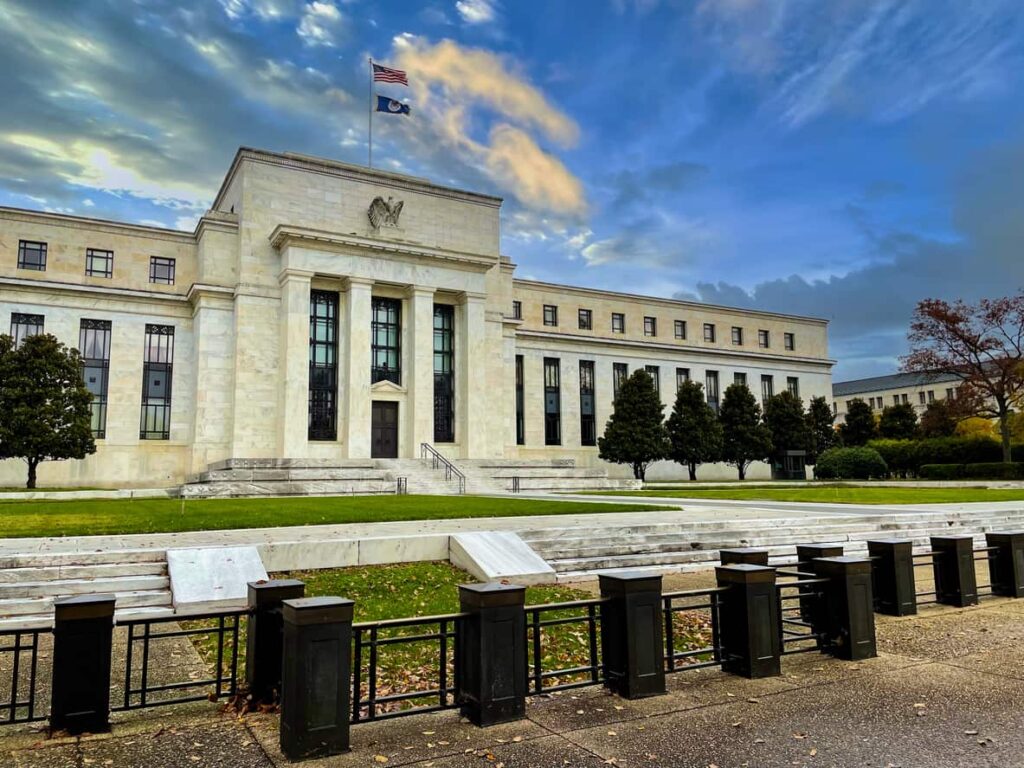 Dovish comments from US Fed Chair Jerome Powell trigger forex price moves
In his Q&A session Powell revealed that US Jobs data is now his main concern
GBPUSD and EURUSD divergence opens the door to different trading scenarios
Forex traders have been looking for a hint from the US Fed that interest rate policy might be turning 'dovish', and yesterday they received one. In his rate announcement press conference, Federal Reserve Chair Jerome Powell stated that the "disinflationary process has started…We can see that, and we see it really in goods prices so far".
Much of the rest of Powell's Q&A session reiterated the continued need for caution. He said it would be "premature" to consider inflation beaten. "Given our outlook, I don't see us cutting rates this year if our outlook comes true," the Fed chair said.
Powell made a determined effort to give both sides of the argument. Still, with risk-on currency pairs shooting upward in value on the back of Powell's comments, it's worth digging deeper into the text to establish what metrics he is monitoring going forward. For those looking to spot the next price moves, there appears to be one key data point – US employment numbers.
Former Goldman Sachs chief operating officer and advisor to the Trump administration Gary Cohn's main takeaway was that: "At this point it feels like we are just labor dependent."
This gives Friday's Non-Farm Payrolls monthly unemployment report greater significance at a time when currency pairs are at critical price levels.
GBPUSD Breakout?
Cable posted a daily gain of 0.64% on Wednesday on the back of the Fed's statement. The move from 1.23083 to 1.23874 was in line with other risk-on forex pairs but lagged the 1.40% price rise in EURUSD. It also failed to take GBPUSD through the 1.24480 year-to-date price high printed on 23rd January 2023.
Wednesday saw GBPUSD fall to 1.23200 and the region of the 20 SMA on the Daily Price Chart, then rally to 1.24013. While that is undoubtedly a bullish move the breakout to new highs made by EURUSD illustrates the greater momentum in that currency pair.
GBPUSD – Daily Price Chart 2022 – 2023 – Resistance Level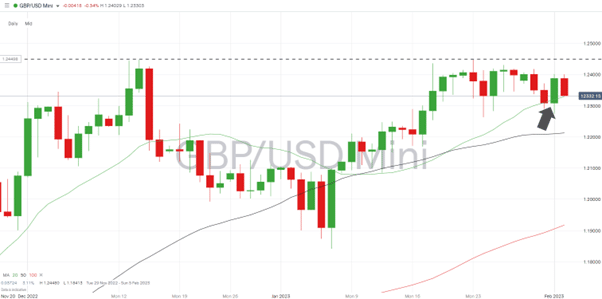 Source: IG
Read also: GBPUSD Forecast
The argument for GBPUSD moving above the 1.24480 resistance level is outlined here. Short-term catalysts for the move include the interest rate decision made by the Bank of England on 2nd February 2023. But for those looking to go long cable, there is still time to enter into positions.
EURUSD Outperformance
Christine Lagarde, President of the European Central Bank, will also update the markets regarding Eurozone interest rates on 2nd February. With the EURUSD currency pair already making higher highs, traders looking to apply momentum-based strategies may prefer to catch this upward move.
Any retracement to the resistance/support level of 1.09202 is a chance to tap into the long-term bullish price action of the euro-dollar.
EURUSD – Daily Price Chart 2022 – 2023 – Breakout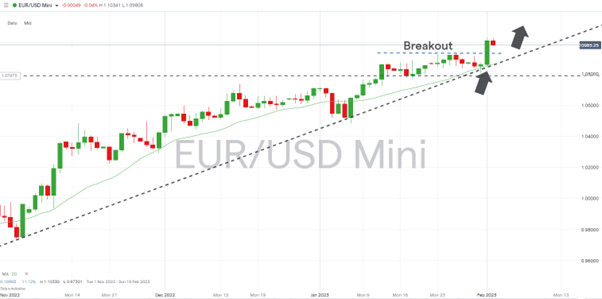 Source: IG
People Also Read
If you have been the victim of a scam, suspect fraudulent behaviour, or want to know more about this topic, please contact us at [email protected]