FP Markets is as legitimate a Forex and CFD trading operation as it gets these days. Licensed and regulated by one of the toughest and most demanding national regulatory agencies, Australia's ASIC, the brokerage boasts a history of 14 years, as well as 35 industry awards under its belt. Indeed, while there are some complaints here and there, the overall reputation of the broker is quite stellar.
Why should you trade at FP Markets then? Here are a handful of very good reasons.
As said above, the brokerage is regulated. Its ASIC license number is ABN 16 112 600 28, and its AFS license number is 286354. The company behind the website, First Prudential Markets Pty Ltd, is a registered Australian company, which is keen on offering maximum transparency in regard to the financial services it features.
First Prudential's company number is ACN 112 600 281, and its license number is AFSL 286 354. The head office of the company is located at Level 5, Exchange House, 10 Bridge Street, Sydney, 2000. In addition to the head office, FP Markets maintain a corporate presence in Beijing too. The Asian branch of the operation is fpmarketsasia.com. The head office can be contacted through no fewer than 5 telephone and fax numbers, of which the most important is +61 (0)2 8252 6800 for international users, and 1300 376 233 for those calling from Australia.
Full-range legal documentation is provided at the FPmarkets.com website, detailing every nook and cranny of operation, including the financial services that the brokerage has been authorized to offer. This documentation contains a Disclosure of Conflicts of Interest, which does not really say much about whether or not the brokerage trades against its clients in the CFD vert. It does say though that there are internal procedures in place meant to identify and to weed out any conflicts of interest.
Other factors that make FP Markets an attractive destination is their transparent pricing and the absolutely mind-numbing range of markets they cover.
In regard to the former, the site employs state-of-the-art technology and Direct Market Access pricing. As far as the latter goes: over 10,000 assets can be traded one way or the other, covering equities, indices, commodities and scores of Forex pairs.
The above-mentioned investor awards have come from a variety of issuing entities, such as Money Magazine, Smart Investor, The Bull, Canstar Cannex and Investment Trends. They have been issued for a variety of reasons, as FP Markets' excellence apparently extends to every operational department. The one for Best Trade Execution is obviously significant, since it concerns an important aspect of the offered services. The Best Customer Service award is interesting too, together with the Best Educational Materials one. The Most Satisfied Clients awards explain why there is so little bad blood about the broker out there.
Besides the above, FP Markets have also picked up the Cheapest Non-Advisory Phone Broker award, the Best Warrants Broker award, the Recommended CFD Broker award and the Best Value for Money award.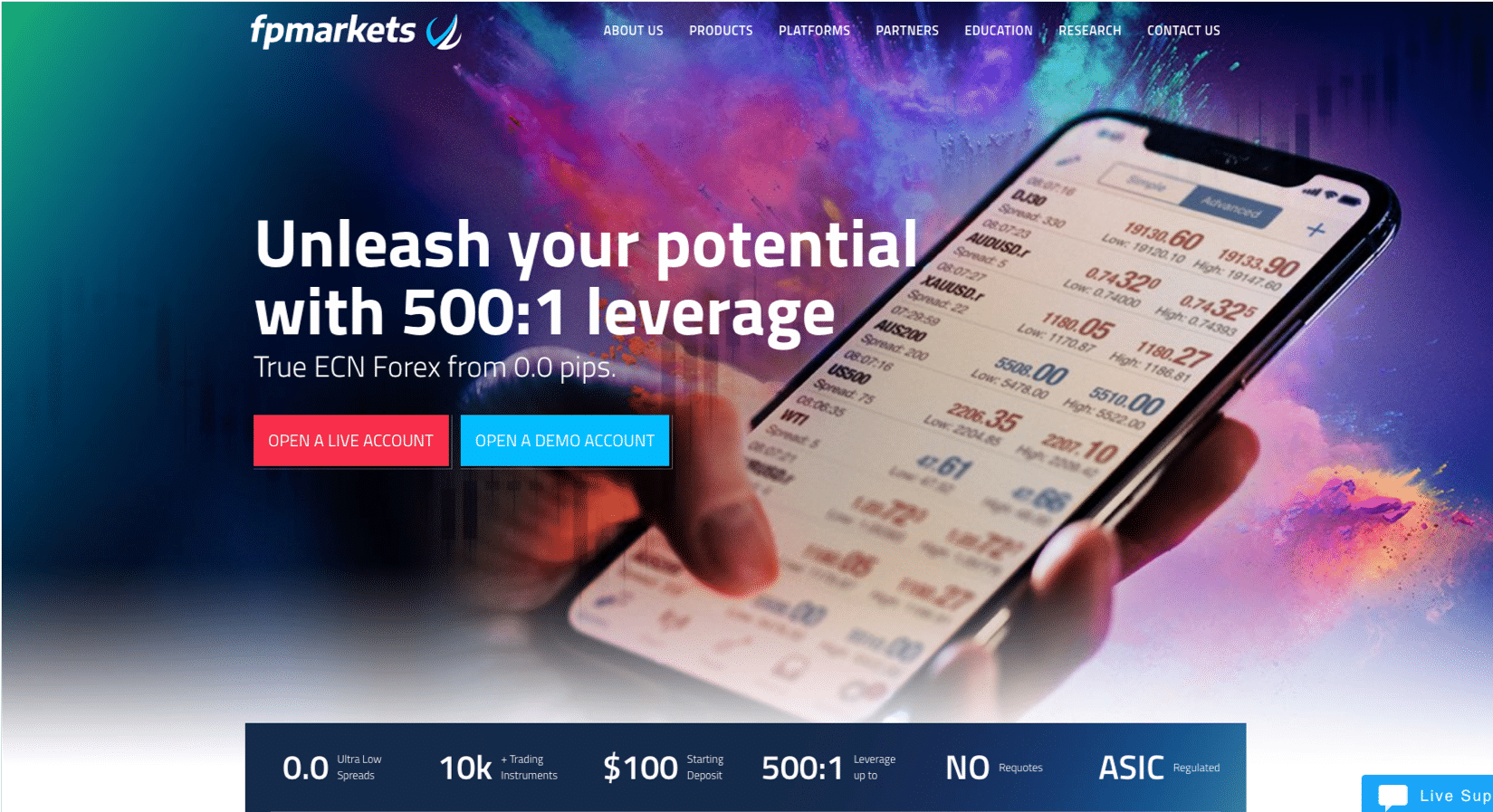 FP Markets Products
The products that FP Markets currently cover, are focused on CFDs and Forex. Shares can also be traded.
CFD trading is available 24/6, on more than 10,000 worldwide assets. The attractive margin rates are meant to make sure that traders take full advantage of their potential. The CFD category covers equities, indices, commodities and futures. It appears that FP Markets do not yet offer cryptocurrency-based CFDs. A total of 9 indices are available for Index CFDs and 3 commodities, WTI, Gold and Silver. Obviously, these category selections are wider when it comes to DMA trading.
The true power of the CFDs is unleashed upon the equities though, thousands upon thousands of which can be traded with better leverage and margins, and lower commissions, all based on genuine market data.
Those interested in Forex trading will be able to take advantage of maximum leverage levels of 500:1. While it certainly adds risk to the equation, such leverage also means that skilled traders can profit massively off the smallest market movements.
In addition to the above detailed shares, scores of ETF can be traded as well. The commission structure on these trading vehicles is good and there are no hidden fees involved. Shares and ETFs are traded as underlying assets for CFDs, which is why they are not mentioned on-site as separate investment options.
Platforms
As it's natural, FP Markets have separate platforms for their CFD and Forex offerings. CFD-wise, we're looking at the IRESS platform, which is just as powerful in its own right as the time-honored MT4, used for Forex.
The IRESS platform is visually just as appealing and functional as the MT4. It offers great market depth and transparent pricing, as well as custom trade alerts, live news and advanced charting features, which are indeed very handy technical analysis-wise. Complex orders can be placed through the platform too.
Advanced charting does not amount to much with a proper suite of technical indicators. FP Markets offer no fewer than 59 such indicators on their IRESS platform. No fewer than 50 drawing tools round out the selection, thus charts can be fully customized and chart templates can be saved.
The IRESS platform offers access to thousands upon thousands of international equities, far surpassing the asset-selection offered by the Forex MT4 platform.
IRESS uses HTML5 and it is compatible with all the major web browsers.
MT4 is the workhorse of the Forex trading scene. At FP Markets, it comes with its usual "baggage" of 50+ technical indicators, fully customizable charts and expert advisors. In addition to all that, this MT4 offers VPS options too, quite necessary for the proper running of EAs.
The MAM/PAMM options are a superb choice for money managers looking for a serious and reliable online brokerage. Featuring one-click order execution, MAM/PAMM lets users manage multiple clients, through a very straightforward GUI.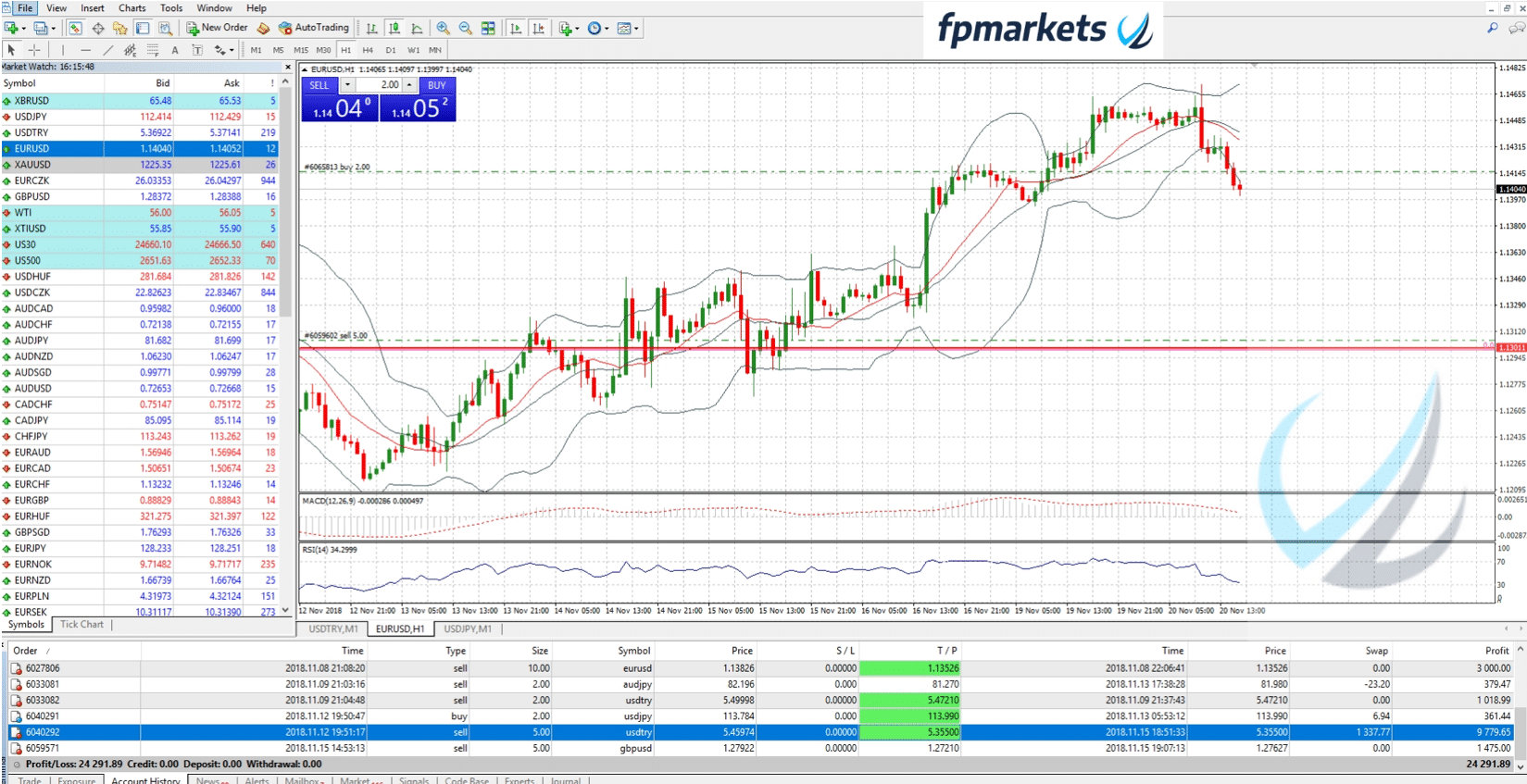 Account Types
In addition to the above detailed MAM/PAMM account program, FP Markets run an Introducing Brokers program and a White Label program too.
As said above, traders can apply for an IRESS account, or a Forex one. There are two different Forex account options available, and one can start trading with as little as AUD/EUR/USD 100.
The Standard Account requires just that much to start.  It offers STP execution, spreads from 1 pips and maximum leverage of 500:1.
EAs and VPS are available, as is a mobile app.
The ECN Raw Account requires a minimum deposit of AUD 100. Its spreads start from 0 pips though. The commission per lot is AUD 3.5 per 100,000.
Support
Besides the above provided two phone numbers, FP Markets support can be reached through a handy live chat feature, as well as through email: [email protected] The brokerage is present on various social media too, including Facebook, YouTube and Twitter.
Conclusion
FP Markets is a sort of "trading central" for those looking for various CFD and Forex-trading related services. Besides the superb platforms, the operator offers access to a wide range of auxiliary services, such as the above described MAM/PAMM and White Label programs.
This is a serious and reliable operation, with a clean corporate background and plenty of experience under its belt.
Read all recommended forex broker reviews.
Please be advised that certain products and/or multiplier levels may not be available for traders from EEA countries due to legal restrictions.