Innovation is a necessity in any industry, but in the foreign exchange arena, it often provides the difference between winning and losing from a brokerage perspective. With casualty rates running so high, client attrition is a continuing issue, but FXTM (ForexTime.com), an industry-leading broker with offices across the globe and licenses in the UK and Cyprus, has used innovation to retain and grow its loyal fan base since 1998. It has grown rapidly and boasts several industry awards for excellence in service and product offerings. In February of 2016, it went one step further to solidify its dominant position in the market by introducing a new service – "FXTM Invest".
Per its introductory announcement, "FXTM Invest is a flexible program especially tailored to those traders who are just starting out in the markets, don't have much time on their hands for trading, or simply don't have the patience for it. If that sounds like you, then this is your program! Once you choose the trader you'd like to follow, you automatically copy their trading pattern and make a profit whenever they do!" The release goes on to say that veteran traders can also benefit from this service, either from an Investor or Strategy Manager perspective. After only eight months of service, the website reports that $1,000 would now be over $4,500, if it had been in this fund. Of course, previous results are no indication of future performance. Unfortunately, U.S. clients are not accepted at this time.
Traditional forex trading is not easy, the reason why so many disclaimers appear on brokerage websites. Forex trading falls within the parameters of being high risk, which means that specialized training is required, along with months of practice trading to hone your skills and steel your nerves before putting real money on the line. Many newcomers do not achieve the required level of expertise, but the market can still accommodate them via fund managers or "mirror" trading, where you copy the trading behavior of another chosen expert. Social trading such as the latter alternative has taken years to mature. The "FXTM Invest" service features the latest in software enhancements to make the process fun and easy to follow. With FXTM, you are dealing directly with a regulated broker and with its burgeoning network of successful global traders. Just choose, follow, and monitor results, making adjustments when you feel necessary.
A "Win-Win" for Investors and Strategy Managers
The "FXTM Invest" service happens under one single roof. There are no external partners in the process that have their own operating rules that must be followed. FXTM sets the fees, supports an innovative interface to the real market without commissions, but with the execution power of ECN technology and fixed leverage up to 1:200. You can either be an "Investor" or a "Strategy Manager". Each can benefit from the actions of the other counterparty. As an Investor, you may peruse the profiles of available Strategy Managers or choose quickly from a list of outstanding performers. The "copy" fee is defined up front as a percentage of the profits, as with independent fund managers. We saw ranges of between 30% and 40%, an additional source of income for traders that choose to go the "Strategy Manager" route.
How does it work?
The process is actually quite straightforward, as the following diagram depicts: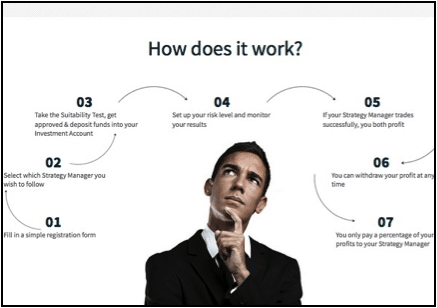 You must sign up for the service and accept its terms and conditions, but, from that point on, you simply choose a manager of your choice. The software automatically copies the manager's trades and handles the accounting. You monitor your results, have the option of choosing when to change "horses", and can withdraw your profits at any time. The process is just as easy from a manager's perspective, as well. There is full transparency – each participant in the transaction can view it every step of the way.
What are the benefits of this service?
The FXTM website lists the benefits for both parties in great detail:
Benefits for Investors:
1)    Access opportunities without any deep technical expertise
2)    Limit your exposure to risk with our advanced tools
3)    Expand your portfolio in a market with limitless opportunities
4)    Choose the Strategy Manager whose strategy fits your goals and needs
5)    Get real-time notifications, every hour, to keep tabs on your investment
6)    Join the program with an investment of as low as $/€/£ 100
7)    Sign up and get started in minutes with 4 easy steps
8)    Enjoy full control and easy access to your funds at all times
Benefits for Strategy Managers:
1)    Ability to set your preferred fee for your strategy.
2)    Your strategy, your rewards. FXTM takes no commissions.
3)    Own a dedicated page for your account, through which, Investors can connect to you.
4)    No position adjustments – no need to readjust a position for each new investor.
5)    Start with only 100 USD/EUR/GBP.
6)    Monitor your performance in real-time with our reporting tools.
7)    Enjoy security and confidentiality. Your trading strategy will not be made public.
8)    Trade with unparalleled trading conditions: ECN technology, no commissions, fixed leverage up to 1:200.
Why use the "FXTM Invest" service?
Yes, there are other "copy-cat" services out and about, but, with FXTM Invest, you get everything from one single provider. FXTM controls every aspect of the process and shields you from the risk of hiring an independent fund manager in the open market. This regulated broker has the size and customer base to support such a business model, and it has developed intuitive software that brings simplicity to the task. Performance results to date have been outstanding, but newcomers must not assume that profits are automatic. Proactive monitoring is the best way to ensure success with this type of forex model, but the opportunity is clearly presented. Everything is also web-based, requiring no complicated downloads, and deposit safety is a given via local regulatory compliance.
Concluding Remarks
FXTM has earned a reputation as a leader in our industry, having been always committed to "Flawless execution, excellent results." With "FXTM Invest", this management team has taken another innovative step to satisfying the needs of its customers, whether they be advanced or beginner. As it was noted in the product launch, "Having listened to the feedback from our clients, FXTM's highly skilled R&D team has developed FXTM Invest, a cutting-edge investment solution for both traders and investors." When you have a "Win-Win" on both sides of the equation and combine that formula with convenience, then you have service that will surely succeed. Many clients claim that success has already arrived. Will you be the next loyal fan?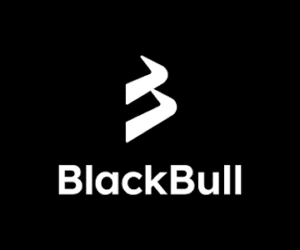 Forextraders' Broker of the Month
BlackBull Markets is a reliable and well-respected trading platform that provides its customers with high-quality access to a wide range of asset groups. The broker is headquartered in New Zealand which explains why it has flown under the radar for a few years but it is a great broker that is now building a global following. The BlackBull Markets site is intuitive and easy to use, making it an ideal choice for beginners.
Please be advised that certain products and/or multiplier levels may not be available for traders from EEA countries due to legal restrictions.