Founded way back in 2012, LegacyFX is indeed one of the older Forex brokers out there, one that was around during the "Wild West" stage of the industry, when all sorts of weird stunts were pulled and when regulation was nowhere nearly as important as it is today.
Are we saying that LegacyFX were crooked back in those days? Not really, but there were certainly some rather peculiar "phenomena" happening around the broker, to say the least.
Apparently, for a while there, it was known as LegacyForex and it was hooked up with all types of dubious entities and operators, like trading experts who routinely lost 90% of trader balances under their supervision, and sites that had long lost all trust-capital for various dubious stunts of their own.
More precisely, the names Mark Shawzin and Peter Visser are often brought up in connection with LegacyFX, so if you know these people or have heard about them, you know what you are dealing with. That said, user feedback-wise the operation is not looking all bad. There are apparently scores of traders out there who are pleased with the services offered by LegacyFX.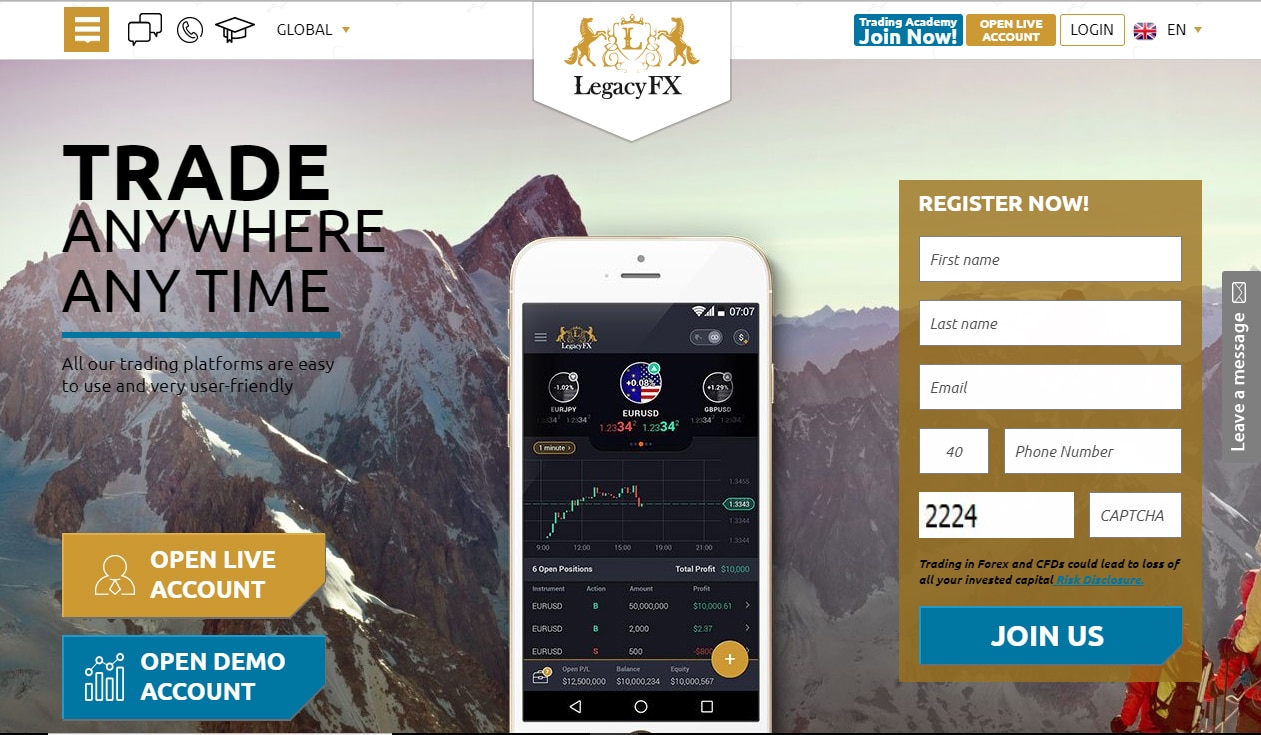 As proclaimed in the header at the official LegacyFX site, the broker is indeed a licensed and regulated one.
The corporate entity behind the LegacyFX brand is A.N. Allnew Investments Limited, which is a registered CIF. As such, Allnew Investments is a member of the Investor Compensation Scheme and it is licensed by CySEC, under license #344/17. That makes it obvious that the broker's regulatory status has only recently been achieved.
The CySEC license means that LegacyFX is in full compliance with the MiFID directives, which in turn means that it has to observe strict guidelines when dealing with its investors' money.
In addition to CySEC regulation, the brokerage is registered with an impressive number of national regulatory authorities. This sort of "umbrella" covers almost the entirety of Europe, with the obvious exception of Belgium.
It should be pretty safe to assume that under its current regulatory status, the broker cannot accept traders from the US and Canada.
Why would you want to open a real money trading account with LegacyFX though?
The official LegacyFX website touts several advantages to trading with the broker. Unmatched liquidity is one of them, as are good trading conditions. The spreads are said to be super-tight with the broker, and the leverage is generous. What more could a trader really want? Perhaps a bit of an improvement on the reputation front would indeed be very welcome.
The operator seems to be extremely transparent in all its dealings and it publishes regular market discipline and annual reports.
LegacyFX Account Types
In this regard, the broker has kept things relatively simple. There are just 3 account types on offer and they do indeed cover all the needs traders of all experience levels might have.
The most accessible account – the one with the lowest minimum deposit requirement – is the Silver Account. To open such an account, one needs to cough up $500 – quite reasonable indeed, especially when one considers the fact that such an account comes with almost all the perks the fully-featured Platinum Account brings to the table.
The maximum leverage is 1:30, which may not be particularly breath-taking, but which we consider very reasonable indeed.
The spreads are where the difference is really made though: on this account, the spreads are rather substantial, starting from 2.4 pips.
The only features missing from this one are 1-on-1 support, analysis insights and Dealing Room Direct Line.
The Gold Account ups the stakes by quite a bit. The minimum required deposit for this one is $5,000. For that money, traders gain access to all the perks and features (including the above mentioned ones that are not covered by the Silver Account), and they get MUCH better spreads too.
The Gold Account spreads start from 1.5 pips.
Those really looking to put their money where their profit-hunger is, can opt for the Platinum Account.
The minimum deposit on this account is $25,000. For that money, traders get 1:30 leverage and spreads starting from 0.8 pips – which do indeed live up to the promises made in "why trade" section of the site. For that money, traders get 1-on1 support, access to all the trading platforms, educational bonus, and market- as well as technical support.
Traders of the Islamic faith are offered special, Sharia-compliant accounts. Such accounts feature specific rules regarding Riba and they are swap-free.
LegacyFX Trading Platforms
The most easily accessible trading environment offered by the broker is the LegacyFX Web trader. While simplistic at first glance, the Web Trader is actually a pretty nifty little trading tool: it features real time quotes, one-click trading off the charts, scores of order types and excellent execution-speed. The Web Trader supports a Demo Account option too.
LegacyFX Mobile is another solution for those on the move. Featuring great compatibility, the mobile trader provides full access to users' full portfolios, allowing them to study the history of their accounts at the touch of a button.
Despite the qualities of the above described trading solutions, MT4 is the real flagship of the LegacyFX trading platform lineup.
MT4 is indeed unparalleled when it comes to fulfilling all the needs and wants of sophisticated, professional traders. The platform simply excels at every operational aspect. Its charting is superb, it supports scores of time frames and drawing tools, and when it comes to technical indicators, it is yet again unbeatable. Not only does it feature a massive selection of preinstalled indicators, it allows its users to customize these tools and to create their own from scratch.
EAs represent one of MT4's top features. Through these auto traders, users can automate their trading to a degree where their intervention is only required when the strategies fed into the EAs misfire for some reason. Needless to say, EAs too can be customized and purchased from other creators or created from scratch.
Chart-based trading is yet another one of MT4's strengths, together with position keeping. The platform makes it possible for traders to instantly react to trading signals and alerts: yet another major mark in the "plus" column.
MT4 can be downloaded for free, directly from the LegacyFX website. It too supports real money as well as demo accounts.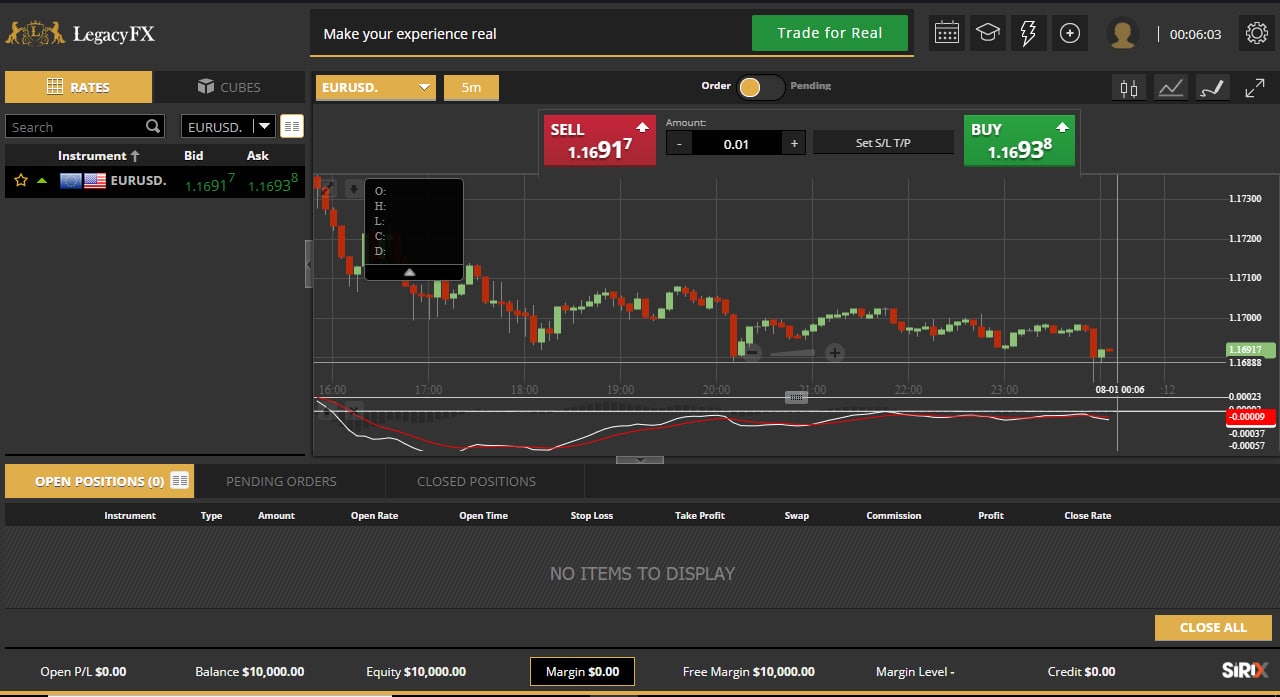 LegacyFX Deposits and Withdrawals
The broker supports a surprisingly shallow range of deposit and withdrawal methods. Among these, Credit- and Debit cards, such as VISA, MasterCard and Visa Electron stand out, but bank wires are also supported.
While the Silver Account (the lowest on the Account Type tier) requires a minimum deposit of $500, the Deposit page of the broker states that the minimum requirement is $250…make of that what you will.
In addition to the above methods, a selection of mysterious alternative payment methods is also supported.
Conclusion
Everything accounted for, LegacyFX looks like a serious trading destination. This is exactly the reason why all the controversy and poor trader feedback surrounding it is so confusing.
The broker is regulated, it features a more than decent selection of trading platforms and it is transparent regarding its inner workings.
The operator seems focused on delivering a decent educational experience too.
Please be advised that certain products and/or multiplier levels may not be available for traders from EEA countries due to legal restrictions.