Plus500 Pros
Plus500 Cons
24/7 access to responsive and high-quality help desk
No crypto
Over 2,000 markets, including some 'exotic' assets
No telephone customer support
Excellent trading interface and top-grade regulatory protection
Traders' Viewpoint
Plus500's operational structure marks it out as a broker that should be trustworthy. It holds client funds in segregated accounts and is a publicly listed company operating for over ten years. It is regulated by several international financial authorities, including top-tier ones like the U.K.'s Financial Conduct Authority (FCA), the Monetary Authority of Singapore and the Australian Securities and Investments Commission (ASIC). The platform has experienced some run-ins with regulators over the years, but it appears to have learned its lessons. That is best demonstrated by the regulatory framework the broker now operates, which ticks a lot of boxes for those who like to carry out due diligence reviews of their broker.
Plus500 has a strong offering of tradable instruments. It offers 2033 CFDs, including on 70 currency pairs, which is slightly higher than most forex brokers. It has over 1800 stock and index CFDs, 92 ETFs and 22 Commodities.
* CFDs are complex financial products and thus the Plus500 platform is not suitable for beginners/inexperienced traders.
Since January 2021, it has restricted access to cryptocurrency markets. That marks the firm's compliance with the spirit and the letter of the law following the FCA's move towards discouraging retail traders from engaging in the market. Due to recent regulatory changes, cryptocurrencies are no longer available for retail accounts in the UK.
Plus500 has a unique and very attractive mobile trading platform available on iPhone, Android and Windows. The service is provided in several languages, and the desktop platform has the same neat functionality as the App. From a trading perspective, the absence of alternative third-party platforms such as cTrader and MetaTrader's MT4 or MT5 could be an issue for some.  On the other hand, the broker has set about ensuring its in-house platform offers advanced features such as trailing-stops and guaranteed stop-loss orders (GSLO), which can be helpful risk management tools for traders.
The minimum deposit requirement of USD 100 will appeal to those looking to try out one of the big-name brokers but don't want to allocate too large an amount of capital.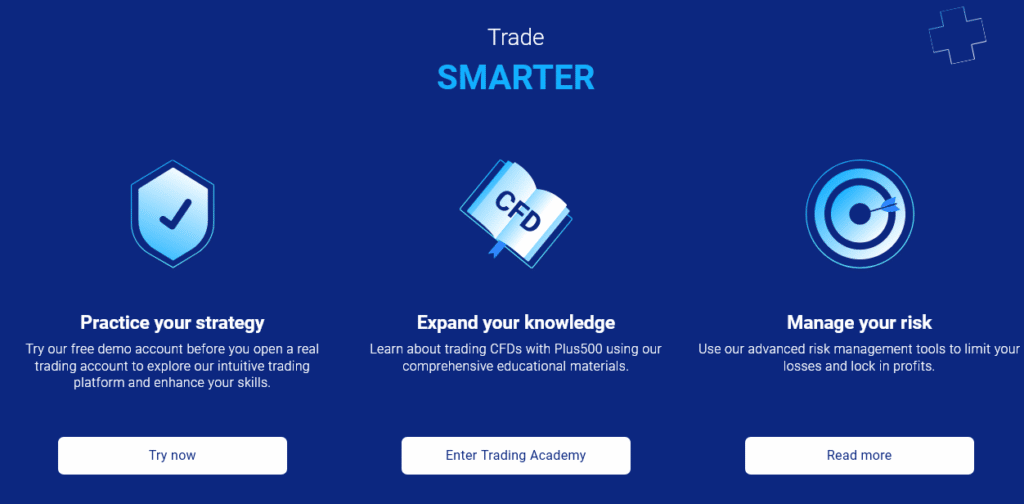 About Plus500
Plus500 has a strong fintech pedigree. The firm's six founders set the firm up with a relatively small initial capital investment ($400,000) but achieved success by designing their product to provide clients with a platform based on top-grade technology. The platform provides markets in Contracts for Difference (CFDs), delivering trading facilities on shares, forex, commodities, ETFs, options and indices. 
* CFDs are complex financial products and thus the Plus500 platform is not suitable for beginners/inexperienced traders.
Founded in 2008, the firm has enjoyed continued success which ultimately led to its listing on the London Stock Exchange in 2018.
The Plus500 trading platform is offered by Plus500UK Ltd, a U.K. based company (Company No 07024970) with its offices located in the City of London at Plus500UK Ltd, 78 Cornhill | London EC3V 3QQ. The company is authorised and regulated by the Financial Conduct Authority (FCA) FRN 509909 to offer Contracts For Difference (CFD). Plus500UK Limited is a company registered in England and Wales specialising in Contracts for Difference (CFDs) in commodities, shares, currencies and indices.


Plus500UK Ltd is a subsidiary of Plus500 Ltd, a company listed on the London Stock Exchange's Main Market for Listed Companies and headquartered in the tech hub of Haifa.
Plus500CY Ltd is authorised and regulated by the Cyprus Securities and Exchange Commission (Licence No. 250/14). Plus500AU Pty Ltd holds AFSL #417727 issued by ASIC, FSP No. 486026 issued by the FMA in New Zealand and Authorised Financial Services Provider #47546 issued by the FSCA in South Africa.
Plus500SG Pte Ltd (UEN 201422211Z) holds a capital markets services licence from the Monetary Authority of Singapore for dealing in capital markets products (Licence No. CMS100648-1).
The Plus500 trading platform is truly global. Its trading apps are supported in 32 languages, including English, German, Greek, Italian, Spanish, French, Finnish, Danish, Swedish, Estonian, Russian, Romanian, Hebrew, Arabic, and Traditional and Simplified Chinese.
WHO DOES PLUS500 APPEAL TO?
Plus 500 is different – in a good way. The platform is packed with nice-to-have features which support the brokers claim to have based its offering on the latest tech.
The firm's website states its fresh approach is a fundamental part of its business' DNA. "Plus500's strategic priorities have to date differentiated, and will continue to differentiate, Plus500 from its competitors and be fundamental to Plus500's future success."
The solid technical 'edge' and application of IT to ensure the firm meets client needs means the firm is popular among those traders who prioritise the mobile trading experience and customer satisfaction.
Unusually, customer support is available 24/7 rather than on a 24/5 basis. That will appeal to those traders who want to develop their ideas and strategies over the weekend.
PLUS500 ACCOUNT TYPES
The Retail Account is Plus 500's standard 'off the shelf account' and will suit most needs. Those looking for something extra might want to consider the Professional Account, which has T&Cs based on supporting a different kind of trading.


There is no additional cost associated with the Professional Account. but leverage terms are much more aggressive.
Markets and Territories Under Plus500
Plus500 is a global broker. The 2,000 markets on offer provide exposure to all areas of international trading. The platform hosts traders from over 50 countries, and the service supports more than 30 languages. Not only are there a lot of markets to trade, but there is also a wide range of types of markets. Plus500 offers CFD markets in asset classes, including stocks, forex, indices, ETFs, options, and commodities.
Some trading platforms are yet to fully establish their operations in the North American markets. The good news for U.S. citizens is that they can open Plus500 accounts. Clients from other domiciles (e.g., the U.K.) can also log in to their accounts if/when visiting the U.S.
Plus500 Instruments AND Spreads
Some smaller brokers offer close to one hundred markets, so Plus500's decision to offer their clients more than 2,000 markets is to be congratulated. What is also impressive is that the extra instruments cover a range of categories rather than just providing more of the same. For example, there is an impressive number of Options markets on offer.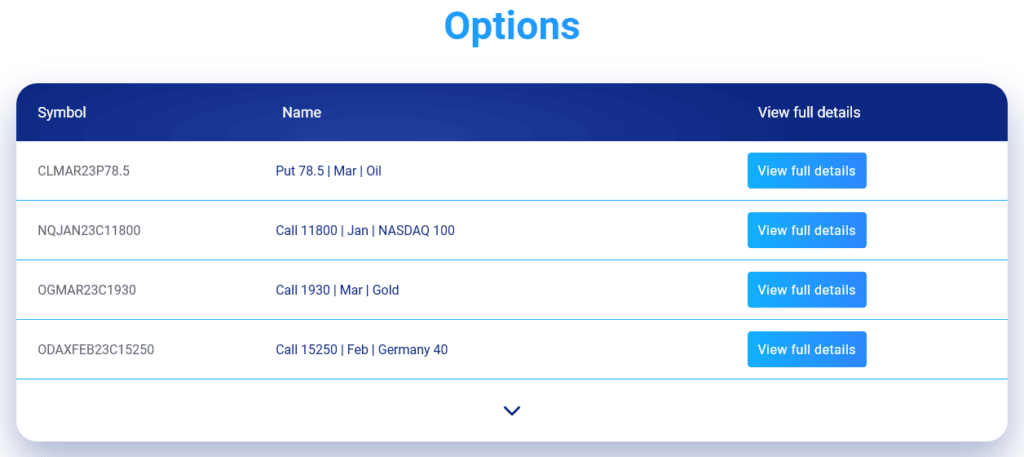 *Illustrative prices

The range of bespoke indices deserves to be mentioned. Clients can take exposure in certain assets without establishing which of the individual firms are the best pick. For example, the China Internet Giants index, which BITA provides, follows China's top 30 internet companies, including Alibaba, Baidu, JD.com, and Weibo. Other indices include Cannabis Stocks, UK Brexit High 50, Lithium & Battery and Real Estate Giants.
During testing, the Options markets were seeing a good flow. The success of the platform and the number of clients it now hosts becoming something of a virtuous circle for those using it.
The company is proud of its position as a rapidly growing CFD provider and currently offers its portfolio of over 2,000 instruments. It does well to ensure that those 2,000 are popular and associated with reasonable amounts of trade flow.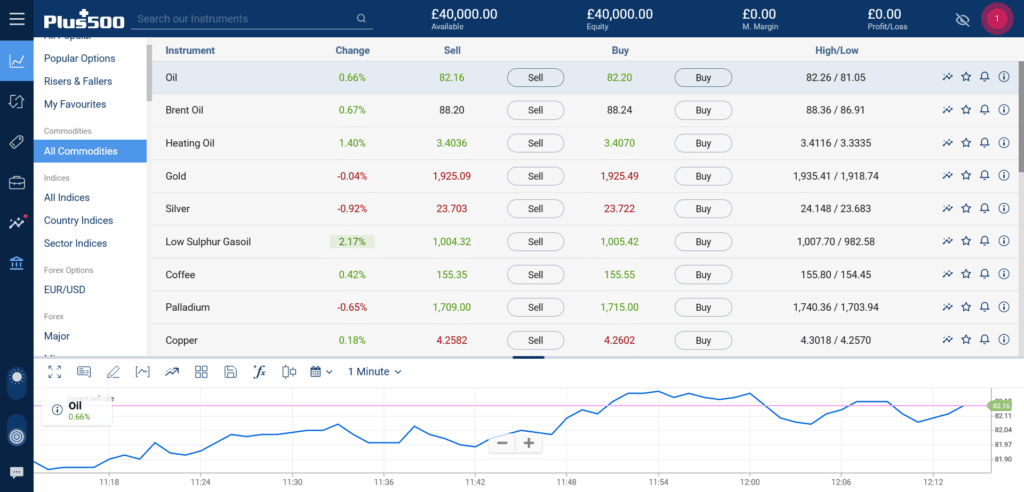 *Illustrative prices
Spreads are competitive and variable across all tradable products on the platform. However, it is worth noting that financing rates are pretty high. When opening an account, funds are held on a segregated basis, and there is a USD100 minimum deposit only required. There is no withdrawal fee above USD100 (a charge may be incurred on the 5th withdrawal of the month), and any inactivity fee does not apply for the first three months. Other fees include: Currency Conversion Fee, Overnight Funding, Guaranteed Stop Order, and Inactivity Fee.
Plus500 Fees and Commissions
The pricing at Plus500 is refreshingly transparent. Spreads are tight, and there are no commissions.
The Live Prices section of the site allows traders to familiarise themselves with spreads in all markets. A sure sign that the broker is confident that its numbers stack up compared to the peer group.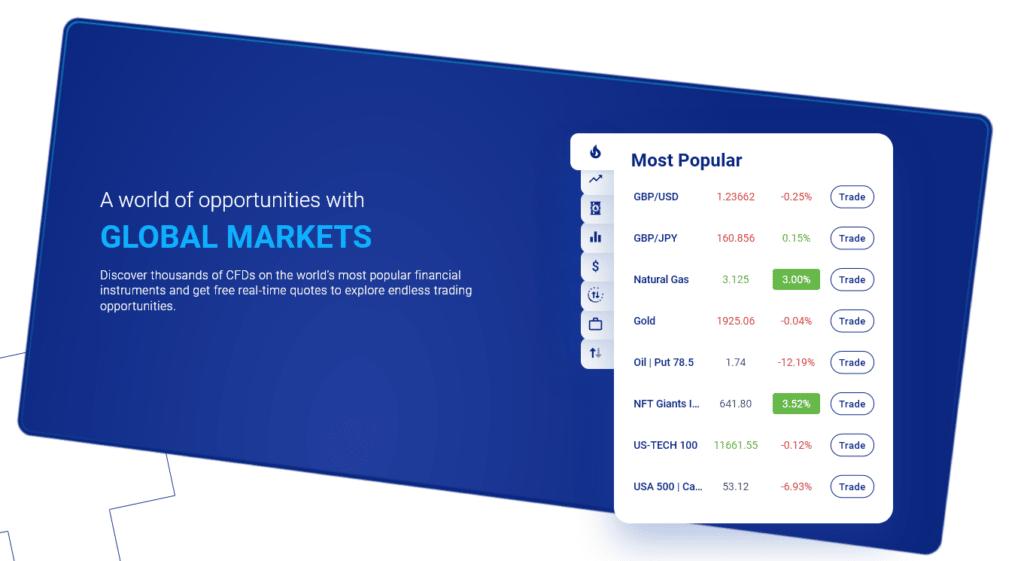 *Illustrative prices
Reassuringly – the Plus500 site is also transparent about the financing costs associated with trading. The information provided about how margin is calculated is in refreshingly plain language but covers all the pertinent points.


Plus500 Trading Platform Review
The administrative part of the Plus500 site (https://www.plus500.co.uk/) has a minimalist feel and can be easily navigated. All the sections of the trading dashboard can be easily accessed or minimised, meaning the functionality there supports traders who want to get down to business.
The actual trading platform is Web Trader-based, offering a mix of user-friendliness and powerful software.

*Illustrative prices

The trading dashboard includes a section that filters the market movers and allows clients to head to the more volatile markets quickly – and the trading opportunities they provide.
The different markets can be set up to have the same graphics apply to them. The Options markets still have enough flow to ensure that candles have bodies rather than dashes, reflecting an absence of market flow.

*Illustrative prices
The execution interface has an uncluttered feel. The platform offers advanced and straightforward stop losses and take profits, but these don't get in the way of the trading process. Nice to have features include the margin associated with each trade being displayed. The "Trader's sentiment" feature is also helpful. Four-eye checks like these can help avoid fat-finger errors and help traders achieve their aim of being profitable.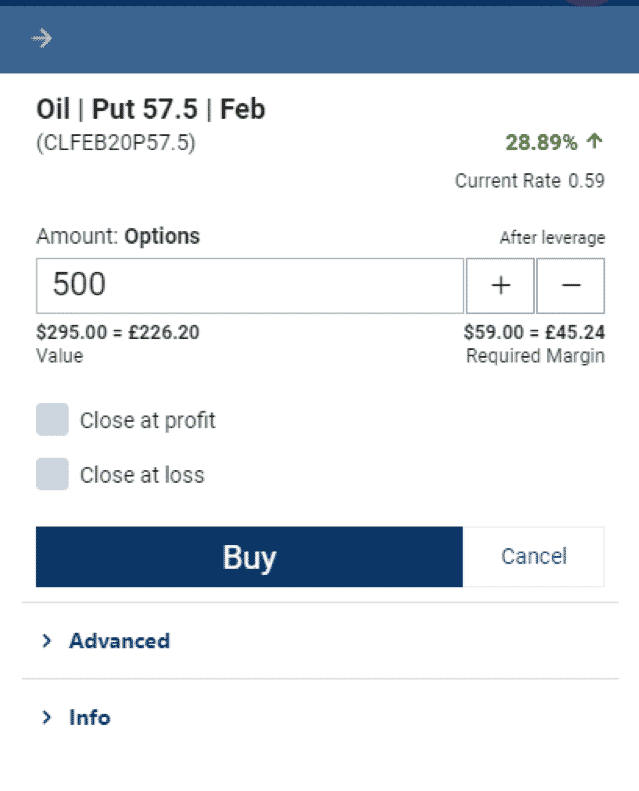 *Illustrative prices

For those looking for granular detail, it is always close to hand. The info tab provides traders with the core details of each market, including opening hours, minimum trading size and margin and leverage terms.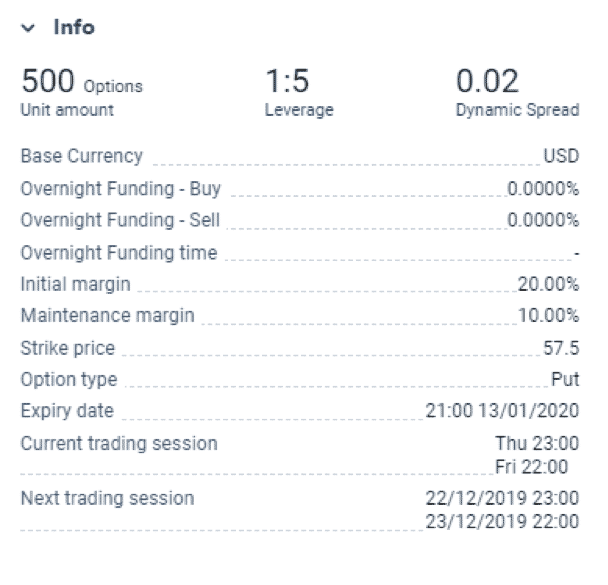 *Illustrative prices
Plus500 provides a two-step login, and Google and Facebook authentication are also available. The design and feel of the web-based platform are excellent, with a highly efficient search function. Alerts and updates can be set up via email, SMS and push notifications. With an eye on client safety, the auto-time-out function comes as a default setting and ensures any open windows are automatically shut down.

Mobile Trading with Plus500
The Plus500 mobile trading experience does more than just allow its clients to keep in touch with the markets when on the move. It's a real selling point for the firm. The interfaces available are Plus500 mobile apps for iOS, Android and Windows phones. It's also possible to access the platform through an internet browser.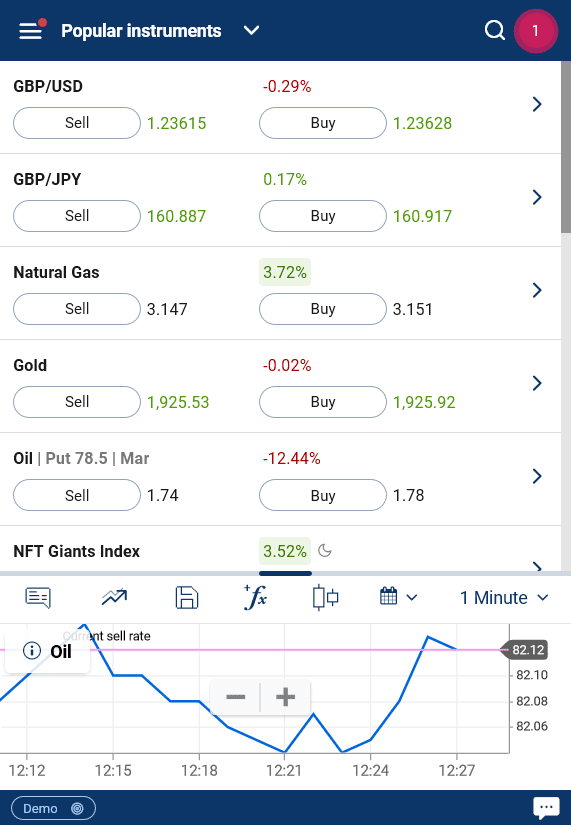 *Illustrative prices

Plus500's willingness to embrace cutting edge technology is possibly most visible through its mobile trading platform. The range of clever features includes the ability to move to full-screen mode on charts and effortlessly switch from landscape to portrait layout. All of the technical indicators found on the desktop version are available on the smaller screen format of the service. The graphics also hold up well and allow users to analyse and trade using charting tools as varied as Anchored VWAP and Vortex Indicator. To give an idea of the scale of the mobile charting tools on offer, the tools listed alphabetically have 13 indicators starting with the letter 'A'. It's no surprise that estimates suggest that 40% of Plus 500 transactions were made using either Smartphones or tablets.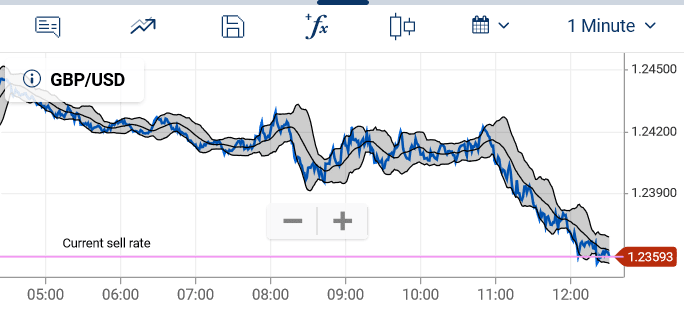 *Illustrative prices
Plus500 introduced its Android-based trading platform for Android smartphones and tablets in 2012. They were early adopters of the technology, and clients will benefit from their appetite for keeping that advantage over their peers. One of the excellent features of the Plus500 apps is the auto-logout function introduced in 2019, which offers an additional layer of security. The actual trading interface comes packed with all the risk management tools one would typically find on a desktop dashboard.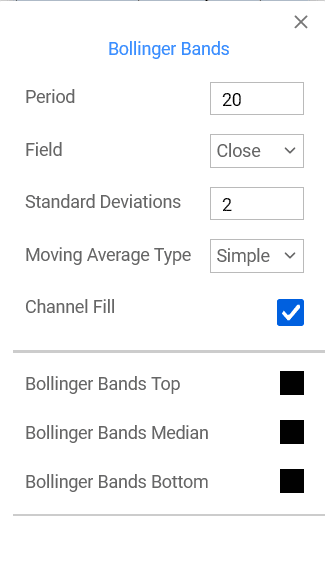 Social and Copy Trading with Plus500
Plus500 does not support Copy or Social Trading. Their emphasis is on supporting stand-alone trading. As the help desk points out: "Hello, no, we don't offer this feature. As a trader, you should do your own research and develop your own trading strategies. We cannot get involved in your trading activity or the trends of the instruments."
Plus500 Charting and Tools
The charting package in the Web Trader platform is very user friendly. The intuitive layout and colourful aesthetic are supported by a host of charting graphics and trading indicators. It does require users to invest a bit of time getting to grips with some of the more obscure features, but it's good to have them on offer.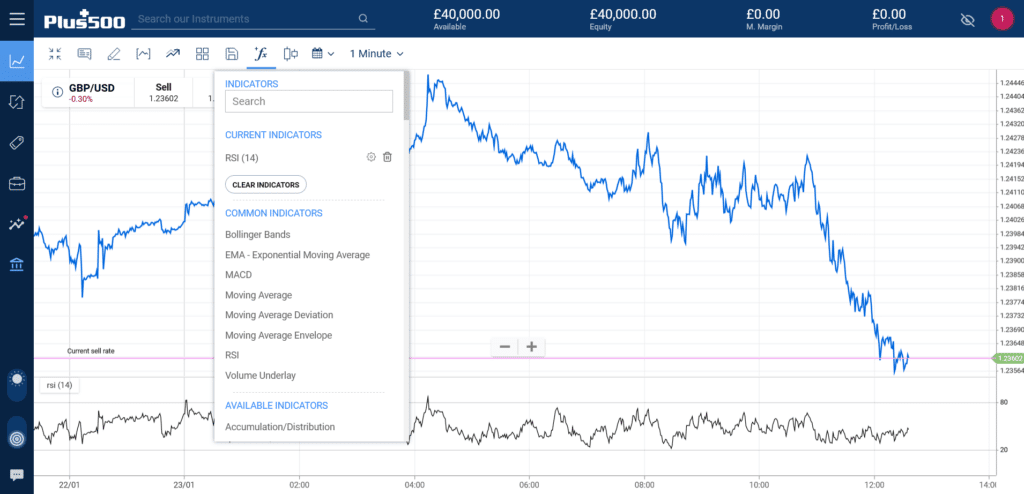 *Illustrative prices

The basic layout of the charts shouldn't fool users. The very long list of indicators that are available to clients allows for in-depth analysis of the markets.
Special mention should be given for the dedication Plus500 give to ensuring the charting functionality carries over to the mobile format.
Education
Plus500 offer a lot of support for new and novice traders. It's possible to familiarise yourself with the trading platform by watching the "Traders Guide" available on the Plus500 website. It is under the "Tools" tab.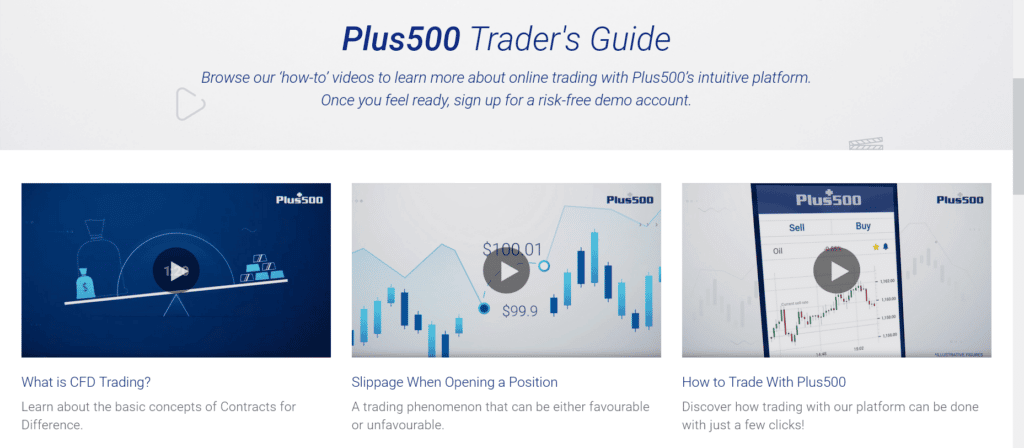 *Illustrative prices

The training videos cover a range of topics. Some such as the explanation of slippage are particularly useful if not glamourous but touch on the details of trading in a way that helps traders be best prepared to enter the markets.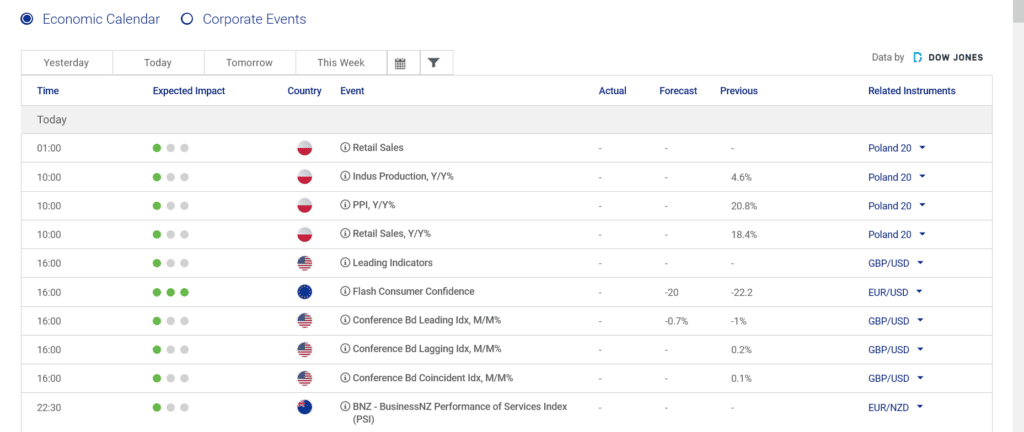 Plus500 has recently beefed up its research offering. The economic calendar has been upgraded and includes data feeds from Dow Jones. There are trader sentiment tools that offer a view of the market's mood, and advanced charting tools offer over 100 optional technical indicators.
trader protection by territory
Plus500 demonstrate that client protection and security are clearly of high importance. The regulatory bodies which they have licences from and operate under are top tier. The exact regulatory protection will be dependent on the domicile of the account holder.  Those who hold accounts with Plus500UK Ltd are authorised and regulated by the Financial Conduct Authority (FRN 509909). Clients of Plus500CY Ltd fall under the umbrella of the firm, which is authorised and regulated by the Cyprus Securities and Exchange Commission (Licence No. 250/14).
Traders in other domiciles operated under regulators, including Plus500AU Pty Ltd, holds AFSL #417727 issued by ASIC, FSP No. 486026 issued by the FMA in New Zealand and Authorised Financial Services Provider #47546 issued by the FSCA in South Africa. Plus500SG Pte Ltd (UEN 201422211Z) holds a capital markets services licence from the Monetary Authority of Singapore for dealing in capital markets products (Licence No. CMS100648-1).
The protection offered includes the segregation of client funds. When you open an account, Plus500UK Ltd will hold your funds separately, following the Financial Conduct Authority's client money rules.
Plus500 is listed on the London Stock Exchange, which means it is obligated to publish extensive reports about its business operations. Something a privately owned company is not required to do.
In terms of operational risk, the firm does well to offer Guaranteed Stop Losses. Although there is a charge related to taking up this added layer of security, it is something that not all brokers provide, so Plus500 does well to make it available. Trailing stop-losses and take profit functions are more standard, and it is no surprise that Plus500 offers them.
The firm states that its clients can't lose more than the funds they have on their account. The "Margin Call" feature exists to prevent your account from having a negative balance.
Other areas of the site reference Negative Balance Protection but give few details of how Plus500 provides that service to clients. While "Margin Calls" and Negative Balance Protection" are technically two different things, they work towards the same goal. Plus 500 gain points for limiting customer losses to the size of the initial stake.
The firm offers a range of documents that go into great detail about the risks involved.
https://www.plus500.co.uk/AboutUs
https://cdn-main.plus500.com/Regulatory/FCA/default/default/Pillar3Disclosure.pdf?_ga=2.43355814.2040779275.1576852273-220614638.1576852273&_gac=1.25179471.1576924406.Cj0KCQiAovfvBRCRARIsADEmbRJ16Q4rRr11iHwsYaiWAHKTwSz5mvOpxHU9kVnrRI4sWiC37MeTtuMaAgthEALw_wcB
How to Open a Plus500 Account
Opening a Demo account takes moments to do, and the ability to trade and not lose any real capital is a great asset for beginners and those trying out new strategies and ideas.
Some brokers design their site to steer clients towards the time-consuming process of complete onboarding, even if they only really want to sample the site via a Demo account. Plus500 appear confident that the platform will sell itself, so accordingly provide a very clear choice of live and demo trading options. Unlike some other brokers, they don't limit the time that a Demo account can be held open. That allows traders to test the service thoroughly before committing funds and lets them switch back to Demo mode when experimenting with new trading ideas.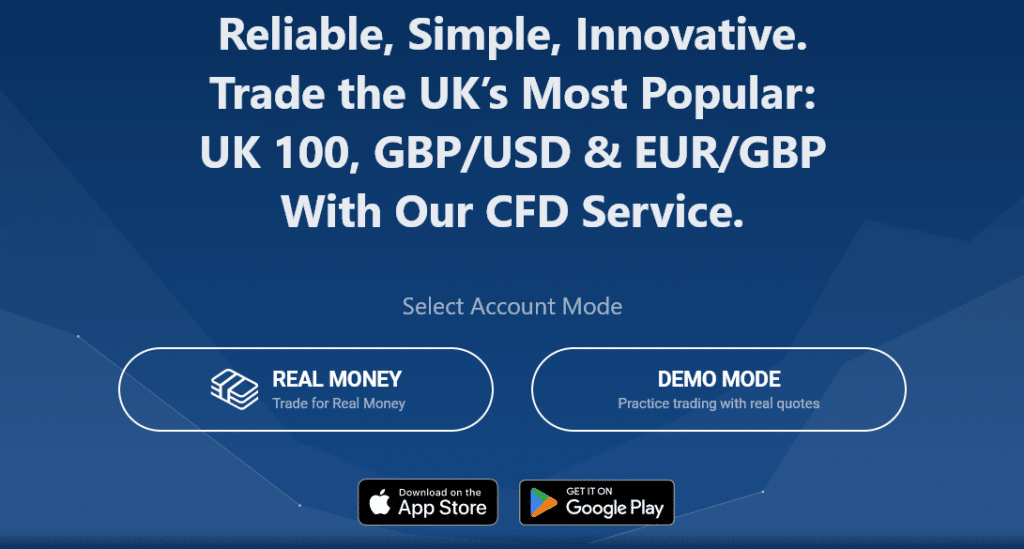 As Plus500 operates under licence from top-grade regulators, a standard list of KYC (Know Your Client) material needs to be processed during the onboarding process. That is the case with all brokers, but Plus500 takes advantage of its high-tech approach to the situation and has included some neat touches.
The firm doesn't operate corporate accounts and discourages its clients from operating more than one account. It also prohibits some trading strategies such as scalping, automated data entry system and hedging, or indeed those which fall under the definition of market abuse, such as insider trading.
The platform doesn't charge fees on deposits made using debit/credit cards, bank transfers and PayPal/Skrill.  As with other brokers, there is always a risk that third parties apply charges to deposits and withdrawals.
To ensure 'good housekeeping,' the firm reserves the right to charge if a client should exceed the maximum number of monthly withdrawals. They also reserve the right to apply a charge on inactive accounts.
Customer SupporT
Plus500 customer support is available 24/7 via live chat, email or WhatsApp. The extended hours' service provides traders with the opportunity to develop and enhance their trading strategies when markets are closed. During testing, the staff were knowledgeable and responsive and able to handle queries in a range of different languages.
The site's FAQ section is refreshingly light touch and can be accessed via this link, https://www.plus500.com/Help/FAQ.aspx. The less is more approach taken means that the core issues are addressed in this section, and further queries are best directed to the Customer Support team.
The absence of phone support will be an issue for many. There are times when calling somebody to talk about positions in fast-moving markets can make a difference to the trading bottom line.


Plus500 Review Conclusion
One of Plus500's most significant achievements is its trading platform. It's a sophisticated mix of convenience, user-friendly prompts and powerful software tools. The firm has been around for long enough to have fine-tuned the trading interface, and it puts traders in just the right position to access the markets. A few nice-to-have touches are a nod to the firm's willingness to invest in new technology. The execution GUI is packed with risk management filters and 'four-eye' checks designed to help protect the bottom line.
As an established operator in the sector, the firm seized the opportunity to gain regulatory licences from a range of the highest calibre regulators.
One of the firm's mission statements is "World's Trading Machine." This certainly holds and gives the nod to the impressive software available. For some, it might even take things to the point where the interaction with the site can feel a little impersonal, the lack of telephone support staff being part of this.


The reference to 'trading machine' ironically highlights that the platform doesn't support systematic, copy or social trading.
Plus500 is well-positioned in the broker space and is set up to optimise the trading experience of its clients. Its decision to not support certain business lines (e.g., scalpers and robo-trading) means that it is much better positioned to support the services it does provide. There are over 300,000 active users on the platform, demonstrating that Plus500 ticks all the boxes for some traders.
Plus500 FAQs
How can I open a Demo account with Plus500?
It only takes moments to process the application, which requires little more than an email address and password. There is no charge to open and use a Plus500 Demo account.
Is Plus500 a regulated broker?
Plus500 is not only regulated but has opted to satisfy the requirements to operate under the licence of some of the best quality global regulators. They hold regulatory licences with (among others) FCA, CySec and ASIC.
Can I change leverage with Plus500?
The easiest way to change leverage is to scale up from a Retail account to a Professional account. This involves submitting another application; however, the leverage on the Pro account will be sufficient for most purposes.
How do I withdraw money from Plus500?
The withdrawal process is straightforward enough. The funds have to be returned to the account which made the initial deposit – this is a standard procedure and relates to money laundering compliance. There is some 'chatter' in the trading community about withdrawals taking some time to materialise, so checking the T&Cs of your preferred payment type is recommended.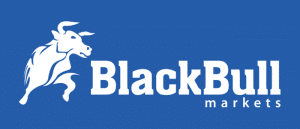 Forextraders' Broker of the Month
BlackBull Markets is a reliable and well-respected trading platform that provides its customers with high-quality access to a wide range of asset groups. The broker is headquartered in New Zealand which explains why it has flown under the radar for a few years but it is a great broker that is now building a global following. The BlackBull Markets site is intuitive and easy to use, making it an ideal choice for beginners.
Please be advised that certain products and/or multiplier levels may not be available for traders from EEA countries due to legal restrictions.