The Euro/Canadian Dollar currency pair (also referred to as EURCAD and EUR/CAD) is one of the most actively minor pairs traded in the world. In this article, we will examine how EURCAD is performing
EURCAD Key Stats
2021 high: 1.5680
2021 low: 1.4164
YTD high: 1.4634
YTD low: 1.3389
YTD % change: -6.07%
EURCAD Forecast.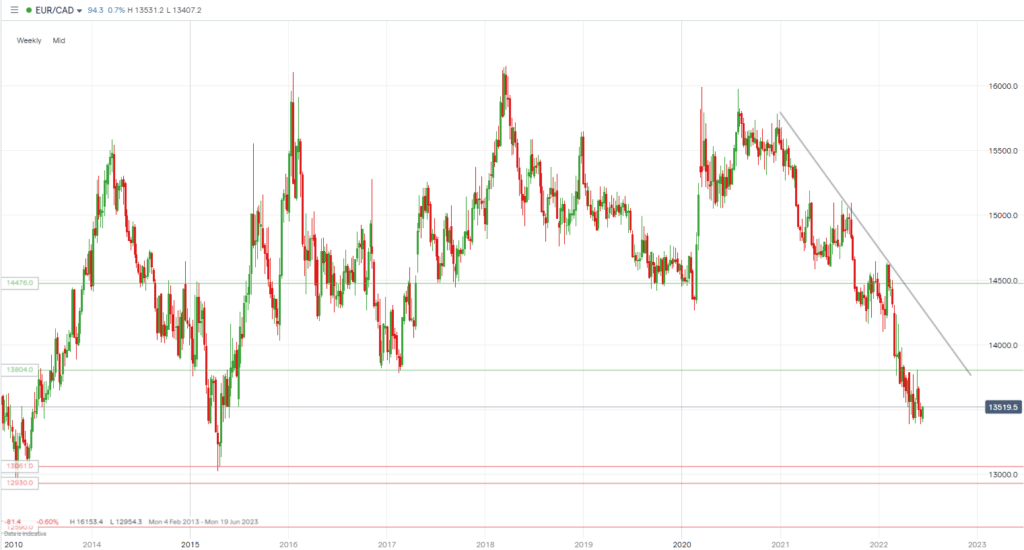 While the EURCAD has fallen significantly so far this year, thanks to the increased demand for oil and the BoC hiking rates when the ECB hasn't, in the near term, we expect a slight turnaround. With the ECB intending to hike in July and the northern hemisphere moving into summer (less demand for energy), we expect a slight rally in the euro, with a target at the 1.40.75 level. Over the long-term, it is more of a case of wait and see, as the Ukraine-Russia conflict and ECB rate hike path will be a key factor in long-term movement. Over the long-term, we are sitting on the sidelines for now.
EURCAD Fundamental Analysis.
Directional bias is one of the key drivers in the market, and it is majorly influenced by fundamentals or macroeconomic factors. The global economy is being disrupted by numerous elements that impact spending, interest rates, and much more. It is important to understand what is going on in the market to develop a bias towards the currency pair.
Any change in an economy's interest rates will have an impact on its exchange rate, and for the Euro, an increase in interest rates may be close. Traders are anticipating a 25 basis points rate hike by the ECB in July, which will be the first increase in more than a decade. Furthermore, another rate hike can be expected in September to control the soaring inflation we are seeing. Historically, higher rates lead to an increase in the value of a country's currency value.
Next is the Canadian Dollar. The BoC has been hiking rates, which has benefitted the currency. In addition, Canada is rich in crude oil as it is one of the largest producers and exporters of the commodity. Demand for oil has been significant in 2022 as countries have removed restrictions and economic activity has picked up. Furthermore, the Russian-Ukraine war has caused a shortage of supply, causing the price of oil to increase, benefitting the CAD.
EURCAD Technical Analysis:
Support Levels:
Resistance Levels:
The CAD has had an exceptional bullish run causing the EURCAD to fall to its lowest levels since 2015. And its most recent level, 1.3061, may act as a key support level if it is tested. Next is 1.2930, which was a strong support and resistance level in 2021. However, it has yet to be tested since this time. Finally, 1.2590 may be an interesting level despite minimal tests over its time.
The first key resistance level is 1.3804. This level is a strong psychological level as it has bounced off the area multiple times. It was broken at the start of 2022 and will likely be an interesting test for the pair. If it is able to break, then the next key level would be 1.4075. This level has been inconsistent over the last decade but has also seen some interesting bounces following a strong bullish or bearish run. Also, level 1.4476 is some distance away but may act as a strong resistance.
Trade EURCAD with our top brokers