The Great British Pound/Indian Rupee pair – also known as GBPINR and GBP/INR – is one of the most popular exotic currency pairs.  In recent years the pound has been gaining strength against the rupee but has fallen back recently. Lets look at how this pair is currently performing.
GBP/INR Key Stats
2021 high: 105.2956
2021 low: 99.1567
YTD high: 102.6310
YTD low: 94.3037
YTD % change: -3.27%
GBPINR Forecast
From 2019 to April 2021, the GBP/INR pair maintained a bullish rally. However, since then, the INR has shown some strength, falling back below the 100.00 level. Despite the recent move lower, we expect the GBP/INR to climb back to around the 100.00 mark in the near term.
Over the long-term, given India's potential to gain share from China as a significant manufacturing hub (Apple is reportedly moving production facilities away from China and into India), we see the Indian rupee gaining strength against the pound, with the pair falling towards the 90.00 level.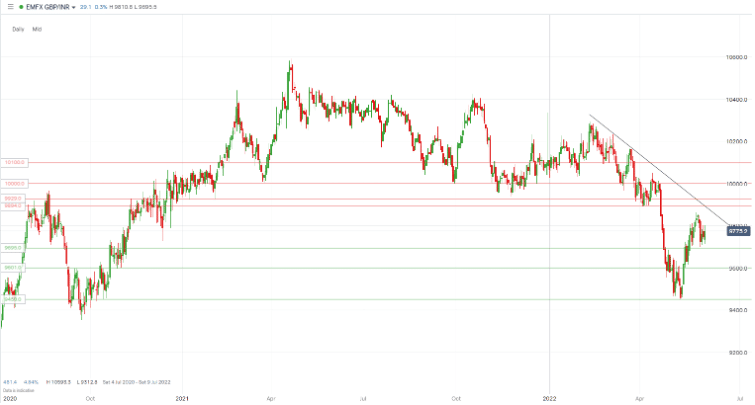 GBPINR Fundamental Analysis
Analyzing a currency pair means first understanding the individual factors that impact each currency. While every currency will be affected by general economic factors such as inflation, monetary policy, GDP, retail sales, employment, trade balance, and more, individual characteristics will also play a part.
For example, the GBP has had to contend with several Brexit-related impacts over the past few years, most notably, its future trade agreement with the European Union. While the two parties came to a deal, further issues down the road have worried GBP investors.
For the INR, the Reserve Bank of India intervenes in the foreign exchange markets in an attempt to maintain stability in the rupee and protect importers and exporters from potential shocks. In addition, during times of economic instability, investors will generally exit positions in what they perceive as riskier currencies such as the rupee and invest in so-called safe-haven currencies such as the Japanese yen and US dollar. For example, the recent market downturn and economic worries have seen the USDINR climb to all-time highs.
GBPINR Technical Analysis
Key Support Levels:
Key Resistance Levels:
98.94
99.29
100.00
101.00
The Great British Pound/Indian Rupee pair rose significantly throughout 2020 and the first half of 2021. However, this year has been a different story. In April, the pair broke below the key 99.29 level. After a couple of attempts to break back above (with a few touches at 101.00) price fell and is now in a downtrend. Just below 101.00, there is another significant level, psychologically and technically, at 100.00, while 98.94 is a level to watch out for.
Looking at near-term support levels, 96.95 is one to keep an eye on, already showing itself to be a key support level with price moving to that area at the start of June. Below that, keep an eye on 96.01 and a longer-term target at 94.50.
Trade GBPINR with our top brokers