The Great British Pound/New Zealand Dollar currency pair (also referred to as GBPNZD and GBP/NZD) is considered a minor pair.  In this article, we will examine how GBPNZD is performing.
GBPNZD Key Stats
2021 high: 2.0074
2021 low: 1.8627
YTD high: 2.0535
YTD low: 1.8711
YTD % change: -1.61%
GBPNZD Forecast
Over the last few months the GBPNZD has failed to find any real direction. This seems to be due to both currencies being impacted by the US dollar (safe-haven) impact on both currencies.
As a result, there is currently no obvious direction for the pair at the moment. Yes, we could look at a break of the triangle pattern that is currently taking shape, but the break and any subsequent move would preferably be backed up by a clear direction based on fundamental analysis. As we don't yet have a clear idea of where we think the pair could be headed, we are sitting on the sidelines for now.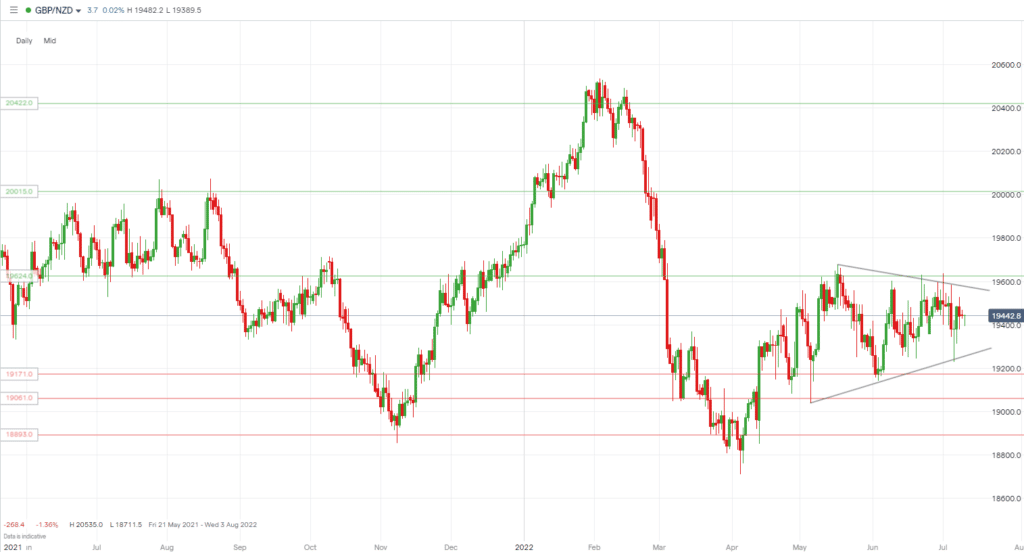 GBPNZD Fundamental Analysis
Price moves significantly on a daily basis, especially with major currency pairs such as the GBP/NZD. Economic factors are fundamental in the long-term directional bias of price. Therefore, it is essential to understand the characteristics such as economic activity and monetary policies outlining both the GBP and NZD.
The GBP has faced a plethora of challenges over the last few years, with Brexit causing a significant decline in the pound and disputes emerging over the trade agreement and border controls despite a deal between the UK and the European Union. Furthermore, GBP investors are yet to be convinced of the success of leaving the European Union, and issues remain in the long term. Meanwhile, political instability has also seen the pound tumble, and with inflation soaring, the last 25bps BoE rate rise was not enough in many people's eyes. The BoE is expected to hike rates by 50bps in August, but concerns over economic growth persist.
The New Zealand Dollar can be considered a stable currency due to the strength of its economy. A key driving force for New Zealand is its tourism. When tourism is doing well, the currency tends to be stronger. Furthermore, due to its high yields, the NZD is considered a carry-trade currency against low-yielding currencies such as the Japanese Yen or Swiss franc. For example, long positions fell significantly in the NZD during the financial crisis as it was one of many high-yielding currencies. Finally, New Zealand is a large exporter of whole milk powder. As a result, if milk prices increase, the New Zealand economy will likely benefit, increasing the strength of the NZD.
GBPNZD Technical Analysis
Support Levels:
Resistance Levels:
The GBPNZD has been relatively unchanged this year, with no clear directional bias. Looking into support levels, the first level to stand out is 1.9171. It has faced recent tests, but over the weekly chart, it has been unable to make any clear breaks. Next is 1.9061 which was broken early on in the year but has quickly recovered and is likely to be a key physiological level. Furthermore, level 1.8893 has been resilient on the weekly chart despite multiple tests.
Looking to the upside there are some clear resistance levels to watch out for. Initially, we can see level 1.9624. It has been extremely resilient against the pair and looks to be a difficult break so far. Meanwhile, level 2.0015 looks significant on the weekly chart. Finally, if you see the GBP/NZD moving higher over the long-term, 2.0422 is an important area to watch out for, having held strong on a few occasions over the last few years. Bearish traders may look at this area as a selling point.
Trade GBPNZD with our top brokers