The US Dollar/Philippine Peso currency pair (also referred to as USDPHP and USD/PHP) is a pair that is not frequently traded. However, there has been a significant move recently. In this article, we will examine how USDPHP is performing.
USDPHP Key Stats
2021 high: 51.32
2021 low: 47.55
YTD high: 53.46
YTD low: 50.90
YTD % change: +4.41%
USDPHP Forecast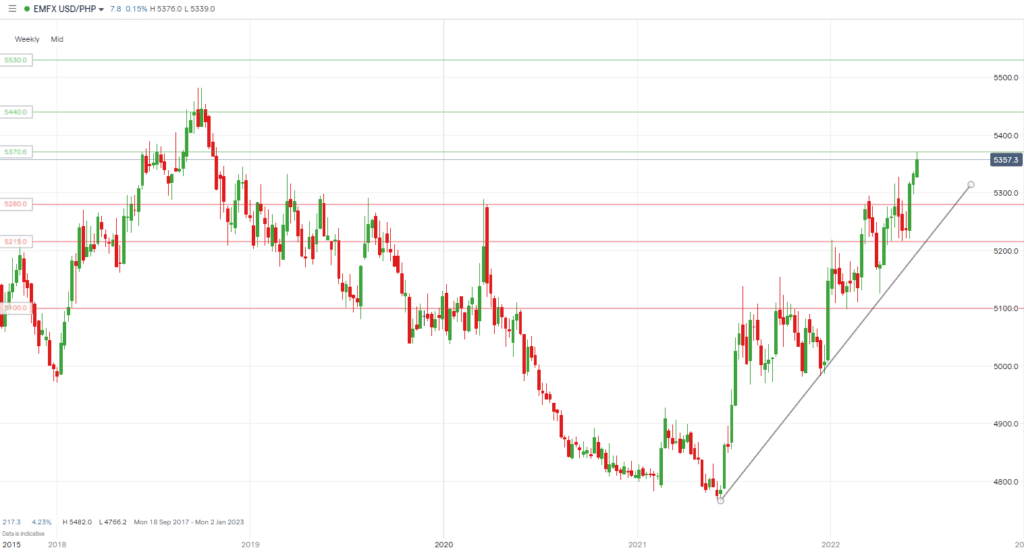 Given the current unrelenting trend and the macroeconomic conditions globally, we expect the USDPHP to continue higher. It is currently approaching a key level at 53.70, but we expect an eventual break of that area with a target at the 2018 high of 54.40. Based on a longer-term analysis, we do see the pair running to 2004/2005 highs of around 56.43. Any pullback we feel will be short-lived, but we view 52.80 as a potential near-term entry point.
USDPHP Fundamental Analysis
Directional bias does, as it says, give us a direction in which we want to trade the currency pair we are analysing. A way in which we can ascertain a directional bias is by using fundamental analysis. The global economy has, over the last few years, faced some significant challenges. As well as geopolitical factors, it's important to look out for macroeconomic factors such as consumer spending, interest rates, and much more.
When it comes to the Philippines, the country's economy will be significantly affected by the constant Covid-related lockdowns in China. While it has so far fared better than other countries in the region, there is still an impact. Regarding inflation, the country raised rates last month and is likely to hike a further two times in order to curb inflation, potentially taking the benchmark to 2.75%.
The US dollar is currently benefitting from the worrying global economic and geopolitical environment. Inflation, the Ukraine-Russia conflict, supply chain challenges resulting from Covid-19, and more have seen markets drop, causing investors to be more cautious. With the U.S. dollar being a safe haven, it has strengthened as investors move their money to safer assets.
USDPHP Technical Analysis
Support Level(s):
Resistance Level(s):
There's absolutely no doubt, that the pair is in a strong uptrend and is currently sitting nicely, just above the trendline. The macroeconomic environment has seen the pair break several resistance levels, and the next level we are watching out for is not too far off its current price at 53.70. Beyond that, we have our eyes on 54.40, which is a previous swing high on the weekly chart, then 55.30, and our long-term target of 56.43.
On the downside, while we do not expect a significant fall, the support levels may provide points for a bounce. We are focusing on 52.80 as a near-term support, with 52.15, 51.00, and 50.50 other support levels to watch out for.
Trade USDPHP with our top brokers