The US Dollar/Turkish Lira currency pair (also referred to as USDTRY and USD/TRY) is one of the most intriguing exotic currency pairs. In this article, we will examine how USDTRY is performing.
USDTRY Key Stats
2021 high: 18.2582
2021 low: 6.8923
YTD high: 17.2965
YTD low: 12.7523
YTD % change: +28.12%
USDTRY Forecast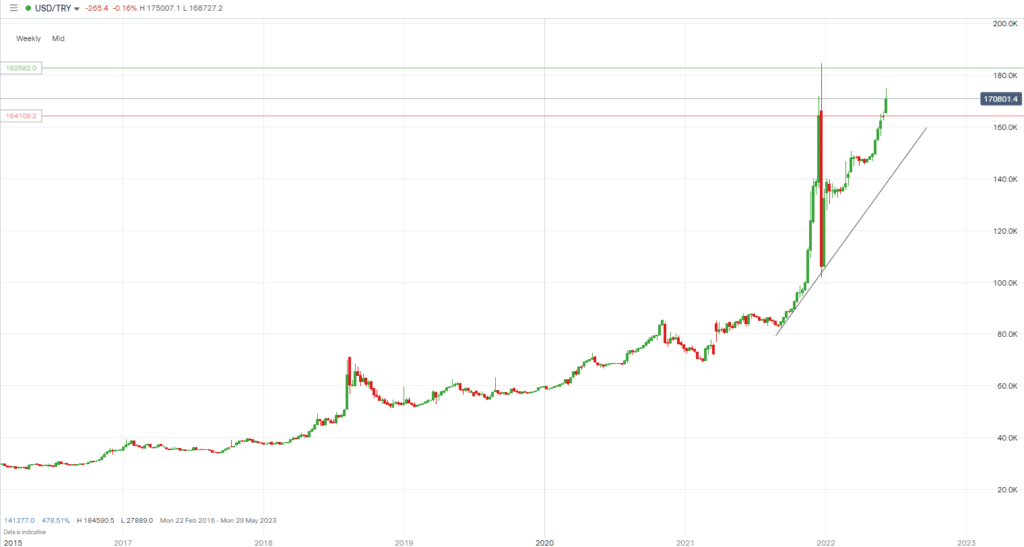 If you take a look at the USDTRY chart, you will notice it has been on a rampage. The US dollar continues to strengthen due to macroeconomic factors impacting Turkey, which we will focus on later. We don't expect the current trend to change based on those fundamentals, and in the near term, we target the current all-time highs at 18.2882. The fundamental analysis of this pair is vital to understanding the reasons behind its current and potential future moves.
USDTRY Fundamental Analysis
Fundamental analysis helps traders create a clear directional bias when trading a certainty currency pair. Changes or different monetary policy decisions and economic activity will cause a reaction in the related currencies, and, therefore, movement in price. While technical analysis is an important aspect of trading, so is fundamental analysis to understand and analyse potential future moves.
The Turkish Lira has been weakening for a considerable period of time, and we don't see that changing anytime soon. The Turkish President,  Recep Tayyip Erdogan, is not addressing the massive inflation issue and has dismissed the suggestion of raisins interest rates to do so, continuing to cut them to ease consumer pressure. The Turkish President believes there are several issues and that inflation will ease next year. Erdogan is pushing his low-interest rates view onto the central bank, fanning the flames of inflation, especially in food and energy, which has only worsened as a result of the Ukraine-Russia war. As a result of Turkey's ongoing economic problems, the Lira has plunged, and searches for cryptocurrencies in the country have risen…make of that what you will.
On the flip side, the U.S. dollar is benefitting from a worrying global economic environment. Inflation, the Ukraine-Russia conflict, supply chain challenges resulting from Covid-19, and more have caused markets to plunge and investors to be more cautious. The U.S. dollar, being a safe haven, has strengthened as a result of the turmoil as market participants invest in safer assets. A healthy global economy usually results in a weakening dollar, but even if we were to see the current market situation improve, due to Turkey's issues, the pair could keep rising.
USDTRY Technical Analysis:
Support Level:
Resistance Level:
When it comes to technical analysis, resistance levels have been constantly broken due to the macroeconomic situation. While there is an obvious uptrend, and we can put a trend line in, the overriding theme for this pair is the fundamentals behind the move. The next key level higher is obviously its all-time high which, at the time of writing, is not far off. On the downside, the obvious nearest support level is 16.4159.
Trade USDTRY with our top brokers