The U.S. Dollar/South African Rand currency pair, also known as USDZAR and USD/ZAR, is one of the most traded in the world. Due to various social, political and economic factors it is also one of the most volatile. In this article we take a look at how this pair is performing.
USD/ZAR Key Stats
2021 high: 16.3643
2021 low: 13.3713
YTD high: 16.3248
YTD low: 14.4011
YTD % change: -1.21%
USDZAR Forecast
Based on a daily chart, and given the current uncertain market conditions (explained in further detail below), we expect the U.S Dollar/South African Rand pair to continue higher over the next year. Price has approached the key level between 16.3222 and 16.3643 twice, both times being rejected, but we expect another attempt and an eventual move above. Once we get that break, our next target is the level around 17.1480, and then, beyond that, we will look towards 17.7772.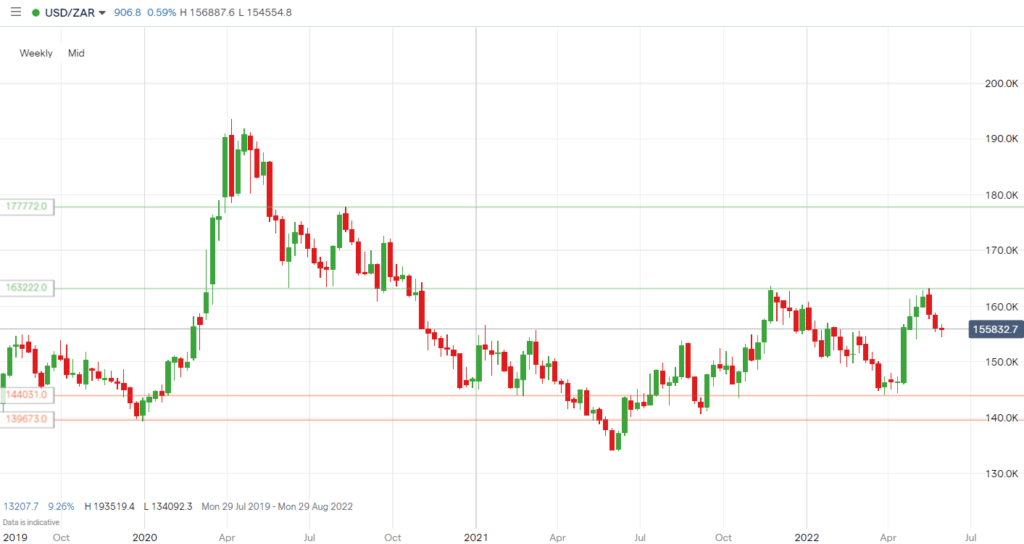 USDZAR Fundamental Analysis
While interest rates will always be a key mover of currency pairs, one of the primary relationships between USD and ZAR is the fact that gold is traded almost exclusively in dollars. With gold being traded primarily in dollars, it means that usually, when the price of the USD rises, gold will slide, although it is not perfect (1-for-1), and there will be occasions where the correlation lessens.
Since South Africa is one of the world's largest producers and a prominent exporter of the yellow metal, the South African Rand price strongly correlates with gold prices. As a result, the USD/ZAR is often inversely correlated to gold. So, when gold rises, the USD/ZAR will fall, and when gold falls, the USD/ZAR will increase, but as mentioned above, there will be times when the correlation weakens.
Another macroeconomic factor to look out for when trading the currency pair is China's political and economic climate, due to it being the top destination for South African exports. For example, if the Chinese economy declines, they are likely to reduce the amount of goods they purchase from South Africa and other countries.
Global economic and political uncertainty should also be watched closely. With the South African rand being a high beta currency and the dollar a safe haven, any economic worries will see the price move in the dollar's favour.
USDZAR Technical Analysis:
Key Support Levels:
Key Resistance Levels:
16.3222
16.7329
17.1480
17.7772
Looking at the U.S. Dollar/South African Rand on a weekly timeframe, we can see the critical resistance level around 16.3222 we mentioned in our forecast above. We expect an eventual break of this level which will then turn into support.  A key support level to watch for below the current price is around 14.7904 and another just below that at around the 14.4031 mark, with the price hovering just above that level in April.
With our current, long-term expectation of a move higher, key resistance levels include 16.7329, 17.1480, and 17.7772.
Trade USDZAR with our top brokers