The "Aroon Indicator" is a popular member of the "Oscillator" family of technical forex indicators. Tushar Chanda developed the Aroon Indicator in 1995 to help traders determine the strength of a trend and whether pricing behavior was favoring a trend or sideways action. Traders use the "Up and Down" indicator lines to judge the strength of a trend, as absolute values signify strength, but simultaneous changes reflect a market that has yet to make up its mind.
The Aroon Indicator is classified as an "oscillator" since the values fluctuate between calculated upper and lower boundaries. The indicator chart typically has two lines, an "Up" version and a "Down" version, which simultaneously measure the momentum in either direction. When polar opposites occur, a peak or valley is occurring, typical of overbought or oversold conditions.
Aroon Indicator Formula
The Aroon Indicator is not common on all Metatrader trading software releases, but the calculation formula sequence involves these straightforward steps:
Choose a period "N" for the "Aroon Indicator" (Standard is "14");
AroonUp = 100 * ((N – Number of periods since highest high)/N);
AroonDown = 100 * ((N – Number of periods since lowest low)/N);
Software programs perform the necessary computational work and produce an Aroon Indicator as displayed in the bottom portion of the chart below: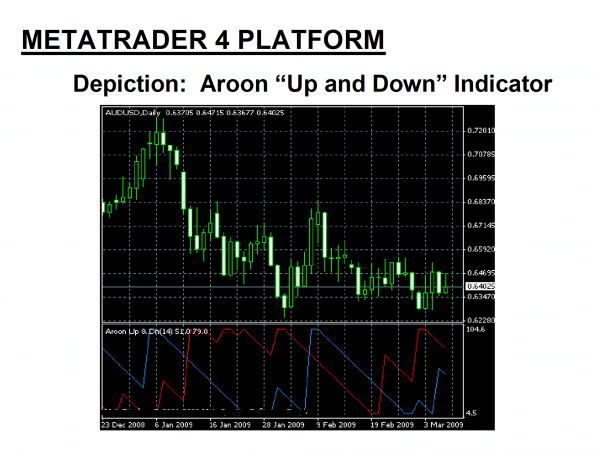 The Aroon Indicator is composed of a two fluctuating curves. In the example above, the "Blue" line is the Aroon "Up" Indicator, while the "Red" line represents the Aroon "Down Indicator. The Aroon Indicator is viewed as a "leading" indicator, in that its signals foretell that a change in trend is imminent. The weakness in the indicator is that timing is not necessarily a product of the Aroon oscillator, but the interpretation of the action of each opposing line can aid in confirmation of buy and sell signals.
Forex traders believe that the greatest value of the Aroon Indicator is in distinguishing if a long-term trend has truly ended or whether it is stalled in a ranging trend waiting for another move by focusing on the frequency of recurring new highs and lows.
The next article in this series on the Aroon Indicator will discuss how this oscillator is used in forex trading and how to read the various graphical signals that are generated.
Next Article >> Aroon Indicator Strategy >>