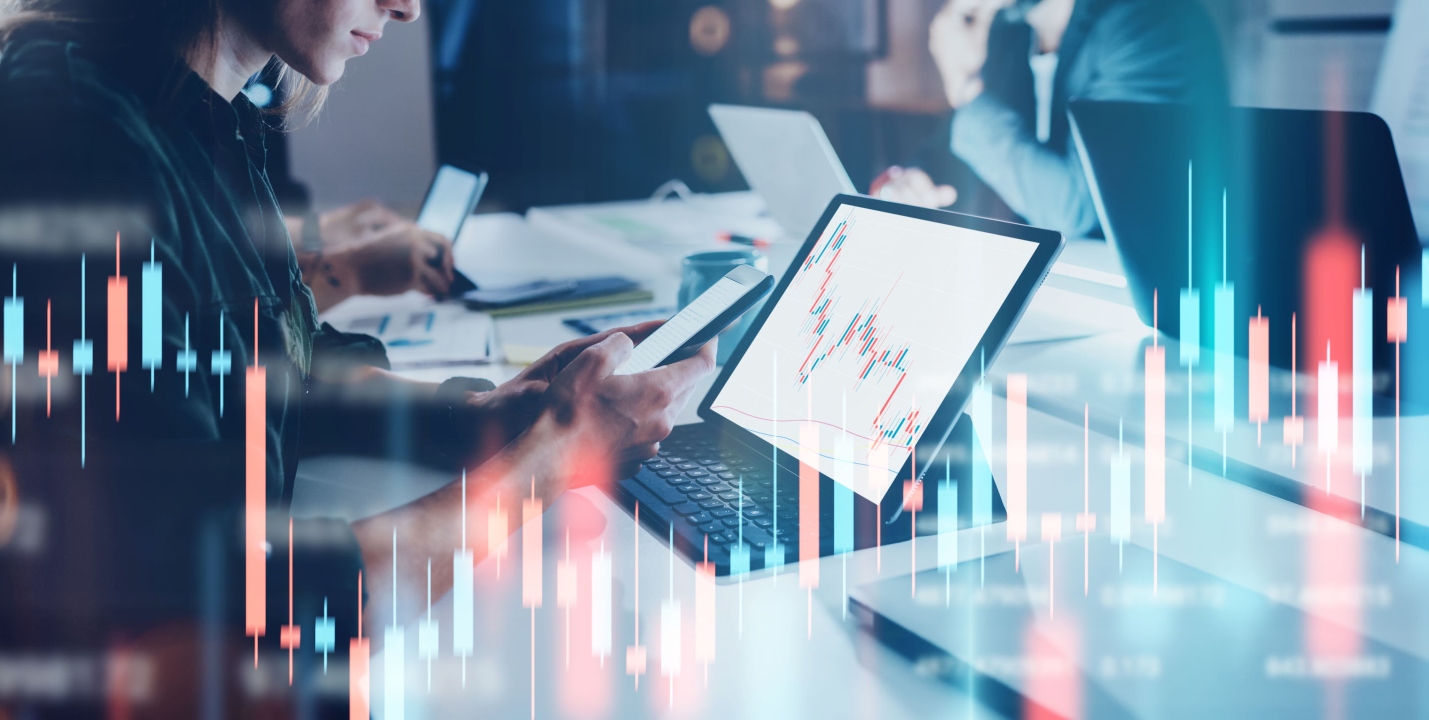 Thursday the 31st of December
The final trading session of a roller coaster year shows further signs of normality coming back into the markets. High volatility has caused several markets to disconnect over the last 12 months but GBPUSD and the FTSE 100 appear to be realigning.
As so many of the companies that make up the FTSE 100 generate income overseas, a weaker pound creates a positive forex effect on their profits recorded in GBP. The theory goes that as GBPUSD falls, the FTSE 100 rises, and vice versa.
There have been times in 2020 when the inverse correlation has broken down but with a new year approaching something like normality has returned.
GBPUSD – Cable breaks out of a multi-year downtrend
The break out to the upside is gathering strength. The currency pair, which acted as a barometer of the likelihood of a Brexit deal being reached, has been at times shaken and stirred by UK-EU news announcements.
Wednesday's news that the free-trade agreement between the two parties had, as expected, finally been signed was in relative terms a quiet news day. The pound rallied in a way that suggested the event had greater significance.
Maybe this is a relief rally built up over four-years of letting off steam. It could be that quiet Christmas markets have something to do with it but whatever the cause the price move is significant.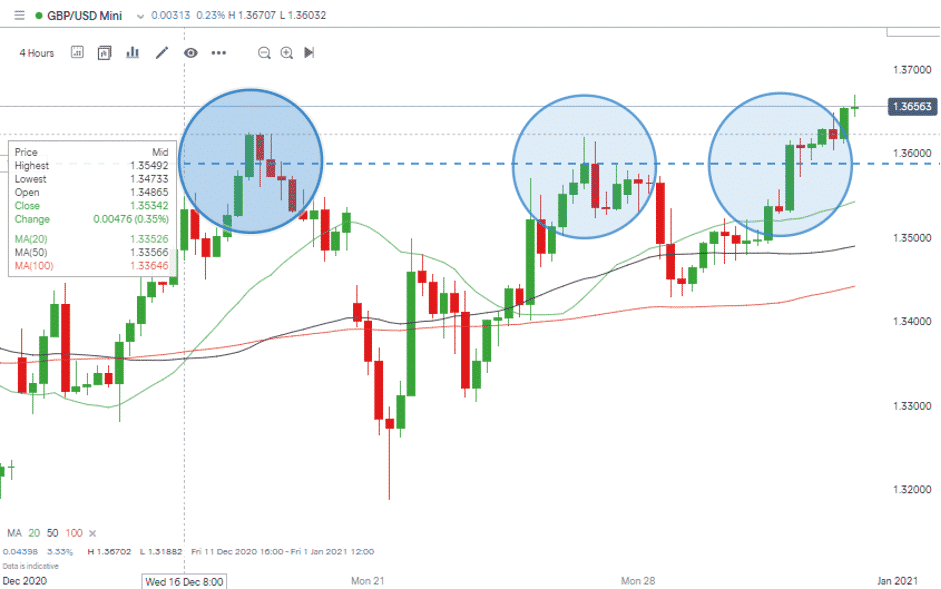 Source: IG
The 1.36 price level is now a major support. While nothing is ever guaranteed, long positions based on stops in the region of 1.36 give traders a limited downside.
An even more cautious approach would use stops just below 1.36222. That price level marking the high point of the failed breakouts on the 17th and 24th of  December.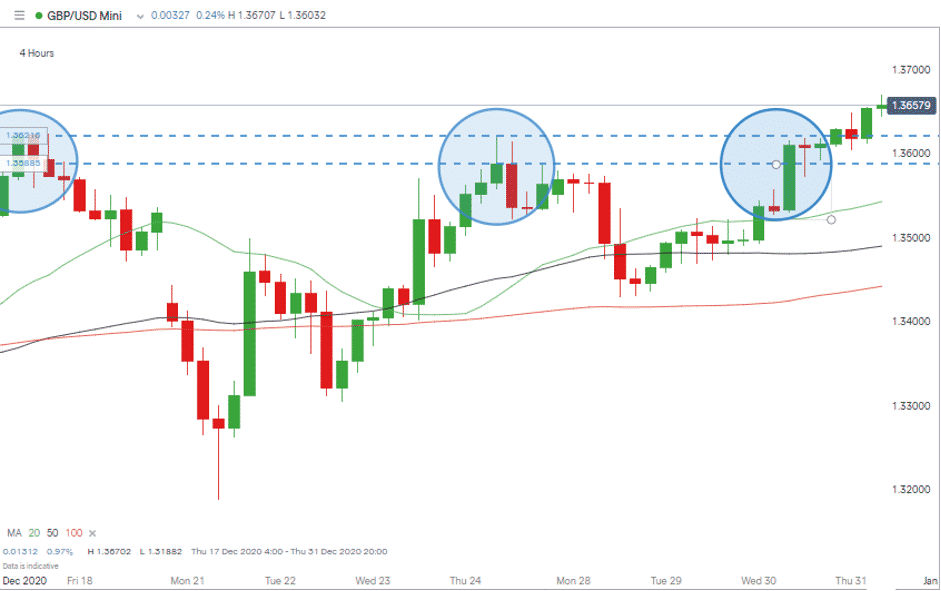 Source: IG
Establishing exit points based on further upward movement is trickier. The last time GBPUSD traded above 1.36 was in May 2018. The price surge seen in December takes GBPUSD out of a 15-year downward price channel.
The monthly price chart showing GBPUSD's move also comes on the back of a triple-bottom with lows in 2016, 2019 and 2020.
It's unnecessary to buy into the 'New Britain' euphoria to see that if the break holds then price has an awfully long way to go before meeting significant resistance. That could tempt some to scale back on position size and widen their stop-losses and to see this as a play for 2021.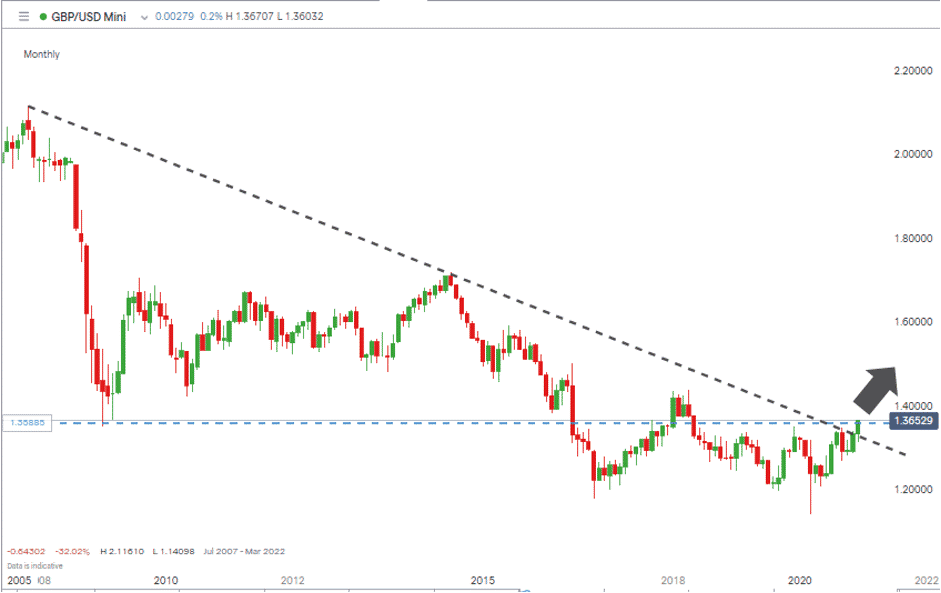 Source: IG
FTSE 100 – on the slide due to sterling strength
The FTSE 100 has fallen away in response to GBPUSD strength. Just after the open of European exchanges, the FTSE was trading at 6450.
There's been little drama associated with the move. Price action instead reflecting a sense of inevitability.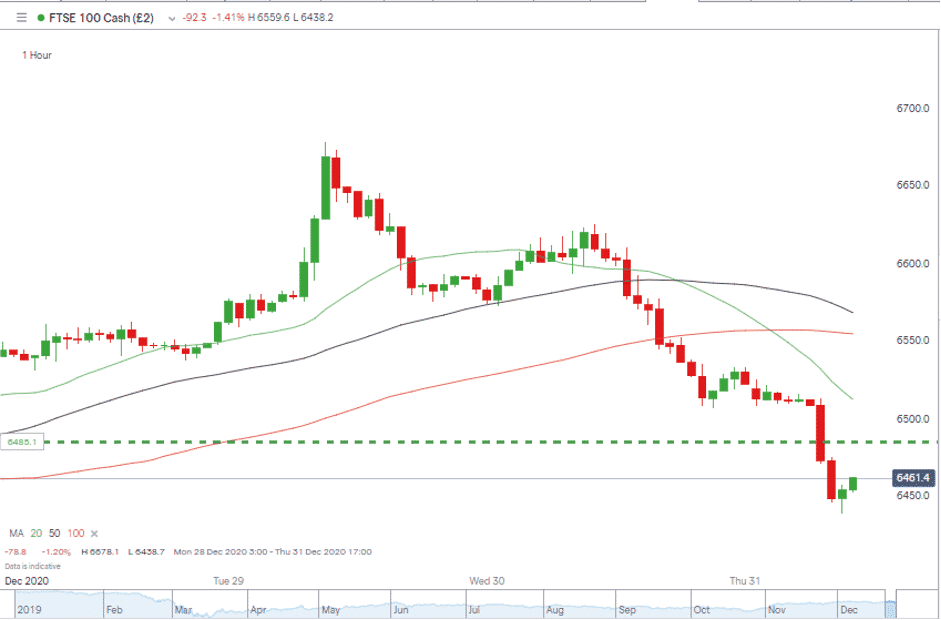 Source: IG
The index was down 1.43% in early trading on the day and heading towards an annual loss close to 15%. The FTSE 100 might not be a sure-fire bet for investors in 2020 but it does look likely to provide enough price volatility to attract traders with a more speculative approach.