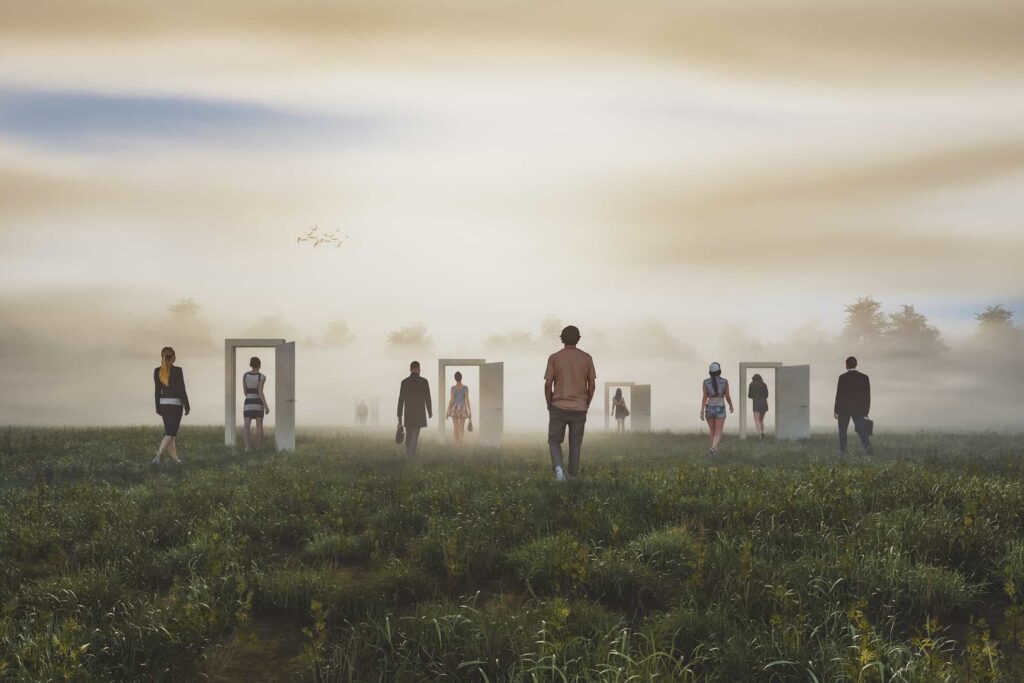 Seasonal drop in EURUSD price volatility creates range-trading opportunities
ECB's hawkish rhetoric supports going over-weight on long positions
Key support/resistance price levels set to guide price
With 2022 being something of a roller coaster ride for EURUSD traders, some may be taking a break in the run-up to the year's end, but the range-bound price action will be jumped on by range-traders. With market volumes and volatility understandably dropping off for the holiday season, it looks like price action and technical setups will lead the way.
EURUSD Technicals Set Up Range Trading Opportunities
The year-end price moves in the euro-dollar are in stark contrast to the dramatic fall and rise in EURUSD during 2022. Between January and September 2022, the currency pair gave up 16.12% of its value to rally by 12.59% through Q4. Since the 16th December, EURUSD has traded in a much tighter price range of 1.05758 and 1.06746.
EURUSD – Daily Price Chart 2022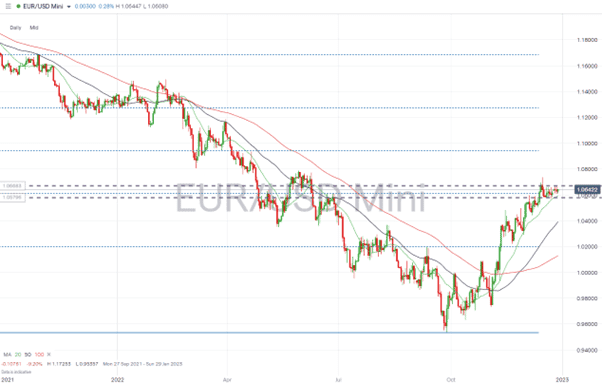 Source: IG
Support for the euro comes in the form of the 20 SMA on the Daily Price Chart, which the currency pair hasn't closed beneath since 3rd November 2022. The closing price of 27th June (1.05798), which marked a key swing-high, has throughout December influenced price moves as both a resistance and support level.
EURUSD – Daily Price Chart 2022 – Range-bound Price Action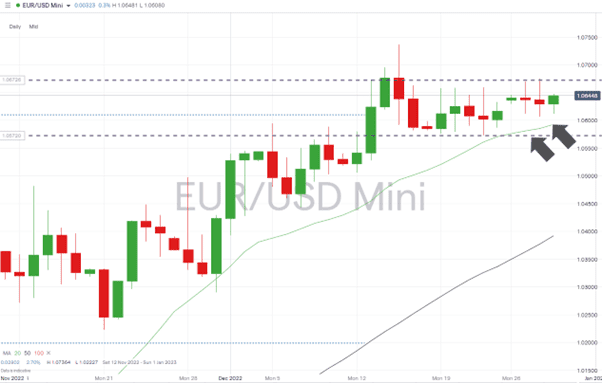 Source: IG
Upward momentum recently topped at 1.07364 on Thursday 15th December, leaving that price level as a key resistance point. And the closing price of 14th December (1.06761) has already demonstrated its ability to limit upward moves in the last two weeks of the year.
With the range confirmed and no immediate sign of any catalysts, continued price consolidation between 1.05758 and 1.06746 appears to be the most likely outcome for EURUSD, at least until dealing desks return to full strength in the new year.
While range-trading allows traders to make profits on upward and downward forex price moves, a bias to long positions could be considered appropriate. Comments from Klaas Knot of the ECB point to the bank continuing with its hawkish stance. He said he expected "quite a decent pace of tightening" with the bank continuing to use 50 basis point interest rate rises through to the summer of 2023.
Any question marks about whether the ECB would set a policy to control rising inflation levels or to support the contracting economy were answered by Knot, who said:
"The risk of us doing too little is still the bigger risk …We are just at the beginning of the second half."
Source: Reuters
People Also Read
If you have been the victim of a scam, suspect fraudulent behaviour, or want to know more about this topic, please contact us at [email protected]