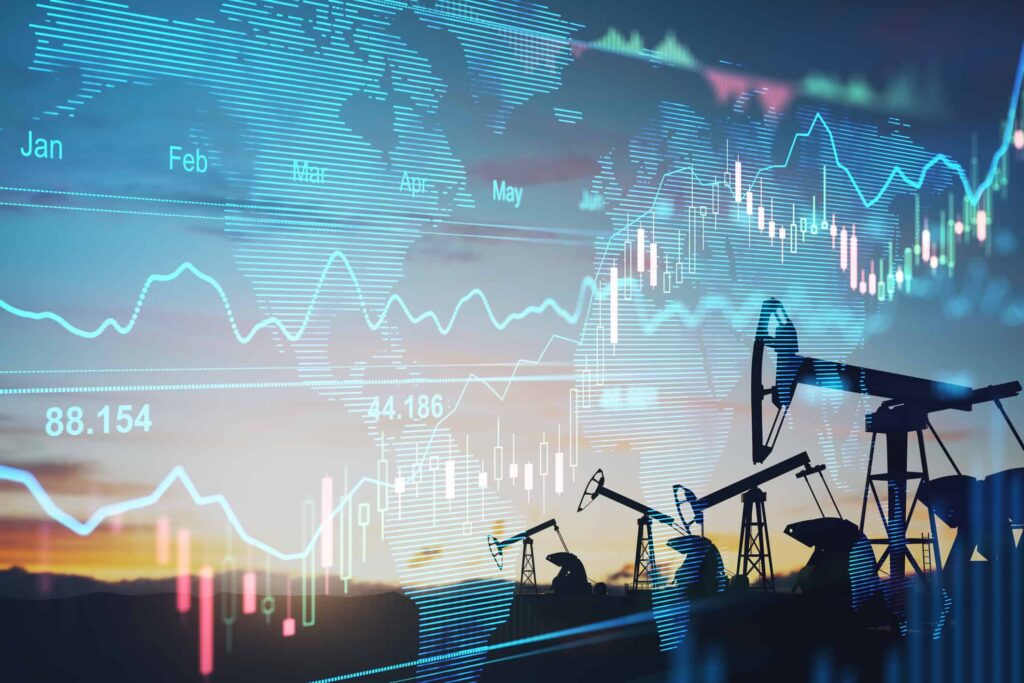 Oil prices hit a year-to-date low
Crude is now negative on the year, and falling demand points to a recession
The US dollar could find strength as the global economy slows
Reports that the US dollar could re-assert its dominance over other currencies may be overblown. A whole range of factors point to the dollar giving up more of its 2022 gains, but a quick cross-reference to events in the oil markets points to there being something to the story.
From a technical analysis perspective, the prospects for the dollar remain bearish. The US Dollar Basket index has bounced off one fundamental 'round number' price level, 10,400, to trade just below another, 10,500. At the same time, the downward price channel dating back from the highs of 28th September remains intact. The 38.2% Fib retracement level at 10,505 also represents resistance to further upward price movement.
US Dollar Basket index – Daily Price Chart 2022 – With Fib Retracement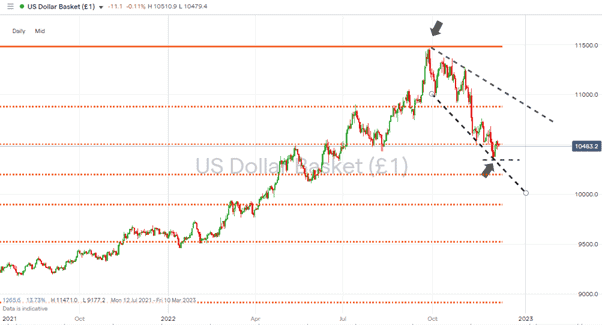 Source: IG
Also read: What is the USD Index?
Oil Price Slump Stokes Recession Fears
Despite the bearish prognosis for the dollar, the fact remains that those long risk-on currency pairs, such as EURGBP, GBPUSD, AUDUSD, and NZDUSD, have good reason to be nervous. The price increase in those pairs over the last two months has been aggressive and rewarding for those who got on the right side of the trade, but it could be time to lock in some profits.
One concern is the price of crude oil. While hopes of China fully re-opening its economy after Covid lockdowns continue to make the headlines, WTI oil prices have slumped to a year-to-date low. If you want a hard-nosed assessment of the prospects for the global economy, it could be worth focussing on the actions of oil traders rather than press releases from Beijing.
Demand for oil stems from one thing, economic activity. The way that crude prices have slumped in recent weeks points to a significant drop in orders. That means future weakness in currencies which prosper during economic booms and to a stronger dollar, thanks to the greenback being seen as a haven currency compared to the euro, sterling, and the aussie and kiwi dollar.
US WTI Crude Oil – Daily Price Chart 2020 -2022 – Year-to-date Low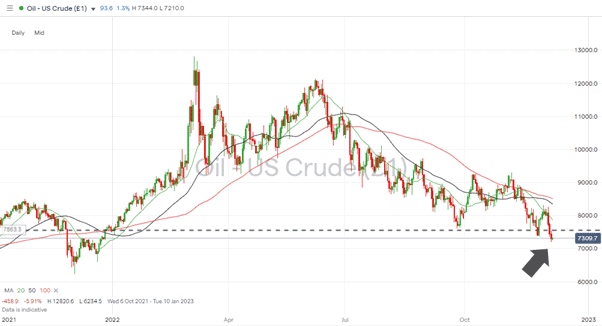 Source: IG
The newly introduced cap on the price which can be paid for Russian oil has played a part in driving down global prices. But OPEC's last round of talks was harmonious, and China's economy is, to some extent, beginning to open up. The price slide in WTI appears to be down to something as simple as slowing industrial production, which could trigger further dollar strength.
People Also Read
If you have been the victim of a scam, suspect fraudulent behaviour, or want to know more about this topic, please contact us at [email protected]