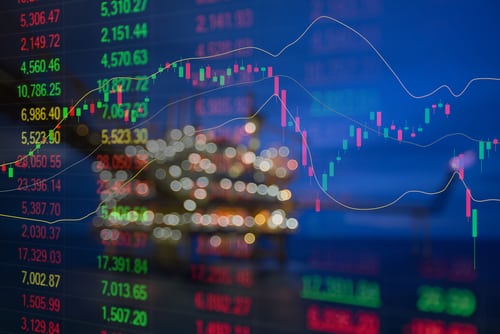 A blockbuster start to the week has been followed by a period of price consolidation. Vaccine hopes and recovery plans dominate the headlines with Bitcoin's continued price strength generating a sense of FOMO which appears to be carrying over to other asset groups.
Oil
US Crude oil (WTI) posted a 12-month high and for part of Monday at least, printed above the psychologically important $60 per barrel level. Midway through Tuesday's European session price has fallen back to consolidate at the $59.75 level
US Crude (WTI) upside target – $65.46 – 2020 high (January)
Brent Crude (ICE) upside target – $71.08 2020 high (January)
US Oil – 1M price chart – nearing 2020 highs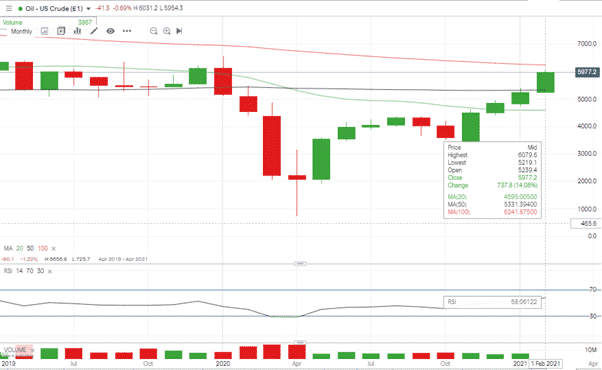 Source: IG
The oil bull-market is entering its tenth month and some profit-taking may be on the cards. But after coming all this way, there is every likelihood that price will at least touch the high-water mark of 2020. Fundamentals remain strong.
Resistance for US WTI – 100 SMA (monthly) – $62.41
Resistance for Brent – 100 SMA (monthly) – $68.26
Silver
Silver's role in industrial production is giving it an advantage over gold. It's hard to tell if the recent price rise reflects actual factory-gate orders of the metal or is due to speculators anticipating increased demand. The metal is holding the upward trend-line, which started on the 18th of January.
Silver – 4H price chart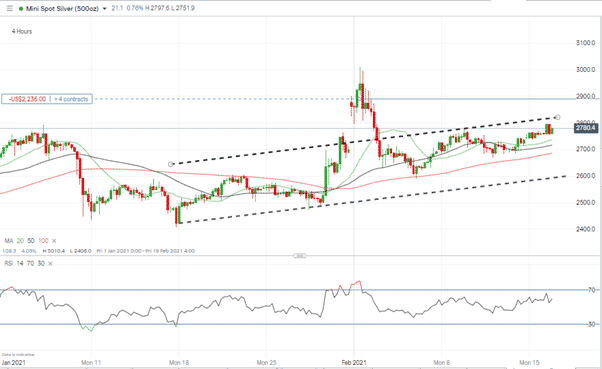 Source: IG
In early trading, on Tuesday, both metals were up on the day. Silver by 0.86% and gold by 0.38%.
The 4H RSI is sitting some way off the oversold 70-level. The sell-off which followed the WallStreetBets rumours of the 1st of February appears to have not inflicted significant damage to the upward price momentum.
Bitcoin
Very much the market of the moment, Bitcoin was up 1.64% on the day in early trading on Tuesday. The crypto is now up 60% on a year-to-date basis and Monday it surged to an all-time high of $49,951.
Bitcoin– 1W price chart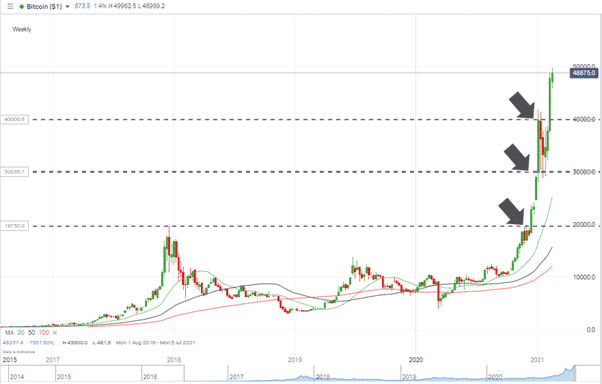 Source: IG
Given the recent interest from 'professional' investors, a test of the $50 mark looks likely.
Bitcoin has a track record of showing a strong reaction to 'big-number' price levels.
The question is whether the coin has the momentum to smash through that level like it did the $30 one. The alternative scenario is the long-haul testing of $20 – which turned into a two-year saga. A $10 price drop also followed the break of $40 and there is potential for increased volatility as price nears $50.
Bitcoin is ripping up the rule book, so predicting its medium or long-term future is increasingly hard to do. Buyers and sellers can expect something of a shake-up or shake-down with price nearing such a psychologically important level.
Mastercard announced on Thursday that it would support specific cryptocurrencies by the end of 2021
BNY Mellon followed that news to say on Friday that it will be opening up its custody services to digital assets
Bull's point to crypto's adoption by institutional investors having created its role as the new digital gold. Bears, in response, see the recent price moves as signs of an old-fashioned bubble.
If you want to know more about this topic, please contact us at [email protected]