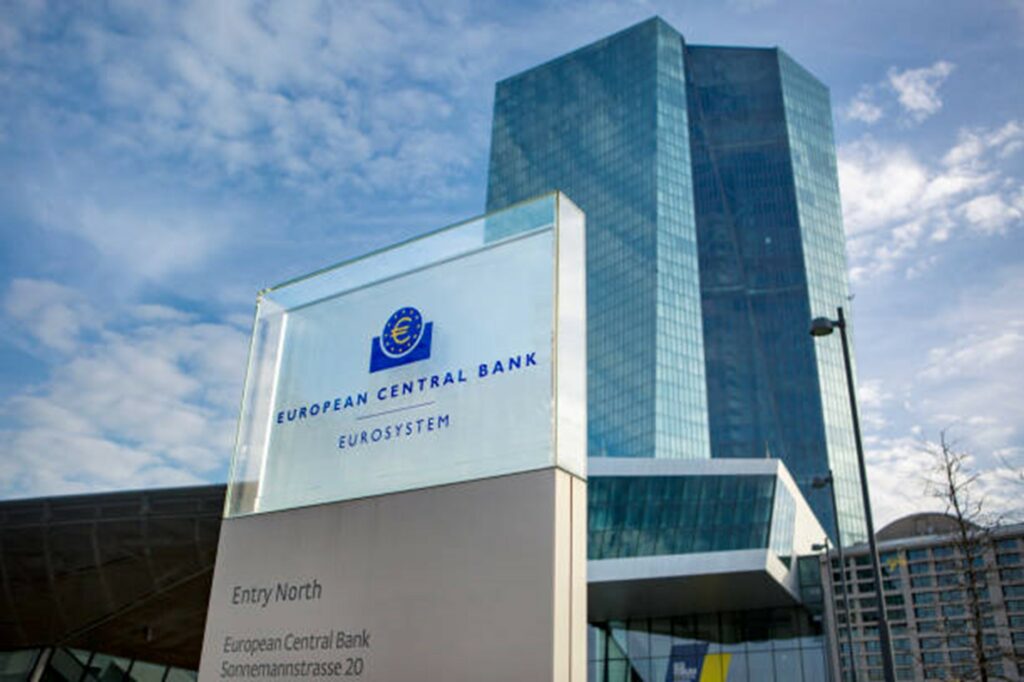 All eyes turn to the ECB interest rate decision due next week.
Recent strength in EURUSD could continue if interest rates rise by 50 basis points.
Key data releases in the run-up to the announcement could provide clues.
The coming week is full of economic data reports which could impact the prospects of the euro-dollar currency pair. Recent price moves point to traders preparing by taking positions based on the next price shift being upward.
Price follows support provided by moving averages
It's now more than a month since the price of EURUSD closed below the 20 SMA on the Daily Price Chart. The price moves since that happened on 16th March have been from 1.06136 to 1.1050, a +4% gain. With that SMA metric still charting an upward trajectory and currently trading at 1.09686, there is significant technical support for further price rises—a projection backed up by the printing of a new year-to-date high of 1.10956 on Wednesday 26th April.
EURUSD – Daily Price Chart 2023 – Support from 20 SMA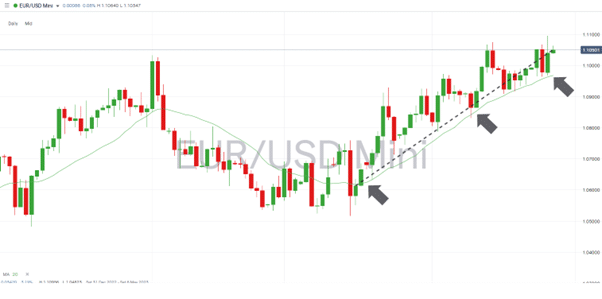 Source: IG
Will the ECB hike interest rates by 50 basis points?
Support from fundamental factors stems from the continued hawkish guidance offered by the ECB. The next meeting of the Governing Council of the European Central Bank is on 4th May, with many analysts forecasting a 50 rather than a 25 basis points rise in interest rates.
A report by Reuters supports the view that such an aggressive move might occur. That highlights that the minutes of the ECB's March policy meeting revealed that most of the Governing Council agreed with Chief Economist Philip Lane's proposal to raise key rates by half of one per cent.
With fears about the banking sector having receded since the March meeting, a super-hawkish interest rate move next Thursday would allow the ECB to demonstrate a continued commitment to tackling inflation. Some analysts now predict Eurozone rates could remain higher for longer.
Traders positioning themselves for a further upward EURUSD price movement have several data announcements to consider before the ECB makes its decision. The US GDP numbers for Q1 are released on Thursday 27th April and will impact the USD side of the currency pair. Then on Tuesday 2nd May, the flash estimate for April inflation, March credit numbers, and the Q2 bank lending survey will all be announced.
Members of the ECB Governing Council will be watching those numbers keenly, and forex traders should do the same. With some analysts still pricing in a 25-basis point interest rate rise, any surprise in that number will leave room for EURUSD to continue its upward momentum.
EURUSD – Weekly Price Chart 2013 – 2023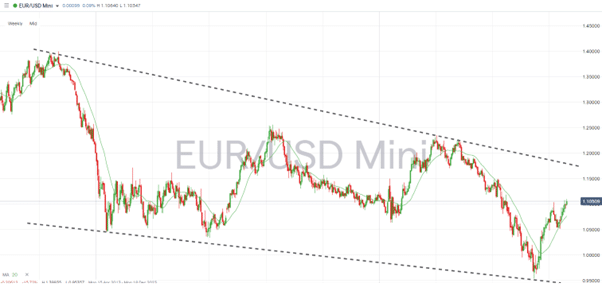 Source: IG
People also Read:
If you have been the victim of a scam, suspect fraudulent behaviour, or want to know more about this topic, please contact us at [email protected]