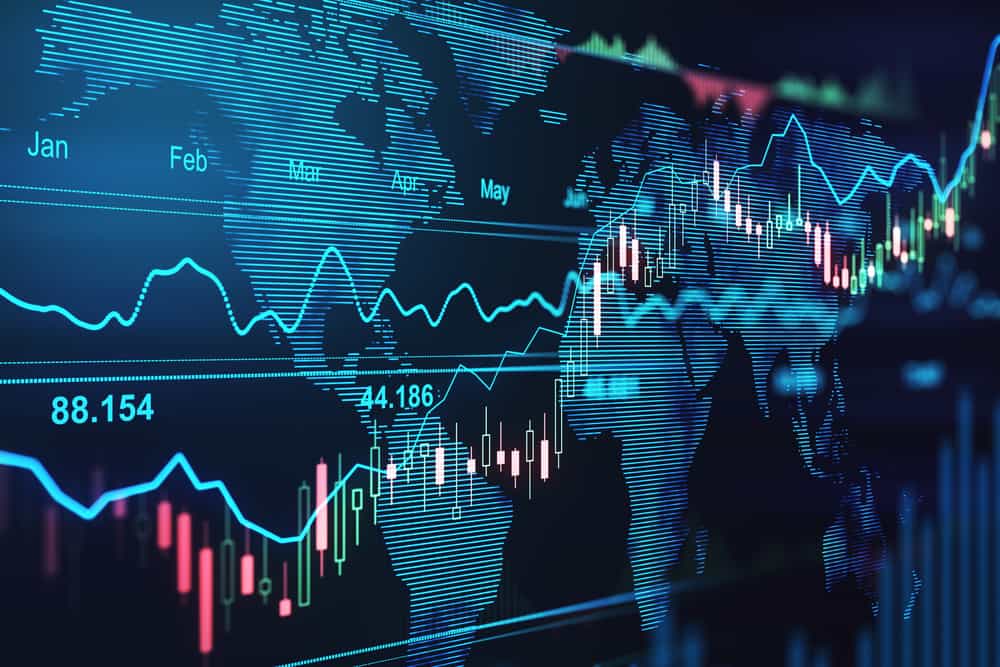 2022 was somewhat of a crazy year, and not exactly in a good way. The aftermath of the pandemic has seen soaring inflation, rising inventories, staffing shortages, and, if you are in the UK, many, many people striking. Not to mention the Russian invasion of Ukraine, sending energy prices significantly higher.
It's no wonder, then, that the safe-haven US dollar (USD) appears three times in our list of the best and worst performing currency pairs in 2022.
USDTRY +40.78%
The USD had a good year value-wise, strengthening against many other major and minor currencies, although, towards the back end of the year, it dipped.
However, the dip wasn't enough to see the Turkish Lira make any notable gains.
That's because Turkey's inflation rate jumped to over 85%, with its President refusing to push interest rates higher to control inflation.
As a result, the USDTRY surged, still currently trading around all-time highs.
Also read: USDTRY Forecast and Live Chart
EURTRY +32.25%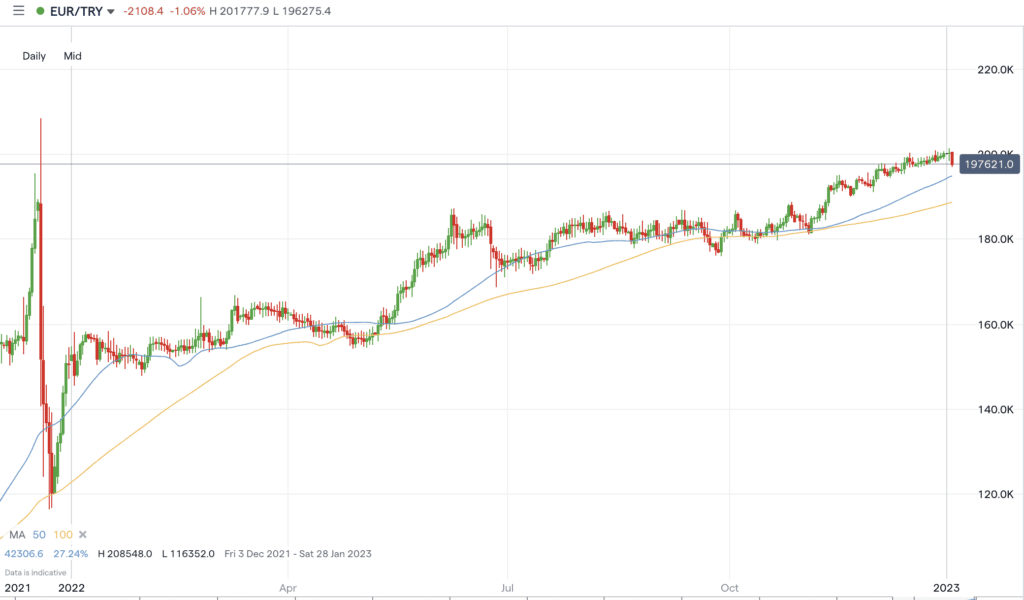 Against the euro, the Turkish lira didn't fair any better, with the pair rising over 32% in the year.
Despite its slide against the dollar, the euro actually performed quite well against some of the minor currency pairs, such as the lira, in 2022.
The EUR/TRY has dipped slightly since hitting an all-time high before Christmas, although it is not too far off.
Also read: EURTRY Forecast and Live Chart
USDSEK +15.45%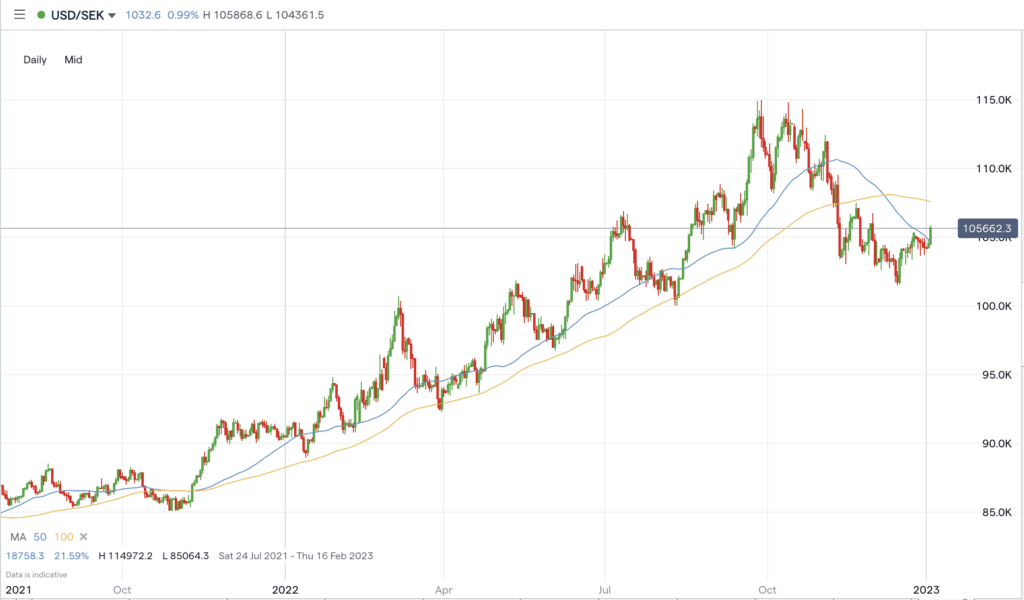 The Swedish Krona (SEK) is the second worst-performing major currency in 2022.
Sweden has been battling surging inflation, reaching its highest level in three decades.
The fall in the krona could be attributed to macroeconomic risks in Europe, in general, but the SEK has declined even against the EUR.
While the SEK managed to make some gains at the back end of 2022, the first few days of 2023 have seen it decline against the USD once again.
Also read: USDSEK Forecast and Live Chart
USDJPY +13.6%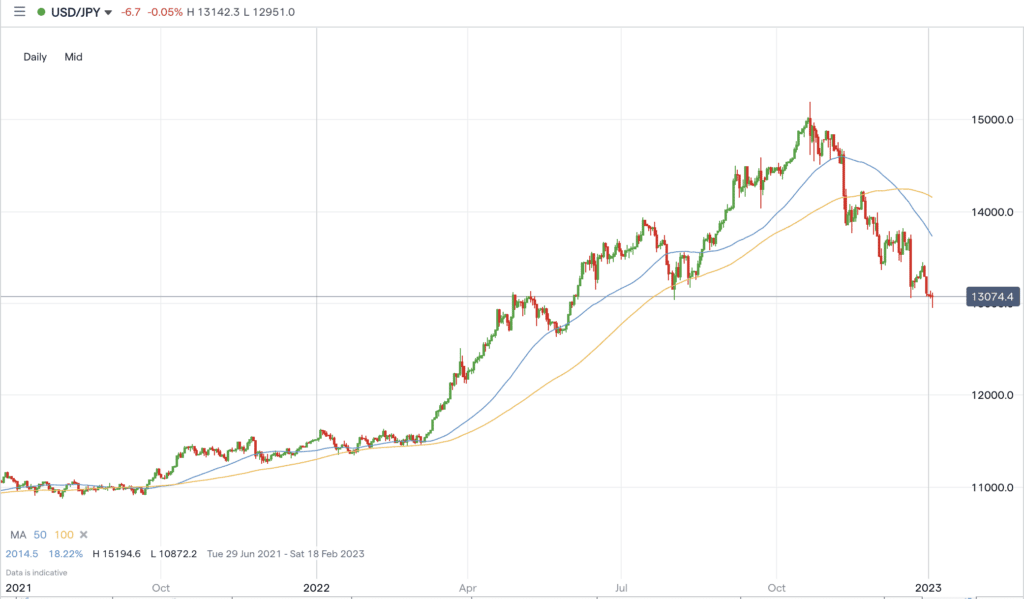 The yen also made strong gains against the USD in the last few months of 2022, but it wasn't enough to stop it from making the list of best-performing pairs.
The initial climb was due to rising inflation in Japan and the BoJ not moving to combat inflation by raising rates.
However, the yen has surged in the last few months, and the back end of 2022 after the Bank of Japan opened up the possibility for interest rate rises, moving away from its long-held low-rate policy.
The BoJ decided to raise its bond-yield cap last month, resulting in investors betting on a potential interest rate rise and strength in the yen.
Also read: USDJPY Forecast and Live Chart