The Euro/Turkish Lira currency pair (also referred to as EURTRY and EUR/TRY) is an exotic currency pair. In this article, we will examine how EURTRY is performing.
EURTRY Key Stats
2021 high: 20.6024
2021 low: 8.3615
YTD high: 19.5568
YTD low: 14.4954
YTD % change: 28.87%
EURTRY Forecast
While technically, the EURTRY chart looks stretched, when we take into account the fundamental analysis, it is easy to see why the euro has rallied against the lira. As a result, we see further upside in the near term and expect any pullbacks to be followed by a rally. Our bias will, however, alter if there is a change in the current fundamentals, primarily in Turkey.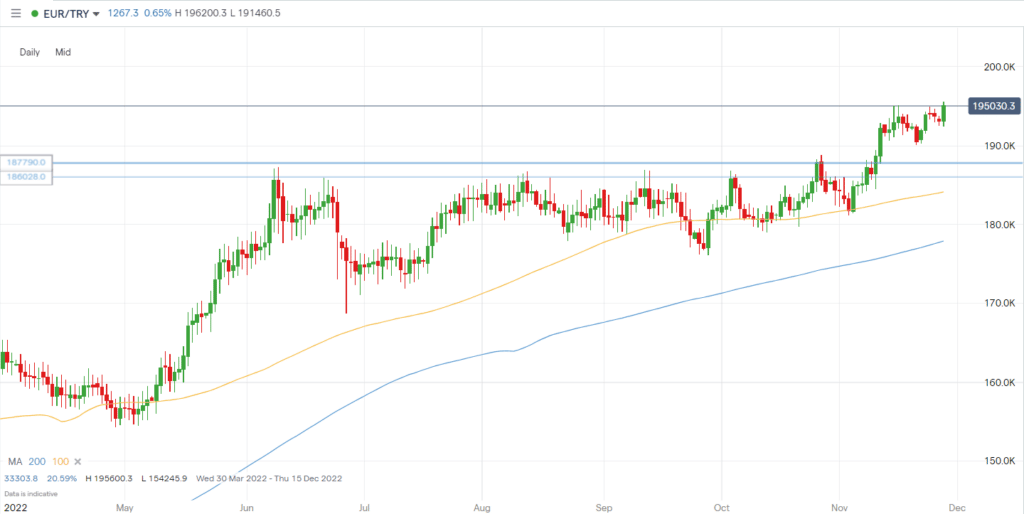 EURTRY Fundamental Analysis
Fundamental analysis is a way to analyse a currency pair by assessing the economic, social, and political environment for each nation or trading bloc that may impact the strength of the currencies.
The euro is a major currency that is frequently traded and comes with a high level of volatility. And over recent months, the euro has been impacted by recent ECB rate rises that have attempted to cool inflation. Furthermore, the euro has been negatively affected by Russia's decision to halt gas supplies, farthing heightening fears about a deepening energy crisis. As a result, with energy prices soaring and inflation increasing, the euro has weakened against other currencies with a more stable economic environment, such as the US dollar. Despite Europe's attempts to break away from Russian supplies, it is still facing issues.
The Turkish Lira has been battling a substantial rise in its inflation rate since the end of 2021. Despite many central banks across the globe raising interest rates, the Central Bank of Turkey has recently been cutting its interest rates, mainly due to demands from the country's President. This has been done to lower borrowing costs for natives and spur economic growth, investments, and exports for the economy. However, the lira has lost a significant proportion of its value this year, and its attempts to spur growth come with substantial risks to the currency.
---
Related Articles
---
EURTRY Technical Analysis
The interest rate differentials mean the EURTRY has been on a significant bullish run over the last few years. Despite facing a challenging economic backdrop, the euro has gained considerably against the lira. Key resistance levels such as 18.6028 and 18.7790 have been broken and are now acting as strong support levels for the pair.
Price is well above the 200 MA on the daily chart, while the 100 MA is acting as a strong support level and an area to look for price to pull back to.
Trade EURTRY with our top brokers