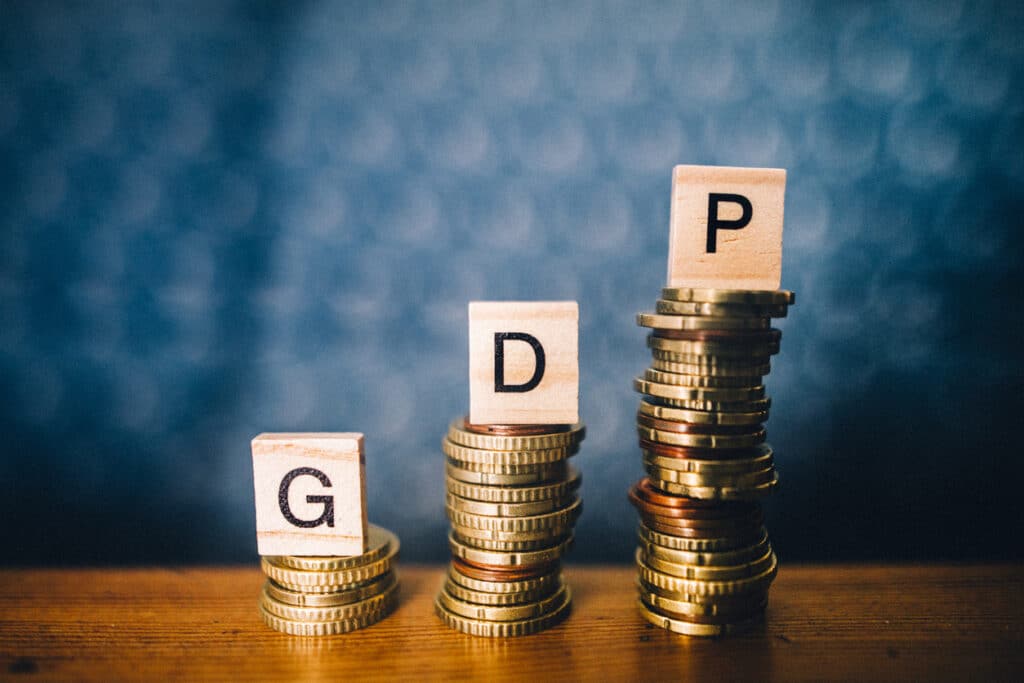 FOCUS ON: Technical Indicators Could Dominate Price Movement in What Is A Quiet Week In Terms Of Economic Reports
After a huge week for the markets in terms of economic data releases, the coming week looks set to spring far fewer surprises.
The Reserve Bank of Australia will update the markets on interest rates.
Traders of GBPUSD currency pairs will note UK GDP data is due to be released on Friday.
Central banks in the US, the Eurozone, and the UK all updated the markets last week, and the stellar jobs numbers out of the US caused a market pivot, with investors predicting more US interest rate increases could be on the way.
The coming week promises far fewer fireworks, but Australian interest rate policy will be updated on Tuesday 7th February – providing an insight into the fortunes of risk-on currencies. On Friday, the UK GDP numbers for Q4 2022 will be released and could confirm that the UK economy has entered a recession.
Forex
GBPUSD
The big news event for traders of GBPUSD this week is the release of Q4 2022 GDP data. That report will be released at 7 am (GMT) on Friday 10th February. The potential for GBP strength was identified in this report and is very much based on there being better-than-expected news in the GDP data.
The big corporate earnings release of the week is made by BP, which reports on Tuesday 7th February. Following the bumper profits posted by Shell last week, analyst predictions have been upgraded, and any outperformance can be expected to result in further strength for the FTSE 100 index.
Barratt and Severn Trent update the markets on Wednesday, 8th February. Unilever, AstraZeneca, and British American Tobacco all release full-year earnings on Thursday, 9th February.
GBPUSD Chart – Daily Price Chart – Double Top?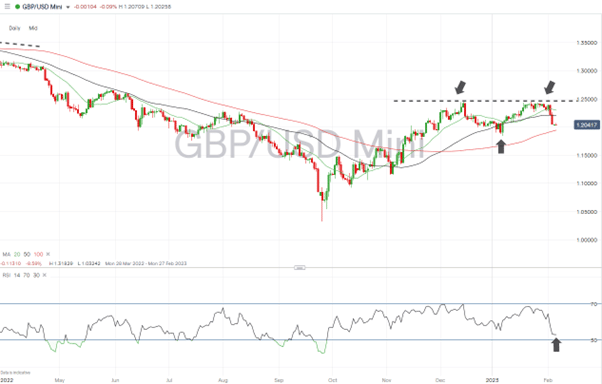 Source: IG
EURUSD
Eurodollar traders this week will be analysing the details of the ECB's last meeting and minutes rather than looking ahead to euro-related news announcements, which are decidedly thin on the ground. The break of the long-term supporting trendline followed a strong performance by EURUSD on Wednesday, 1st February, opening the door to further euro price weakness.
EURUSD Chart – Daily Price Chart – Trendline Break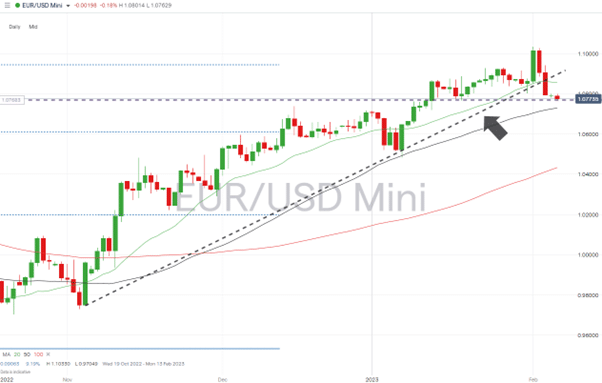 Source: IG
Indices
S&P 500
Friday, the 3rd of February, was a significant day for FAANG stock investors, with Amazon, Alphabet, and Apple releasing their numbers to the markets. By and large, they disappointed, but stock indices managed to shrug off the bad news, with the S&P 500 closing the week up 1.86%.
Further tests of that optimism lie in store, with the following companies updating investors on their earnings and trading performance. On Tuesday, 7th February, Micro Focus, Hertz, and Chipotle provide updates. Disney, Uber, and Under Armour do so on Wednesday, with PepsiCo and Lyft closing off the weekly earnings schedule on Thursday, 9th February.
S&P 500 Chart – Daily Price Chart – Focus on Short-term Trendline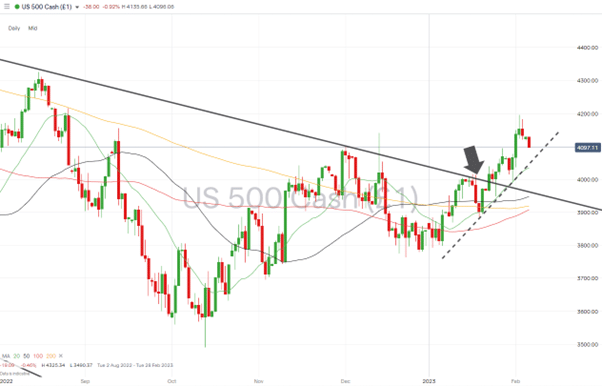 Source: IG
People Also Read
Risk Statement: Trading financial products carries a high risk to your capital, especially trading leverage products such as CFDs. They may not be suitable for everyone. Please make sure that you fully understand the risks. You should consider whether you can afford to take the risk of losing your money.